DISCLOSURE: This post may contain affiliate links, meaning when you click the links and make a purchase, we receive a commission.
Steam cleaners are one of the most versatile home appliances. Not only do they sanitize your floors, furniture, and upholstery without the use of harsh chemicals, but they can also help at destroying certain pests like bed bugs.
For those whose beds are infested with bed bugs, the natural power of steam can help eliminate your problem almost instantly. In today's guide, we'll show you what the best steam cleaners for bed bugs are and how to find the best model for your needs.
Bed Bug Steamers Compared
Steamers for Bed Bugs – What to Look For?
Not all steam cleaners come with bed-bug-killing capabilities. The best steam cleaners for bed bugs are those that meet the following criteria.
Output
This is the most crucial specification to pay attention to when shopping for steam cleaners for bed bugs. The steamer should deliver steam of at least 200°F for optimal pest-killing performance.
The hotter the steam gets, the quicker it will kill bed bugs. Take a close look at the tool's temperature ratings to see whether it can reach 200°F output or higher.
Pressure
However, if the steam simply pours slowly out of the spout or attachment, then you're not going to get very much done. The tool also needs to deliver the steam at high, constant pressure in order to reach all of the regular bed bug hiding spaces.
Ideally, you'll want a tool that can produce 60 PSI (pounds per square inch) of pressure, but 40 PSI is the bare pressure minimum.
Variable Steam Delivery
You may not always need to deliver high-pressure steam on all objects. For instance, when sanitizing upholstery fibers and mattresses, a higher PSI rating is ideal. When transitioning to smoother surfaces like auto interior or bathroom tiles, you can make do with a lower pressure rating to save water and energy.
Heating Times
On average, a steam cleaner takes 15 minutes to produce steam from a tankful of water, but some of the best steam cleaners for bed bugs work much more quickly, but they usually come with smaller tanks. Just note that the tradeoff for quicker heating times is generally smaller tank capacities.
Tools
A regular spout can help in introducing steam into hard-to-reach areas like corners, but you can increase the tool's versatility by either finding a steam cleaner that comes with several cleaning tools or purchasing compatible attachments separately.
Best Steam Cleaners for Bed Bugs
1. Vapamore MR-100
Features
210-220°F Steam Output
11-minute Heating Time
21 Cleaning Accessories
The Vapamore MR-100 Primo Steam Cleaning System is one of the most impressive steam cleaners you can find today. It's a multipurpose tool that works exceptionally well on floors and upholstery. A single tank can hold onto 1.6 liters of water at a time and offer as much as 60 minutes of nonstop steaming action before needing to refill.
Even though this tool's main weapon is a large floorhead, it comes with 20 other cleaning attachments that will come in handy at eradicating bed bug infestations in any part of your home. The finer tools will force high-pressure blasts of steam into cracks, crevices, and even on upholstery and beds to kill bed bugs and their eggs.
This tool delivers anywhere between 210 and 220°F, making it more than capable of killing dust mites and bed bugs, while also removing mold and mildew from bathroom tiles. However, the attachments are pretty flimsy and can break with improper care. Just make sure to keep the accessories safe in the included accessory bag when not in use.
Pros
High-temperature output
Variable pressure dial
Numerous cleaning tools
Cons
·         Accessories could be more durable
---
2. Ladybug Techno 2350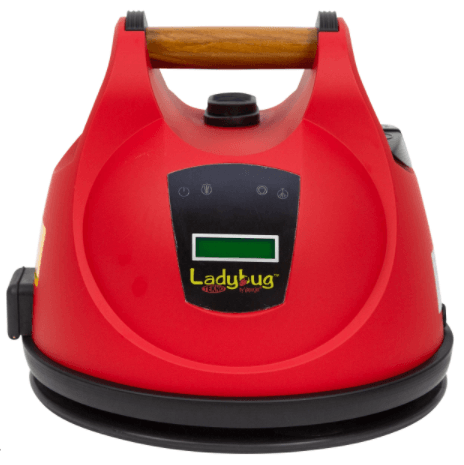 Features
325°F Steam Output
6-10-minute Heating Time
Digital LCD Controls
The Ladybug Tekno 2350 Steam Cleaner with TANCS Vapor System is a premium-quality steam cleaner that comes at a premium price. If you're unsure whether this costly device is for you, just know that the Techno 2350 has the ability to deliver 325°F steam and 80 PSI to cause bed bugs and dust mites to shrivel up almost instantly upon contact.
This tool also comes with a digital LCD readout, showing you exactly how much pressure and at what temperature steam comes pouring out. This steam cleaner set also comes with a wide variety of tools, ranging from a floor head with microfiber pads to spot-cleaning spouts and brushes for more concentrated cleaning.
This tool has a 1-quart boiler and a 2.9-quart reservoir to keep you working longer with fewer refills. At most, it'll take just 10 minutes for a quart of water to heat up, which is a lot faster than the industry average. Plus, it even has its own caddy with onboard storage for wheeling around to and from different parts of your home.
Pros
Amazing heat and pressure output
Large-capacity tank
Extremely portable
Cons
Pricier than most residential-grade steam cleaners
---
3. McCulloch MC-1275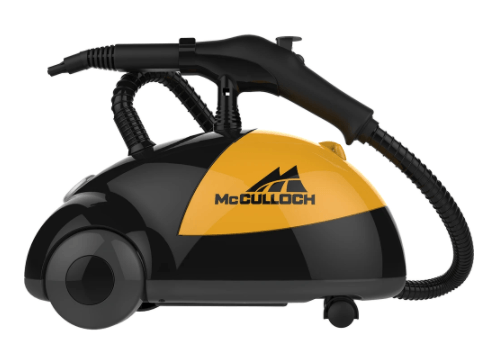 Features
Over 200°F Steam Output
8-minute Heating Time
18 Cleaning Accessories
The McCulloch MC1275 is a steam cleaner that is highly recommended for car detailing jobs. However, it's a multipurpose tool that comes with 18 different cleaning accessories, including a floorhead, that makes cleaning indoors and on furniture not only easy but incredibly efficient. Weight just 10 pounds, carrying this tool up and down floors (on an empty tank) is easy and safe.
This device's boiler heats water up to 200°F before steam comes pouring out. You can switch the floorhead to other spot-cleaning tools to burn dust mites and bed bugs residing in and around your mattress and sheets. A handy triangle brush will help you get steam into corners for extra sanitation in hard-to-reach spots.
The 48-ounce tank takes just under eight minutes to bring water up to temperature while delivering up to 45 minutes of nonstop steaming action. A 10-foot hose and dual 19-foot extension wands will help you reach curtains and other above-ground spaces with ease. However, the hose does tend to kink rather easily, and many customers had to replace it entirely after a couple of months.
Pros
Quick performance
Long steaming sessions per tank
Lightweight, easy to use
Cons
Hose could be more durable
---
4. Steamfast SF275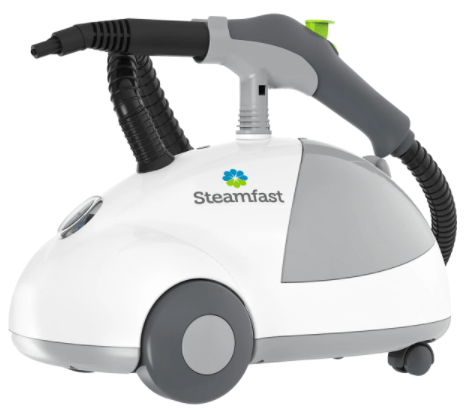 Features
212°F Steam output
8-minute Heating Time
17 Cleaning Accessories
Next, we have the sleek-looking SF275 Canister Steam Cleaner made by Steamfast, one of the most prominent manufacturers in the steam cleaning appliance world. This canister steam cleaner performs a lot like the McCulloch MC1275 in terms of heating times and steam output, so you know you're getting a high-quality product.
One of the SF275's shining features is its 17-item cleaning accessory kit that includes a steam mop and microfiber pads for safely sanitizing floors without removing the finish. You will need to swap it out for one of the spot-cleaning tools to blast 212°F steam at bed bugs hiding just below the surface of your mattress. The nylon brush will prove more than effective at forcing more steam into fibrous surfaces.
This built-in boiler takes roughly eight minutes to bring all 48 ounces of water up to the boiling temperature, which will then allow you to work for 45-minute sessions before needing to refill the tank. This tool also comes with a trigger lock, so you don't have to constantly depress the trigger to introduce steam into or onto whatever surface you're cleaning.
Pros
Trigger locking system
Quick-heating and high-pressure output
Lightweight, easy to transport
Cons
Canister unit could be more durable
---
5. Vapamore Amico MR-75
Features
210°F Steam Output
4-minute Heating Time
Complete Accessory Kit
Finally, we have the other handheld steam cleaner on our list—the Vapamore Amico MR-75. This handheld tool is perfect for car detailing jobs and spot-cleaning furniture and tile grout in your home. The most surprising thing about the MR-75 is that despite being a handheld tool, it comes with a wide range of cleaning attachments (floorhead not included/compatible).
A series of brass brushes work great at removing dirt, grime, and old meat juices from ovens or BBQ pits. There's also a neat squeegee tool that can help remove mold and mildew from windows without leaving scratches on the glass. Before pouring water into the tank, the MR-75 weighs a mere 3.5 pounds, so lifting it and cleaning overhead isn't just possible but easy!
However, because it's a handheld unit, the MR-75 may not be the ideal tool for killing large congregations of bed bugs. The boiler doesn't produce enough steam to clean wide surfaces and rid them of bed bugs and other pests, unlike the canister models mentioned above. On the other hand, you don't need to carry around large tools with you while spot-cleaning tiles, corners, and auto interior.
Pros
Lightweight, easy to aim
Great for spot-cleaning tiles and car interior
Lots of cleaning tools
Pros
Undersized tool for beds and upholstery
---
How To Use A Steam Cleaner To Kill Bed Bugs
Despite the creature's name, bed bugs can be found in nearly every room in your home. This includes furniture, hidden between couch cushions, on your bed (of course), and in the folds of curtains. Here, we'll quickly describe the process of using a steam cleaner to kill bed bugs wherever they are.
Furniture
Steam-cleaning furniture is as easy as can be. After setting the steam cleaner up (pouring water into the tank, allowing the water to boil), you'll want to attach a microfiber tool or squeegee onto the end of the steam hose.
Pull the trigger to dispense a steady flow of stream while wiping down the surface of your furniture slowly to allow steam to penetrate to wooden and/or fabric materials.
After going over the entire surface of the piece of furniture once or twice, wipe it down thoroughly with a soft, clean cloth to remove excess moisture.
Couch
The fiber of couches and other similarly-surfaced objects take more time to clean thoroughly since bed bugs and other pests may have found deep into the cushioning.
Using the same cleaning tool, move it slowly and steadily in one direction until you've gone over the entire surface of your couch. Repeat this step two or three times, refilling the water tank if necessary.
The longer you allow steam to penetrate the surface of your couch, the better the chance it'll have at killing more bed bugs. Air-dry your couch's cushions afterward.
Bed
The same technique of cleaning couches applies to beds and mattresses. Be sure to take your bed out and let it dry in the sun (extra bed bug killing power) to remove as much moisture as possible to prevent mold from growing.
You should do this once every two to three months as a measure against bed bug infestations, or do it as often as necessary if you have bed bugs burrowed inside of your bed.
FAQ
1.  Can A Steam Cleaner Kill Bed Bugs?
Bed bugs are resilient to many things, but heat isn't one of them. If you know where they are, and you have a reliable steam cleaner on hand, then dousing them in high-pressure blasts of steam is a quick, effective, and safe way of solving the problem once and for all.
2. What Temperature Kill Bed Bugs?
This may be surprising to many people, but it only takes 120°F of steam to kill bed bugs. However, it will require longer exposure to low-temperature heat, but you can solve the problem in much less time by finding a steam cleaner that delivers greater blasts of over-boiling-temperature steam.
The models listed above range from anywhere just below boiling point to more than 100°F hotter!
3. Does Steaming Kill Bed Bugs?
Yes, it does. When exposed to heat, bed bugs will shrivel up and die. It can take anywhere between 20 and 30 minutes of exposure to 120°F heat before it flips up on its back and passes into the pest afterlife.
However, since steam is at a much higher temperature, it takes far less time to achieve the same results as a hairdryer or other common household heating appliance. Best of all, steam cleaners do not require harsh chemicals to kill pests and sanitize an area of your home!