DISCLOSURE: This post may contain affiliate links, meaning when you click the links and make a purchase, we receive a commission.
Bed bugs are among the most malicious house insect infestations and are notoriously hard to get rid of. No amount of sweeping, swabbing and vacuuming will ever completely get rid of a nest.
Furthermore, prolonged exposure can result in bites and sores and cause grief to everyone daily. However, many manufacturing companies have developed simple and effective bed bug powders to deal with the pest.
Does Bed Bug Powder Really Work?
Absolutely! Bed bug powders are one of the most effective ways of getting rid of these pests today. When these powders are sprinkled in places where the bugs crawl, the dust gets stuck on the critter's exoskeleton.
Then, it dissolves their waxy coating and dehydrates and kills the insect. Take care, however, not to use too much of the powder, for these insects will learn to avoid places of the regular application over time.
Over the years, people have chosen bed bug powder is an effective solution to bed bugs in the house. A good quality bed pug powder has silica powder known as diatomaceous earth (DE).
The way it's effective is that the powder removes the protective wax from the insects, and the bugs suffer dehydration and quick death. Once you have applied the powder, the bugs can die in 24-48 hours; this is under selective and controlled environments.
Killer Powder for Bed Bugs – What To Look For?
There are several factors to consider while choosing bed bug powders. The priority should be to see which one works best for you.
Allergies
Always go through the product labels of all bed bug powders. These specify the chemical components, from which you should identify chemicals that could hurt you.
Toxicity
Diatomaceous earth-based powders are the best option if there are children and pets in the house. These are naturally occurring and less toxic as compared to more potent chemical-based powders. Also, check whether the product has been registered as a 'reduced risk' insecticide by the EPA.
Infestation
If you have a more severe infestation or are looking to eliminate other insects in addition to bed bugs, then you should look at the manner of execution.
Central nervous inhibitors may be more effective than powders, which cause exoskeleton dehydration. Further, you should also look at the list of target insects mentioned on the back of the bottles, which tells you how effective the powder will be against other pests.
Effectiveness
The main factor why bed bug powder is so popular is its texture. It's made of dust-like compounds that quickly go through cracks and places of difficult reach, making it effective for small insects. Also, go through user reviews and comments on how long it takes for the powder to work.
Long-lasting
Bed bug powders are better than gels as they last longer and show maximum results. A long-lasting powder can take away a lot of inconveniences as they hardly need any re-application.
Affordability
We often misunderstand a product saying if it's costly, it has to work. That's not always true. Look for a product that is mid-range, accessible, and effective, rather than packaging and price.
Best Bed Bug Powders
1 – Ortho Home Defense Max
Key Features
Active ingredient composition of Bifenthrin, Imidacloprid and Piperonyl Butoxide
Effective on contact with the insect
Allows both duster and bottle application
The Ortho group has designed this powder insecticide to make it effective against both adult insects and pest eggs. The most efficient application method is the spot treatment method, spreading it in the cracks in walls, beneath carpets, and over luggage.
Before the application, there are a few safety measures to follow. Pantry surfaces and food items should be cleared. Further, this powder should not be applied to bedding or cloth materials. Lastly, the area of application can be used again only when the spray has dried completely.
Pros
Is effective for up to 8 months
Effective against a wide range of pests
Eliminates pyrethroid-resistant insects
Cons
---
2 – Harris Bed Bug Killer Powder
Key Features
Malic Acid composition
Puffer tip application
Comes with Application Brush
PF Harris, America's oldest registered pesticide manufacturer, has developed an effective insecticide using its many years of business experience. It takes special care to eliminate bed bugs that have grown resistant to the usual pyrethroid-base insecticides. Further, it provides for both puffer tip and brushes application methods to ensure convenience to the user.
It is one of the fastest-acting insecticides on the market, with visible results within 48 hours of the first application. This product is best used after the liquid spray treatment, but caution must be taken to ensure that the powder itself is dry when in use.
Pros
Effective against pyrethroid-resistant bed bugs
Can be applied using both – puffer tip as well as application brush
Short activation time of only 48 hours
Cons
Only efficient when the powder is dry
---
3 – Cimexa Dust
Key Features
Engineered Silica100% of amorphous silica gel
Green Zone Brand Mineral-based active ingredient
Remains viable for up to 10 years when undisturbed
Cimexa's powder insecticide is specially designed to eliminate bugs like bed bugs, lice, ants, silverfish, and termites. Insects at all stages of the life cycle, from eggs and nymphs to fully grown pests, are killed by this powder. It also affects insects which have grown resistant to parathyroid–based insecticides.
This powder is one step ahead of the curve, with an odorless, anti-clumping, and non-staining composition. It is one of the best options in the market since it has long-lasting effects, mostly since it can work for up to ten years once applied. For best results, it should be dusted in cracks, carpets, and bed mattresses. It can be used both as a wettable powder and dust form.
Pros
Odorless, non-staining
Effective against bugs which are resistant to pyrethroids and neonicotinoids
Effective for many years
Cons
More toxic than diatomaceous earth powders
---
4 – JT Eaton Insect Powder
Key Features
Diatomaceous Earth powder
1-year limited warranty
Puffer bottle design
JT Eaton, one of the most respected manufacturers in the market, has put together the best-known practices to come up with its insect powder insecticide. It takes care of a wide variety of pests. In addition to this, it has improved the traditional application method by designing a puffer bottle, which makes for more comfortable and effective applications.
Since it has naturally occurring diatomaceous earth, it is safer to use around children and pets. The powder is fine and light, allowing for greater air-borne spread and efficacy. While it takes some time to begin working, once active, it kills all insects, from house roaches to bed bugs.
Pros
Naturally occurring and less toxic
Anti-resistant
easy, convenient application
Cons
---
5 – Alpine D Insecticide Dust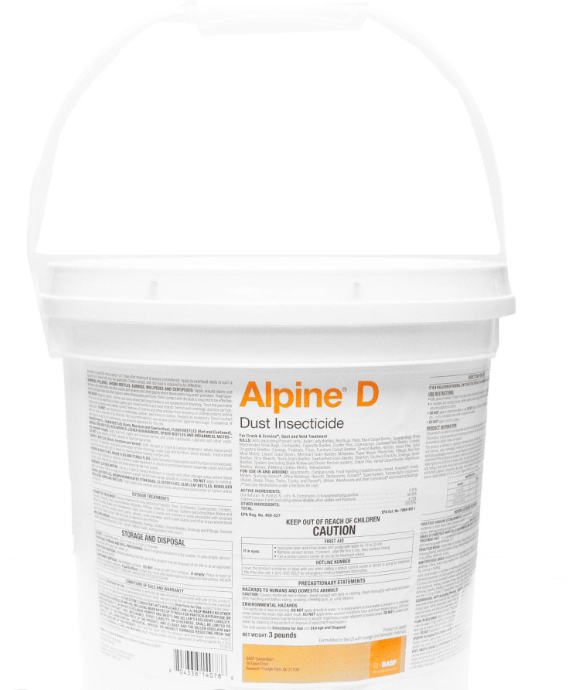 Key Features
Combination of Dinotefuran and Diatomaceous Earth
Residual and residual powder type of insecticide
Central nervous system inhibitor
Alpine dust insecticide is the only product in the market given a 'reduced risk' certification by the EPA. It is safer for use around houses and commercial spaces, reducing harm to both individuals and pets. It can tackle a wide set of pests in living spaces, from bed bugs to flying insects. For use, the powder must be applied in nooks, cracks, crannies, and crevices.
It is composed of two active ingredients, a quarter percent Dinotefuran and 95% diatomaceous earth. The latter is a natural insecticide, which, when ingested by insects, dehydrates and eventually kills the pest. This powder also provides more comprehensive coverage than other market options since it is less dense and lighter than alternatives.
Pros
The only 'reduced risk' powder insecticide in the market
Safer for humans and pets than other products
Higher coverage than other powders
Cons
Not suitable for mattresses and linens
---
FAQ
1. How long does it take for bed bug powder to work?
Diatomaceous earth-based powders take more time to act than other bed bug powders, primarily because you have to wait for the bug to be covered in the powder and then wait for dehydration.
Usually, you can see results within ten days to a few weeks. However, for other powders with more chemicals, the results are much faster. For example, Cimexa shows results within 34 hours and gives excellent results within 1-2 days.
2. Is bed bug powder safe for humans?
Bed bug powders are one of the safest versions of pesticides available in the market. While they do contain chemicals, these are usually not harmful to humans. More potent bed bug powders, however, may be enhanced by substances that are toxic for children and pets.
Make sure to read the bottle's label to understand the safety hazards and side effects.
3. Where do you apply bed bug powder?
The simple answer is – anywhere bed bugs, and similar insects will find a place to roost. It should primarily be applied on cracks in walls, wooden furniture, floorboards, joints of old tables and chairs, drawers, cupboards, and luggage, recently used. Avoid cloth materials used every day. Also, make sure to avoid sprinkling the powder near electricals.
4. Can baby powder stop bed bugs?
While an appealing idea, there is no evidence to verify that baby powder can eliminate bed bugs. The powder, by nature, is mild and does not have the scientific properties to kill the bugs on consumption or dehydrate and dissolve the exoskeleton of bed bugs on contact. Baby powder will most likely be ineffective.
Summary
Modern chemistry has provided a solution to one of the most troublesome pests for homes. With a wide selection to choose from, bed bug powders provide a simple and effective means of tackling insect infestations.
You can choose the powder which works best for you from a range of product specifications – varied levels of potency, different application methods, and chemical combinations. For the best results, follow the instructions on the bottle and take adequate precautions.