DISCLOSURE: This post may contain affiliate links, meaning when you click the links and make a purchase, we receive a commission.
Not every type of fabric can withstand high-temperature laundry, which means bed bug-killing detergent will be handy at times.
Bed-bug infestation is a common problem. Tiny insects hide inside your bedsheets, mattresses, pillows, wardrobe, and other cozy and warm places; and became a source of numerous health and hygiene problems.
One of the most important things to destroy these bugs is the maintenance of cleanliness. It is important to thoroughly wash your clothes and all bedding material every few days.
Using a specially formulated detergent for killing the bed bugs and washing the bedding in hot water can swift the process of destroying all the insects.
Here, you will get to know the best detergents to use for bed bugs.
Can You Kill Bed Bugs with Laundry Detergent?
Yes, washing your laundry with good quality detergent is the primary step in getting rid of bed bugs. However, there is a lack of studies in determining the effectiveness of laundry detergent in killing bed bugs.
With that said, some specific detergents are formulated especially to work against bed bugs. These detergents function better than the usual ones in destroying bed bugs and other insects.
Nonetheless, keeping your bedding and clothing clean is of utmost importance for keeping insects at bay.
Detergent for Bed Bugs – What To Look For?
Laundry detergents for bed bugs are created using specific ingredients in a specific ratio to formulate an effective product against all sorts of allergens and insects.
If you are wondering what qualities a detergent for bed bugs must have apart from the obvious one (getting rid of bed bugs), check out the following:
Non-Toxic: The detergents must be non-toxic and safe to use. The laundry products must not include harsh chemicals, else it can be damaging for the fabric or in worst cases for people or pets.
Easy to Use: The method of using the detergents is often displayed on the container. And it is advisable to read that before using any detergent.
Color-safe: The colors and the texture of the fabric must remain the same before and after the use of the detergent. Do check if it is safe to use on colorfast fabrics before making a purchase.
Best Laundry Detergent For Bed Bugs
1. Green Bean Buddy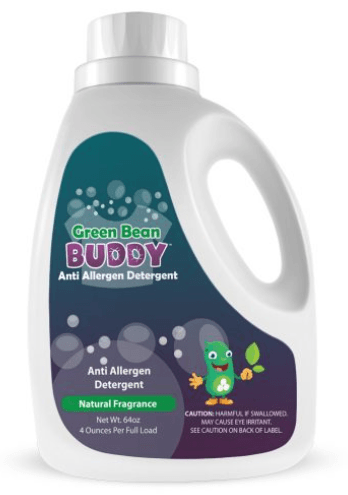 Green Bean Buddy anti-allergen detergent is created against bed bugs and other allergens like cockroach matter, flea matter, dust mite matter, and pet dander. This detergent is super easy to use and works perfectly fine with all washable cloths including colorfast fabrics. You can use it in both hot and cold water.
This detergent will be effective at the first application. The right way of using detergent is to dilute it in hot water with a 1:10 ratio. After 10 minutes of standby time, start the machine wash. It's an amazing formula that will exterminate the bugs in addition to perfectly cleaning all the clothes.
Green Bean detergent works effectively against both living and non-living allergens. And you'll love the pleasant fragrance it leaves with the clothes.
2. Hygea Natural Bed Bug and Lice Exterminator Laundry Treatment
Bed Bug and Lice Exterminator is an exceptionally effective and powerful product against bed bugs, insects, and other allergens. The active ingredients used in its formulation include 3.0% sodium lauryl sulfate, 1.0% sodium chloride, and 0.20% citric acid. And the inert ingredients are water, sodium bicarbonate, urea, and potassium sorbate. This is a premium quality spray which was originally created for pest control professionals.
Do not get alarmed with the chemicals stated above as this product is natural and nontoxic, thus safe to use on all sorts of clothes. Despite being highly effective against bed bugs, it leaves no stain or unpleasant smell on the clothes. This amazing formula is safe for all sorts of water-safe surfaces which include mattresses, upholstery, mattresses, and even floors, and walls.
3. Formula 4 Bed Bug Laundry Detergent
Formula 4 Bed Bug Solutions is a highly powerful and concentrated form of detergent against bed bugs, insects, and all other similar allergens. This product is highly recommended for effectively washing all kinds of laundry.
The special formula of this product removes bed bugs, dust mites, and fleas from the bedding material and other clothing efficiently. And it works equally well in both cold and hot water.
In addition to effective cleaning, this detergent has a fresh and clean laundry fragrance. This Formula 4 Bed Bug Solutions laundry detergent is used in dormitories, homeless shelters, and hospitals.
4. Stop Bugging Me by MouseX
Stop Bugging Me sounds catchy but it's a laundry additive that effectively repels and kills bed bugs. This is an extremely powerful concentrate and just two tablespoons of the product are enough to effectively kills the bugs and insects.
This product is tested to be safe for both people and pets. All the ingredients used in its formulation are non-toxic and safe to use. That means you can immediately use all the products after drying without any harm.
Moreover, this detergent is perfectly safe with colorfast fabrics and all washable fabrics. You'll get clean and bug-free clothes without altering the color or texture of the fabric.
5. Kleen Free Naturally Laundry Additive
Kleen Free Naturally is a multi-purpose cleaning product. The concentrated and superbly effective formula of this cleaner is hypoallergenic, non-pathogenic, and non-flammable. Just a single bottle of this concentrated formula is enough to make gallons of highly effective cleaning solutions.
You can use this non-toxic cleaning product as an additive in your laundry machine and it will destroy all sorts of bed bugs and allergens in a single go.
Besides laundry, this hypoallergenic cleaner is best suited for cleaning hard to reach nooks and corners of your places such as cracks, minute cervices, tiles, etc.
Can Bed Bugs Survive In Washing Machine?
If you're washing the laundry with cold or room temperature water, the bed bugs wouldn't die. Those bed bugs are likely to survive and return to haunt you at night.
Considering all the options of keeping our bedding safe from the bed bugs, washing the clothes with premium quality, safe to use, and the specially bed-killing detergent seems the simplest method of all.
To increase the impact of bed-bug killing detergents, it is recommended to wash your clothes with hot water. Heat is, after all, an effective way of killing bed bugs.