DISCLOSURE: This post may contain affiliate links, meaning when you click the links and make a purchase, we receive a commission.
Dust, pollen, dander and dust mites may gather in places that escape regular cleaning, such as the HVAC system in your home. If you're suffering from allergy, you'll want to consider using air conditioners and furnace filters that are designed to block allergens from passing through.
How Does Air Conditioner/Furnace Filters Work?
Furnaces and air-conditioning systems are two of the most important systems of any buildings. It's keeping the filters clean for the system's efficiency and also to maintain the cleanliness of the air in your home.
The function of the air conditioner and furnace filtration system is to shield the blower fan from dust and dirt particles, hair and other pollutants present in the environment. With this, the filtration system also helps to keep your home clean by stopping the recirculation of the dirty and dusty air.
By taking all the dust in the duct, the filters increase the Indoor Air Quality (IAQ) of your home or office, thus cleaning the air around you and maintaining your breathing health.
---
Is Air Conditioner and Furnace Filtering The Same?
Air conditioning and furnace filters are the same if your place is centrally heated with a furnace or has a central air conditioning system.
Moreover, if you have installed separate heating and cooling units (furnace, AC/ HVAC) which share the same air handling unit to regulate/ circulate the air, then both filters will be same too. Because both air filters are positioned on the same spot of the air handling unit so both heating and cooling devices use the same filtering system.
Ventilation and circulation of air will occur with the help of the air handling system, whether you're are heating your place with the furnace or cooling your place in the hot summers with the air conditioner.
---
What Are Air Conditioner/Furnace Filters Made Of?
There are various sorts of AC and furnace filters available in the market which differs on the basis of their material and quality grading. Generally, filters are made with fiberglass, cotton sheets, and polyester.
The filters are graded on MERV ( Minimum Efficiency Reporting Value) scale which grades the filters from 1 to 20, 20 being the highest quality filter. It is advisable to use an appropriate filter for specific furnaces in order to get efficient filtration without damaging the machine.
The fiberglass filters have the lowest MERV rating that ranges from 2 to 4. These filters are an inch thick and safeguard your machine from dust particles. These are very cheap and are installed in most of the furnaces.
Then comes the pleated fabric filters which are disposable. They are made of polyester or cotton sheets. These cotton paper sheets are self-chargeable to ease the removal of dust and other smaller particles. These filters are rated from 6 to 13 on the MERV grading.
Washable filters are made with aluminum mesh and are rated around 8 on the MERV grading system.  HEPA filters are the highest rated filters with the 17 to 20 MERV grading.
---
Why Getting the Right Air Conditioner/Furnace Filter Helps in Managing Allergies?
While the AC and furnace filtration system are vital to keeping the equipment perfectly functioning, these filters also cleanse the air around you and protect you from airborne allergens. To get the best results, it is highly recommended to install high-quality filters in synchronization with your equipment to attain perfect and efficient functioning of the furnace/ AC.
The quality of the filters is checked by the MERV ratings.  The higher the MERV rating, the greater the quality of the filter will be. Filters with MERV rating from 1 to 4 have dust filtration capacity of less than 20%. These filters protect the air from pollen, sands, dust, textile fibers, carpet fibers, spray paint dust, and things alike.
Filters with 5 to 8 rating on the MERV scale have a dust restriction capacity from 20% to 35% and can restrict the entrance of mold spores, cement dust, hair spray, pudding mix, and fabric protector. These filters are mostly used at industrial workplaces.
Filters with 9 to 12 rating on the MERV scale have a dust restriction capacity of 40 to 75%. These filters protect the air from welding fumes, lead dust, auto emission, and milled flour. Filters with higher ratings on the MERV scale are perfect to guard the machine and air from all types of bacteria, tobacco smoke, and other allergens.
Highly efficient filters have a great capacity to protect the air from airborne allergens. These filters masterfully capture the dust particles containing allergens and hinder the recirculation of the dirty air. Thus, these filters protect you from allergic reactions.
---
How to Choose an Air Conditioner Filter for Allergies
If you're not aware of the technical difference, air conditioner filters may look the same. But the fact is, choosing an air conditioner filter requires consideration of a few factors. To make things easier for you, here is a list of what you'll need to consider when buying an AC/furnace filter.
MERV Rating
MERV stands for minimum efficiency reporting value which measures the accuracy and precision of air cleaner. Higher the MERV rating higher will be the dust capturing capacity of the air filter. MERV 11 is researched to be the optimum value of the air filter for residential use. So, filters starting from this MERV value will be best for your home.
Materials
Air filters are manufactured with different types of materials with which varying dust capturing capacity. These materials include fiberglass, cotton sheets, and disposable sheets.
Size
Size of the filter is crucially important. The filter must be properly fitted on the furnace or air conditioner to work proficiently. Filters of a range of sizes are available on almost all brands. It is highly advisable to pick the exact size as of your AC.
Efficiency
As the MERV rating increases, the gap for air to pass through is decreased. While you wanted to block harmful allergen, you'll also want to consider having adequate air-flow passing through the filer on the AC/furnace system.
---
Best AC and Furnace Filters for Allergies 2020
You will find a number of brands in the market selling AC and furnace filter, all of which claiming to be of the highest quality.  Here, I have handpicked a few of the top highly recommended and positively reviewed brands of AC/furnace filters for you.
1. Honeywell Ultra Efficiency Furnace Filter
Buy At Sylvane
Honeywell furnace air filters take care of your machine perfectly thus it keeps on functioning for longer periods of time. These filters proficiently remove the dirt from the unit, thus reducing the pressure on the blower and the motor. Proficient running of the motor helps the machine to function smoothly, and also allows it to consume less energy. In the long run, your machine will require less maintenance and great performance for a longer period of time.
Aerostar air filters are available in a range of MERV grading from MERV 8 to MERV 12. This allows you to pick a filter as per the requirements of your workplace or residence.
MERV 12 graded filters are excellent for home use as it's been installed in buildings that require stricter air quality. These filters provide an amazing filtration solution against micro allergens.
Pros
Hospital-grade MERV-12 hospital filter.
Traps dust mites and other micro particles.
Efficient, environment-friendly, and effective.
Cons
Some people could find the size guide confusing.
---
2. 3M Filtrete AC Furnace Air Filter
Filtrete is a 3M brand that is geared with the goal of improving the indoor air quality of homes. This company is flourishing in this business for about 25 years and has provided premium quality filters to millions of its customers. This has been named as the most trusted brand of America in the year in 2018.
Filtrete furnace and AC filters excellently filter through the air to ensure seamless functioning of the machine.
The company advises to change the filter after a year or soon in case of any of your family members is a smoker, the fan is frequently turned on, having pets, use of a fireplace, or if you make home accessories. The scrap from all these actions causes excessive pollutants in the air, which may hinder the smooth working capacity of the filter.
Pros
1000 to 1200 MPR(microparticle performance rating)
Filter lint, molds, pollen, and all other airborne microparticles.
Perfect for residential use.
Cons
Some may find the size guide confusing.
---
3.Nordic Pure
 AC Furnace Air Filter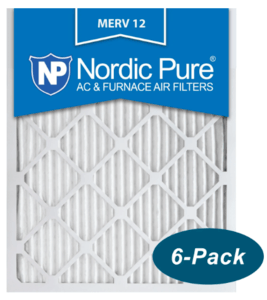 Buy At Sylvane
Nordic Pure allergen furnace and AC filters can be a great addition to your home to protect your place from the harms of allergens. Plus, these filters will keep the machines clean which will enhance its performance and will eventually reduce its maintenance charges.
Nordic Pure filters clean the air around you as these are specially designed electrostatically-enhanced and deep pleated filters. While refreshing the air around you, these filters are manufactured using recyclable material after consumer use.
Depending upon your HVAC requirements, you can choose from filters graded MERV 8 to MERV 12.
These filters give you and your family protection against mold spores, pollen, dander, and drastically dangerous smoke. All in all, these filters make you're breathing easy in a clean environment that is free from any microbes and allergens.
Nordic Pure has made the installation and size guide of these filters immensely easy for its customers.
Pros
Clean breathing air from dust particles and allergens.
Antimicrobial.
Outperform washable filters.
Cons
Need to pay attention when choosing the right size.
---
4. Arm & Hammer

Max Allergen & Odor Reduction Air And Furnace Filter
Arm & Hammer started its business more than 170 years ago and never looked back. Its exceptional quality, affordable and versatile range of products and environment-friendly approach has built a huge fan base over the years. This is one of the most renowned and trusted household brands in America. Arm & Hammer deals with products related to baking soda, laundry, personal care, oral care, and cat litter.
Arm & Hammer Max Allergen & odor reduction air and furnace filter is appreciated by many. These are pleated air filters which ensure a maximum reduction in the smell and dirt from your breathing air. These are manufactured using carbon granules which enhance their capacity to absorb odor from the air.
Its added quality of odor reduction along with the primary function of reducing allergen and dirt from the air improves its quality and acceptability. These MERV 11 filters are great to use in homes.
Pros
MERV 11 rated.
Reduce odor from the air.
No need to change before 90 days.
Cons
The frame construction of filters is not appreciated by a few customers.
---
5. Airx Allergy Pleated Air Filter
Airx Allergy is an excellent quality filter by AIRx Filters. It is a well-known brand for excellent quality air filters. These filters are available in a range of sizes. Plus, their excellent designing and material ensure high quality and durability of the filters.
As its name implies, Airx Allergy filters are specifically designed to trap smoke particles, pollens, dust mites, microbes, and other allergy-causing small particles. These filters are rated MERV 11 which is the perfect rating for residential use. These filters guard you, your family, and pets against the airborne particles, thus protecting you from allergic reactions.
These filters are manufactured in the premium facilities in the US which ensure great quality. These filters have more pleats than any other air filter available in the market right now. Airx Allergy filters ensure affordable operating efficiency to the machine, better air regulation, and circulation, and lower down maintenance costs of the machine.
Pros
Premium pleated filters capture all kinds of molds and allergens.
Graded 11 on MERV scale.
Great energy efficiency
Cons
Some customers complained that sizes are not labeled on the packaging.
---
6. Nordic Pure
Pleated AC Furnace Air Filters
Nordic Pure is renowned for delivering great quality filters that are measured perfectly to fit excellently. This company takes pride in delivering more options in sizes than any other filters producing brand available in the market right now. Depending upon your personal requirements, Nordic Pure provides a range of filters including MERV 7 to MERV 15 grading. These filters are perfect to be installed at home or business places.
Nordic Pure AC and furnace air filters are manufactured using recyclable material. This company believes in producing environment-friendly products increase their brand value and put fewer burdens in our surroundings.
These air filters marvelously remove allergens from the breathing air. After installation of these filters, your surrounding air will be free from tobacco smoke, lint, mold, pollen, house dust mite allergens, and other similar pollutants.
You can choose any filter from MERV 7 to MERV 15, depending upon your HVAC's requirements. You can customize your filter as per your needs.
Pros
Superior air filters quality.
Great for both commercial and residential use.
Made with hypoallergenic electrostatic material.
Cons
Difficult to get a perfect size.
---
7. FilterBuy
Pleated AC Furnace Air Filter
FilterBuy has its headquarters in the southeast part of USA. It delivers premium quality air filters to consumers directly, and businesses all over America. This company truly understands the vitality of indoor air quality-IAQ and design its air filters in accordance with the recent research in this regard.
AC/ furnace air filters by FilterBuy are AFB Gold filters. These are rated 11 on the MERV standard scale. This range of filtration is equal to 1200 MPR allergen or MPR 800 microparticle.
These filters are specifically designed to filter the air from allergens and to protect you from getting harmful allergies. You can easily rely on these filters for capturing lint, house dust mite debris, smoke, mold spores, pollen, pet dander, smog, and other pollutants.
After installing these filters, you won't need to worry about changing the filters before 3 months. These are perfectly suitable for commercial and residential use.
Pros
Long-lasting filters, no need to change for 3 months.
High quality.
Efficient protection from dirt, debris, and allergens.
Cons
Some people may have complaints with the quality.
---
8. True Blue Allergen Air Filter
True Blue is your one-stop shop to complete all the needs of filters for your home. This company provides a range of filters in all the different sizes and packaging. Thus, you'd be able to pick up any product as per your personal requirement.
The True Blue Allergen air filter particularly designed to keep your family and pets safe from airborne allergens and dust. The material used in the manufacturing of these filters is 53 times more efficient than normally available fiberglass filters.
The filters are rated 11 on MERV scale which is a perfect fit for residential use. These filters hinder the passage of all unwanted small particles including mold particles, bacteria, pollen, virus carriers, dust link and other allergens containing dirt particles.
These filters show great performance for longer periods of time. You won't need to worry about changing these filters for about 4 months.
Pros
No need to change for 120 days.
Rated 11 on the MERV scale.
Proficient protection from microscopic allergens, mite debris, and other microscopic particles.
Cons
Room for improvement for the packaging.
---
9. BestAir Air Cleaning Furnace Filter
BestAir RPS Inc. started its business back in 1964. And now it has become one of the leading brands for "Healthier Home Environment" with its remarkably brilliant products. The production of high-quality home products is the main reason for their popularity and a huge fan base.
BestAir produces air cleaning filters, humidification wicks, vacuum products, and several other home accessories. They take pride in manufacturing all their products within premium-quality facilities of USA.
Cleaning furnace filter from BestAir is one of its most appreciated products. These filters are manufactured with high-quality material which ensures their efficient performance.
You can trust these filters to perfectly trap more than 95% of the airborne particles. These filters can easily capture the particles ranging from 0.3 to 10.0 microns. And this range includes most of the disease-causing microbes, lint, and allergens. Moreover, BestAir filters are designed to last up to 12 months.
Pros
Capture 95% airborne particles.
Last up to 12 months.
Conserve energy and are inexpensive.
Cons
Some may have issues with packaging quality
---
How Often Should You Change A Furnace Filter? 
There is no exact answer to this question. However, it is important to keep changing the filters regularly. Generally,
1-2 inch thick filter should be changed after 3 months
The 4-inch thick filter needs to change after 6 months, and
A 5-inch thick filter can last up to 12 months.
However, it is advisable to read the care instruction from the manufacturer.
Additionally, If the following scenarios are true for your home, then you need to change the filters regularly,
Having furry pets in the home.
Anyone smoke in your home.
You keep your windows open more often
The fireplace or heater remains on most of the time.
If any family member is allergic to dust or any other allergen.
The excessive entrance of dust in the house
---
It's never pleasant knowing that the air you breathed is littered with tiny speckles of dust and allergens. Hopefully, you found the right filter that blocks these allergens from circulating through the air conditioner or furnace system.
Related: