DISCLOSURE: This post may contain affiliate links, meaning when you click the links and make a purchase, we receive a commission.
Top Pick: I'm recommending CleanRest Pro for its 1-micron pore size.
You could be potentially sleeping with millions of dust mites. In your attempts to remove and prevent the pest from creating havoc on your health, dust mite covers may help. Combined with other prevention methods, you stand a chance in winning the battle against the microscopic pests.
Anti Dust Mites Mattress Covers Compared
Does Dust Mite Mattress Covers Really Work?
When it comes to dust mites allergy, the mattress is often a culprit it is possibly housing the greatest number of dust mites in your home. It is a scientifically proven fact that mattresses provide perfect environmental conditions to dust mites as per research conducted in houses of Ohio. In the study, researchers found out that the density of dust mites at homes is about 18,875 mites per gram of dust.
A single mattress can be home to thousands to many million dust mites, depending upon the humidity and temperature of the room. Thus, it is extremely necessary to protect your bed and shield them from the allergen.
Protection of your mattress from these tiny devils is extremely important, and covering them with waterproof, hypoallergenic covers is a highly recommended solution. Waterproof mattress protectors raise the protection level to greater heights, as the goal is not only to close the entry of the mites inside the mattress but also nullify the suitable ambiance for their growth.
Scientific research has proved that decreasing the humidity level in the home can massively lessen the presence of house mites and various other allergens.
Plus, a mattress cover with temperature balancing is an ideal pick as it keeps moisture away from being trapped in the mattress. This helps to prevent dust mites from breeding in the mattress.
Most importantly, keeping your cover, sheets, and pillows clean is extremely important as well. Purchasing an easy-to-wash cover that retains its quality after several washes are ideal for prolonged usage.
Do You Need Dust Mite Covers On Every Type Of Mattress?
All except natural latex mattresses require dust mite covers. Natural latex or memory foam mattresses are hypoallergenic as they are highly compact providing no space to entrap dust, and thus free of dust mites.
Meanwhile, mattresses designed with synthetic material have an interwoven honeycomb structure that acts as an excellent habitat for the dust mites and their waste. This study has shown that the difference of material can positively affect the density and rate of growth of dust mites.
How To Choose The Best Mattress Cover For Dust Mites Protection
We spend at least 8 hours a day on the very place that is loved by dust mites. Encasing the mattress with a high-quality dust mite cover is an effective way to be safe from the spread of dust mites inside the mattress. Having a logo of anti-dust mites is not enough. The following are some crucial factors that mattress cover must-have.
1. Perfectly Spaced Weaving
Generally, the size of a house dust mite is 0.2-0.3mm (0.008-0.012 in) in length and the fecal pellets are many times smaller (10 – 40 micron). So, the mattress cover specifically designed to encase mattress against the allergens must be woven tightly enough to forbid their entrance but remains breathable for a comfortable sleep. The recommended pore size of the cover is below 2 microns.
2. Thread Count
Thread count or number threads per inch indicates the fineness of the fabric. A good mattress cover's thread count must be greater than 246 per square inch.
3. Zippered
A zippered dust mite cover ensures full protection from dust mites and allergens.
4. Easy to Machine Wash
The fabric of the cover must be easy to wash in the machine and be able to withstand hot water for periodic cleaning.
---
Best Dust Mite Covers For Mattress 2020
You'll find numerous brands online and in the market dealing with mattress covers for dust mite allergies are specially designed to protect against dust mites. I have enlisted a few of the best options that will help you in getting the ideal dust mite cover.
1. CleanRest Pro Allergy Blocking Mattress Cover
For now, CleanRest Pro my top choice for dust mite cover. The reason is simple. It features the MicronOne®  fabric technology, which means the mattress cover boasts a 1-micron pore size. Technically, it blocks not only dust mites but also the allergen.
The manufacturer has also considered possible openings for dust mites on the zippers. To mitigate that, it uses a special Zip-N-Click™lock that not only ensures a perfect fit but also blocks dust mites from entering.
CleanRest Pro is made from 100% polyester and is waterproof. Despite that, it's designed for comfort and breathability. You'll find it cooling while keeping you safe from dust mites and other allergens in your mattress.
The Clean Rest Pro mattress cover is machine washable, although bleaching is prohibited. You're backed by a 15-years manufacturer warranty with a purchase.
Pros
MicronOne® fabric technology delivering 1-micron pore size.
Unique zipper-lock for additional dust mite protection.
100% waterproof to protect from spillage.
Cons
2. Pristine Dust Mite Mattress Cover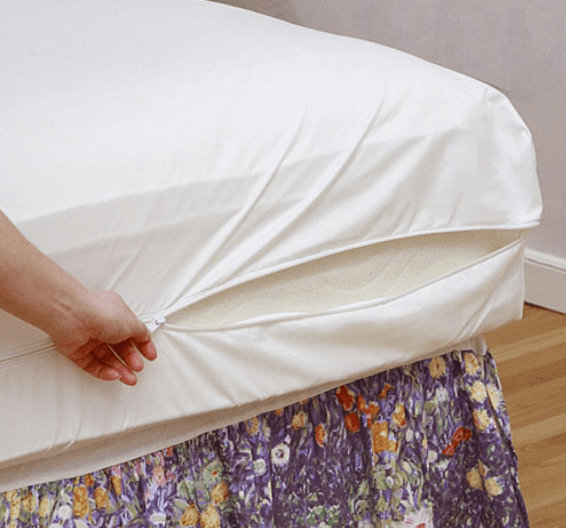 Pristine mattress cover is a great pick to solve all your bedding issues particularly if you're suffering from dust mite allergies. The available products are loaded with all the much-needed qualities for an ideal hypoallergenic mattress protector.
Most importantly, it provides freedom from any sort of allergy issues by blocking dust mites, mold growth, pollen, and pet dander. The hygienic level of this protector is up to the mark and is highly recommended. In addition to that, the fabric is of exceptional quality. It feels smooth and comfortable to lay on. You'll find it cool and breathable. Cleaning is easy as the mattress is machine-washable.
The superior zipper quality and amazing craftsmanship result in a high-quality final product. Pristine uses polyester fabric with a patented allergen-barrier cover to provide reliable prevention against dust and allergens. It was recommended by leading Colleges of Medicines.
Pros
Small pore size of 5.7 microns. 
Highly breathable and comfortable.
Commended by leading Colleges of Medicines in blocking dust mites and allergens.
Cons
---
3. Solus Organic Cotton Mattress Cover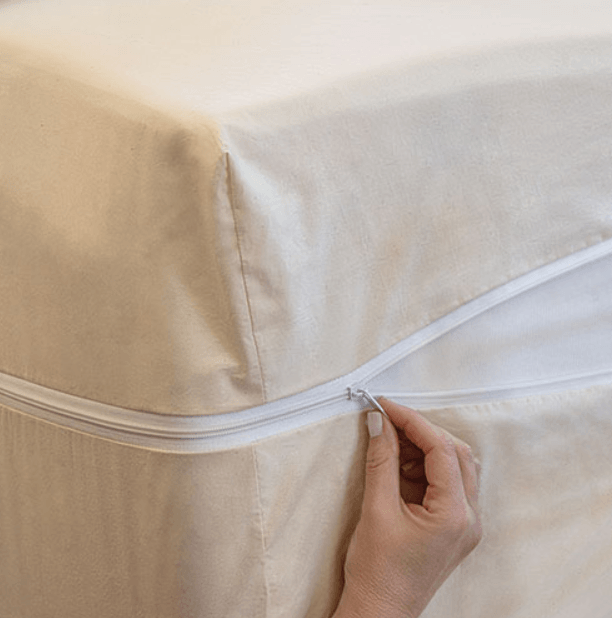 Solus uses 100% organic cotton to craft one of the best allergy-friendly mattress cover. It features a 233-thread count that results in pore size as small as 5.3 microns. No harmful chemicals or dye are added in the process.
The dust mite covers are available in different sizes, making it easy to choose the perfect fit for your bed. Besides keeping the tiny pests away, the Solus mattress cover delivers comfort to the sleeper. It is breathable and cooling, which is good for hot sleepers.
Solus protectors have a thin hypoallergenic barrier on top, that keep your guarded from microscopic allergens, and dust mites during your sleep. The barrier was tested and certified by Porous Materials Inc.
Built to be long-lasting, you can wash the mattress cover without compromising the pore size and protection.
Pros
5.3 microns pore size to block dust mites.
Certified a

llergen-blocking barrier.

Noiseless, smooth, and cool fabric, perfect for all night long deep sleep
Cons
Some customers find it hard to put on.
---
4. Sleep & Beyond Waterproof myProtector (Most Comfortable)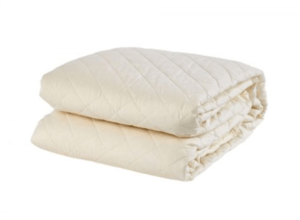 Sleep & Beyond is a one-stop-shop for all your bedding needs. This company takes pride in producing high-quality products that ensure comfort, bug protection, and relief while being extremely affordable. These products truly live up to the claims of protecting the sleepers from bed bugs, allergens, and dust mites, and providing stress-free sleep.
Mattress protectors from Sleep & Beyond are adorned with numerous qualities to ensure you have a rejuvenating sleep. Made with cotton and filled with 100% wool, these covers fit superbly on different sizes of mattresses and are smooth and breathable. After laying down, you can relax your body easily without hearing creepy, irritating sounds, and plastic-type feel.
With these protectors on the mattress, forget worrying about spillage of water, sweating stains, and urine spillage accidents, as these are 100% waterproof and easy to wash as well.
Pros
Gives the best dust mite protection for your bed.
Feels super smooth and produces no irritating noises.
Hypoallergenic, waterproof and guarantee safety.
10-year warranty.
Cons
Not the cheapest mattress cover around.
---
5. Coop Home Goods Ultra Luxe Mattress Protector (Best Quality)

Coop Home Goods provides supreme quality bedding products. The mattress protector ticks all the boxes in terms of quality, and comfort. It's made of patented Lulltra™ fabric, which is hypoallergenic and blocks dust mites.
The fabric is soft, comfortable, and noiseless and perfectly fits on the mattress. Most importantly, the protector is extremely quiet when you're tossing around in bed. It's also
Coop Home Goods gives an amazing deal to its customers. You get to try on the mattress protector for 100 nights. If you're not happy with it within the trial period, feel free to return it for a full refund.
Pros
Made with patented Lulltra™ fabric
Fits mattresses up to 18″ deep.
Hypoallergenic.
Cons
Leak-proof properties are faulty in some products.
---
6. AllerEase Zippered Allergy Mattress Cover (Best Protection)
AllerEase particularly deals with dust mite covers that are made with intense research. With the use of cutting edge technology, the company makes comforting, premium quality, and soft sheets that will protect your loved ones from dirt and allergens.
These protectors are especially best suited for the family having beautiful kids and lovely pets, as in such household spillage of liquid is a norm. These protectors are waterproof and stain-free so no worry about that.
A distinguishing feature of these protectors is the inclusion of temperature balancing technology that adjusts the temperature of the bedding as per your body temperature, so you'll always feel good, neither hot nor cold.
Temperature balancing also removes moisture, which makes the mattress and unconducive spot for dust mites growth. Arguably one of the best dust mite covers for allergy sufferers.
Pros
Presence of Velcro flap to tuck in the zipper, creating a double seal that ensures entry of no bug or dust mites whatsoever.
Comfortable zipper and fully locked mattress keep it clean, fresh and odor-free for a longer period of time.
Equipped with temperature balancing technology that works according to your body temperature.
10-year warranty.
Cons
The fabric of the protector is problematic for some people.
---
7. LinenSpa Mattress Encasement (Most Affordable)
LinenSpa came into the market in 2003, and with its impeccable quality, excellent services, remarkable products and a wide range of bedding products.  It soon became a formidable competitor with established brands.
Mattress covers by LinenSpare are identified by their high-quality material and excellent manufacturing process. All six sides of the mattress will be perfectly safeguarded with this zippered, waterproof cover and your mattress will remain perfectly packed inside.
The lightweight material feels immensely comfortable, smooth, and breathable, and sure super protective against dust mites and bed bugs.
These mattress covers are available in 11 different sizes, covering the whole range of beddings available in the market. So, whichever bed size you own, you'll have something suitable for you.
Pros
Provides 360-degree protection by wholly surrounding the mattress with zipper.
Noiseless, ensuring no disturbance in deep sleep.
100% waterproof and complete protection from dust mites and bed bugs.
10-year warranty.
Cons
Quality and efficiency of the mattress covers were not up to the mark for some customers.
---
8. Utopia Bedding Waterproof Mattress Cover
Finding perfect dust mite cover means ticking several boxes, including comfort, high quality, and flawless fit. In this regard, Utopia Bedding produces one of the best mattress covers that have all these highlighted features.
The allergy covers are available in different sizes, covering all kinds of beds available in the market. The cover is perfectly designed to cover the mattress inside all the way to 360 degrees that keeps any sorts of mites and bed bugs rendered from entering and making a home inside the bed.
Moreover, there is a PVC waterproof packaging on all sides of the cover that helps in resisting any leakage. Another comforting feature of this cover is that you can easily wash it in the machine and tumble dry to keep it properly cleaned.
Pros
Made with a hypoallergenic barrier, making bug, mites and dustproof.
Zippered bag for perfect encasement, and safety from bug entrance.
Impermeable TPU backing on all sides of the mattress that keeps it away from stains.
Cons
A few people complained about poor stitching near the seam.
---
9. SafeRest Premium Mattress Protector
SafeRest is a highly recommended brand for all kinds of mattress protector products. Their indulgence in each and every aspect, extensive and thorough research, and the use of cutting edge high tech in creating comfortable products is incredible and makes this brand one of the best.
SafeRest certainly has ticked all the boxes in manufacturing high-quality mattress protectors. They use highly comfortable material to the skin, cotton, to make the covers. One of the incredibly appealing features of this cover is that it is great for people who have small kids, suffering through any sort of allergies, eczema, or asthma.
All in all, it gives you protection from bacteria, allergens, perspiration, all types of fluid spillage, and dust mites. Moreover, the company gives a whopping 10-year product replacement warranty. It's definitely a great option to protect yourself and the mattress from being in an unhygienic and dirty environment.
Pros
Safeguard from allergens, and fluids.
Cotton is breathable, lightweight, noiseless, and feels comfortable to lay down on.
Easy to machine wash.
Cons
Cover sheets are not zippered to keep the cover in place.
---
10. Hospitology Sleep Defense System Mattress Encasement
Researchers at Hopitology understand the numerous health advantages that come along with good night sleep. Through their thoughtful research in all steps of manufacturing, quality designing, and use of high tech fabric, their products enhance the probability of you having a better, peaceful, and serene deep sleep.
This eventually helps in the betterment of your mood, physical and mental health, reduce extra body fat, and decrease disease rate. It's a great option for dust mite allergies.
The zippered mattress protector from Hospitology truly reflects all the beneficial aspects that are attached to this brand. This cover perfectly blocks entering of any allergens making it a great pick for people having any respiratory conditions.
It is ideal to be put on latex or foam mattress, and it fits perfectly on all 6 sides of the mattress in a secure manner. Moreover, it is waterproof, so no need to worry in case of any spillage.
Pros
Independently tested in the lab to be bug proof.
Soft, breathable, and comfortable 100% polyester fabric.
Ease respiratory conditions such as asthma through blocking allergens.
Cons
Some customers complained about cover entrapping heat and making it hot to sleep on.
---
---
How Often Do You Need To Wash Dust Mite Covers?
When you've purchased a new dust mite cover, you could wash or use it in its newly unpacked condition. There are no specific rules on this. However, I made it a habit to always wash new covers before using it.
Instruction to wash the mattress cover is usually displayed on the packaging. Simply, turn on the warm or cold water tap for the first wash and fill in the washer to half level, add detergent in the water and swirl around. Then add your zippered cover and turn on the machine. Tumble dry the cover. Your cover is ready to be used.
What's more important is the subsequent washing of the dust mite covers. The rule of thumb is to wash the dust mite cover every 4-6 weeks if you're suffering from dust mite allergy. That's because dust mites may still be found on top of the cover.
Of course, you ought to wash the dust mite cover whenever you found it's dirty. On subsequent washing, leave the zipper open. If the cover is made of micro-weave fabric then it is recommended to turn inside out, and if it is linen fabric then leave as is.
If handled with proper care, your mattress cover can remain efficiently working for many years.
What Are Dust Mites
Dust mites are tiny little microscopic creatures that become inhabitants of almost every household. Often called as house dust mites, the tiny creatures are closely related to spiders and are mainly fond of carpets, curtains, bedding, furniture, and mattresses.
Being unseen by the bare eyes, these creatures live on small flakes of skin and love humid environments and warm temperatures. Dust mites excretion is the culprit of allergies in some people.
Dust mite allergy can be severe or mild. In mild condition, you may have a runny nose, sneezing, and have watery eyes, while in severe cases, you may develop an intense cough, nasal congestion, persisting sneezing, asthma attack, chest tightness, and facial pressure.
It is highly recommended to remain protected from house dust mites through proper cleaning and following all precautionary measures.
How Do You Keep Dust Mite Out Of Bedding?
It's no secret that the bedding is a favorite spot for dust mites. To keep your allergies under control, you'll need to do the following besides using a hypoallergenic mattress encasement.
Vacuum/Steam Cleaning – Some of the mites are nestled deep in the bed while others linger on the surface. Use a combination of UV vacuums and steam cleaners to remove the pests.
Wash mattress/pillow covers regularly – Both mattress and pillow cover help to protect your mattress from dust mites. However, they could still trap the allergens on the surface. Make sure you wash the dust mite covers regularly to remove the mites and allergens.
Use an air purifier – Some of the mites could be sent airborne at the slightest movement. Air purifiers are proven to be effective in removing them from the air. Place one near your bed for it to be effective in reducing dust mite allergies.
Considering how dust mites can wreak havoc on your health, you'll never want the pests breeding rampantly in your mattress again. I hope you've got the best dust mite cover to keep the unseen pests away from your bed for good.
Related: