DISCLOSURE: This post may contain affiliate links, meaning when you click the links and make a purchase, we receive a commission.
An extractor fan, or exhaust fan, in the bathroom isn't something that you should consider getting, it's something your bathroom absolutely needs if it doesn't have an outside window. Extractor fans for bathrooms are known for removing foul odors, but they're also used to remove excess moisture after steamy showers—a source of long-term damage to walls, ceilings, and tiles.
Finding the most suitable extractor fan for your bathroom can be a challenge considering the hundreds upon hundreds of different models to choose from. To help you find the most appropriate model, we've compiled a list containing 8 of the best extractor fans for bathroom that would work in most homes and apartments.
8 Best Extractor Fans for Bathroom
1. Hunter Sona Bathroom Fan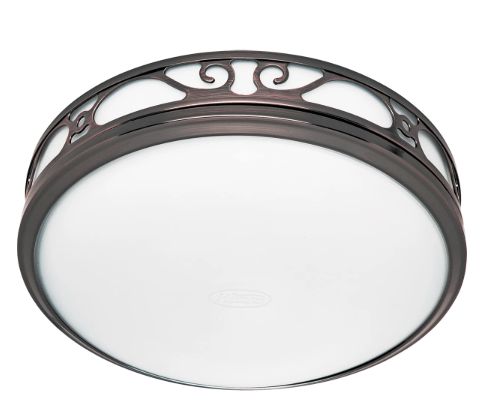 Features
        Beautiful design
        Combination fan and light
        Nightlight mode
The Hunter Sona is one of the most eye-pleasing extractor fans you'll ever find. The glass light and fan are housed within a tiara-like casing with a bronze finish that really ups the classiness of a bathroom.
Looks aside, the Hunter Sona is an excellent extractor fan that circulates air at a rate of 110 CFM while only producing only 3 sones of noise. It accepts two A15 bulbs where light is dispersed through a 15-inch dome. An optional nightlight feature is definitely easy on the eyes at night.
---
2. Air King Bathroom Exhaust Fan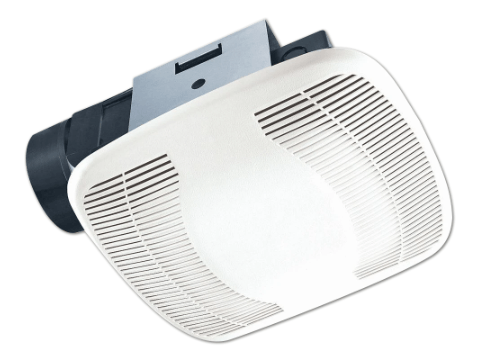 Features
        Removable grill cover
        Large motor
        Snap-in bracket
The Air King is not ceiling-mountable but instead connects directly to your home's existing ductwork to completely and permanently remove malodors, moisture, and contaminants from your bathroom.
A little bit of handy know-how will help you get the King set up in a jiffy. It's one of the bulkier bathroom extractor fans on our list, but with an airflow rating of 80 or 90 CFM (two options available), you can expect some pretty outstanding results from the Air King.
---
3. Panasonic WhisperCeiling Bathroom Fans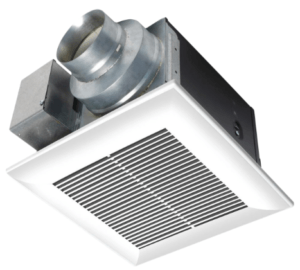 Features
        Long-lasting motor
        Energy Star certification
        Anti-corrosion finish
The Panasonic Whisper Ceiling is anything but whisper-quiet. The good news is that the loudness of this fan isn't without reason—being able to clear rooms of between 175 and 350 square feet, you can say goodbye and good riddance to nose-wrinkling bathroom smells once and for all.
There are three different versions of the Whisper Ceiling, but only the 150-CFM model comes with the necessary hardware to set up. As for the 290 and 350 CFM versions, professional assistance may be required in setting them up.
---
4. Canarm 110 FCM Bathroom Exhaust Fan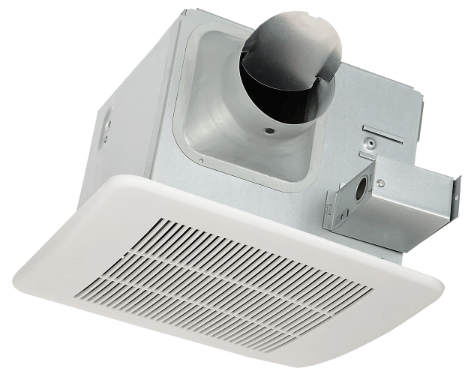 Features
        Plastic grill cover
        4-inch duct outlet
        Energy Star certified
There's nothing too fancy about the Canarm's appearance. It comes with a removable plastic grill cover that makes cleaning up the fan's blades easier on the user. It has a maximum coverage capacity of 105 square feet—larger than the typical bathroom—while generating a mere 1 sone of noise.
Like most extractor fans on our list, this is a ductable model so unless you're handy with carpentry tools and hardwiring, professional help may be required. The fantastic news is that the Canarm is certified by Energy Star to ensure cost-efficient operations throughout its multi-year lifespan.
---
5. Broan NuTone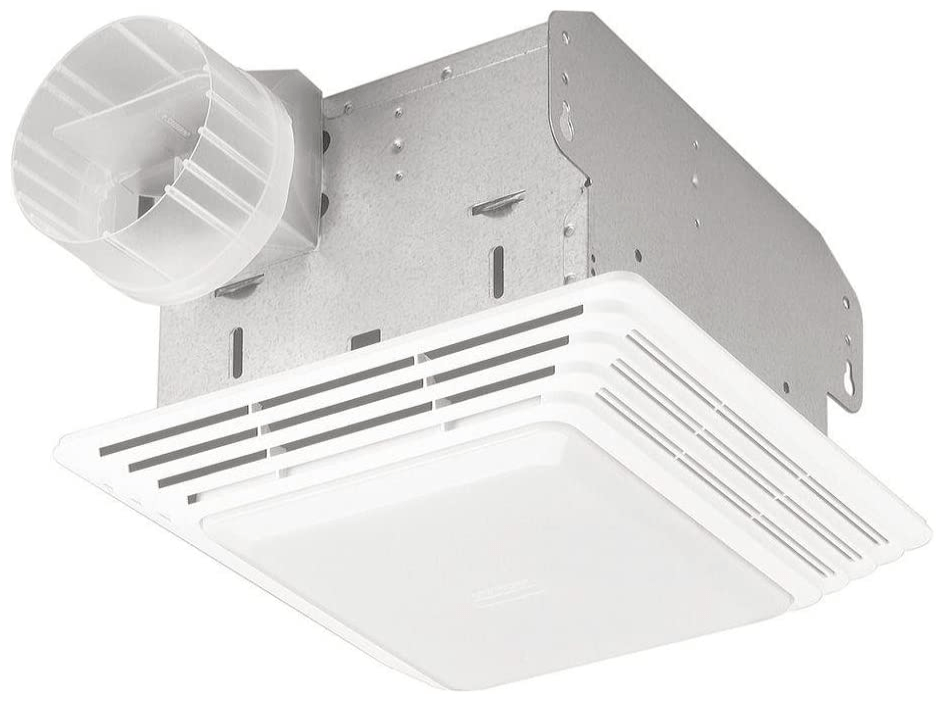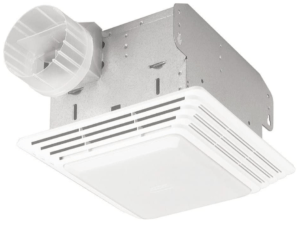 Features
        Metal grate
        Fan and light combo (100W bulb capacity)
        UL Listed
If you're looking for an inexpensive fan/light combo for your master bathroom, the Broan NuTone is one of the best options. This would make for the perfect replacement for old, worn-out bathroom extractor. It has a limited coverage capacity of only 45 square feet, but with proper installation (added insulation to prevent rattling), this tinier exhaust fan only produces about 2.5 sones.
This unit accepts bulbs of up to 100W, meaning extreme brightness that may put your bathroom's main source of light to shame. This would also make for a nice addition in hallways, bedrooms, and hobby rooms.
---
6. Delta BreezGreenBuilder GBR100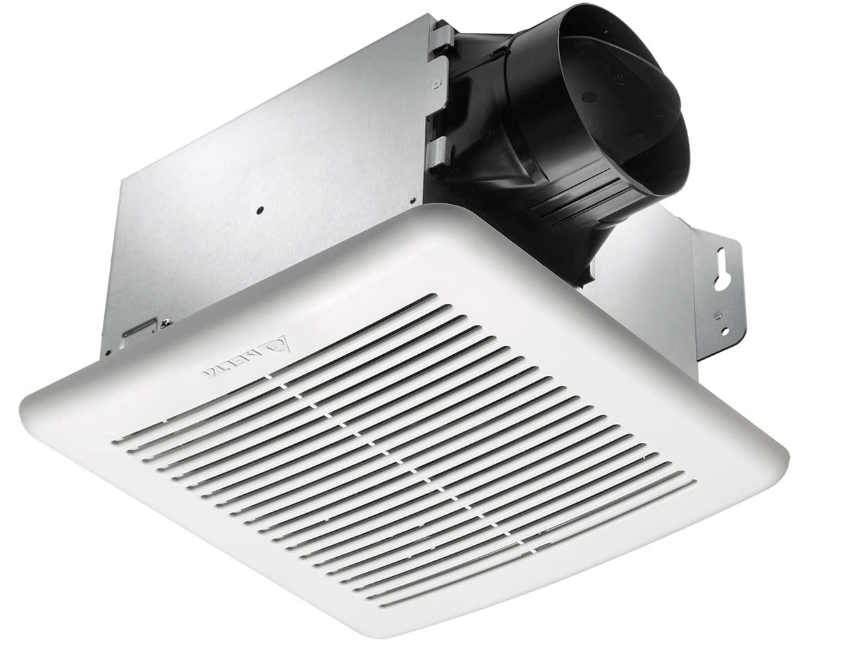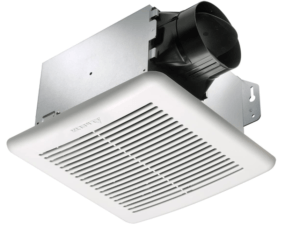 Features
        Galvanized steel casing
        Brushless motor
        Energy Star certified
If you're not a fan of square grill covers, the round-edged Delta BreezGreenBuilder might be exactly what you're looking for. The entire unit is made of galvanized steel that is naturally resistant to corrosion, making it an excellent fan for the bathroom and other humid rooms.
Certified by Energy Star, you won't need to worry about spiked power costs while running this unit constantly to remove excessive moisture in spaces of up to 95 square feet. Installing the Delta BreezGreenBuilder shouldn't be a problem thanks to its no-cut design and compatibility with most standard fan sizes.
---
7. TechDrive 70 CFM Exhaust Fan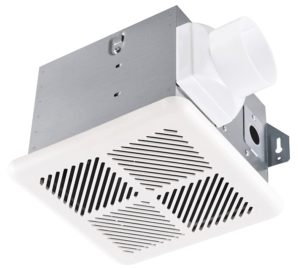 Features
        Galvanized steel housing
        UL and HVI certification
        Easy to install
The TechDrive bathroom exhaust fan has received numerous positive reviews from customers due to its easy-to-install design and quiet, 2-sone operation. It's made of galvanized steel to prevent moisture damage while it suctions up 70 CFM of vapor and odors.
Coming in at about 8 x 7 x 6 inches, it's pretty compact, and its thoughtful design means easily swappable with your current extractor fan. It comes with all of the mounting equipment needed to set up, though insulation is needed to prevent excessive rattling sounds.
---
8. Homewerks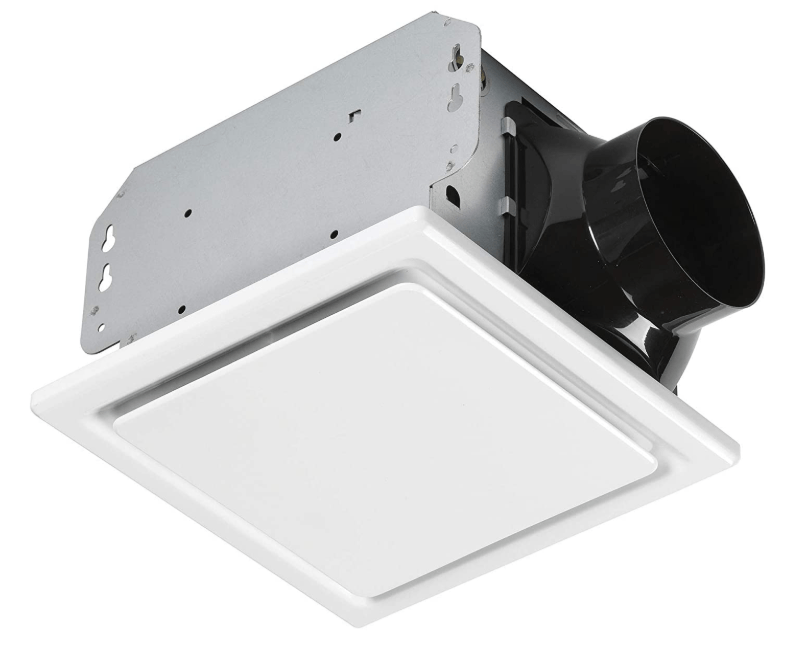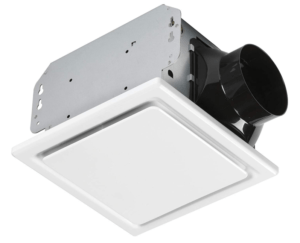 Features
        Galvanized steel case
        One continuous slit opening
        Available in 50, 80, or 110 CFM
Finally, we have the Homewerks bathroom extractor fan. This fan is encased in a galvanized steel housing with one continuous opening instead of grates for added appeal. Available in three versions between 50 CFM and 110 CFM, it's pretty safe to say that there's a Homewerks for everybody with any sized bathroom.
Installing the Homewerks requires absolutely no cutting to replace standard bathroom extractor fans, meaning setting it up is done in just a few minutes. But like many of the other ductable extractor fans on our list, incessant rattling noises can occur if the unit isn't fully insulated properly.
---
How to Choose a Bathroom Extractor Fan
Many people probably won't give bathroom extractor fans a second thought, but there's actually quite a lot to consider when shopping for one. Here's a quick rundown of the most crucial features and factors you need to take into account. We'll talk about the types of bathroom extractor fans in a later section.
Bathroom Size and CFM
Before aesthetics, your main point of consideration should be whether the extractor fan is the right fit for your bathroom. You'll need to manually measure the size of your bathroom beforehand in cubic feet, then multiply this figure by how many air changes per hour you want. The Home Ventilating Institute recommends 8 ACH for bathrooms.
For instance, a bathroom of 8 × 6 feet at 8 feet high with 8 ACH produces 3,072. Divided by 60 and you'll get the minimum CFM rating for your bathroom (51.2 CFM in this case). Our list contains exhaust fans with CFM ratings of between 70 and 350 CFM.
Noise Output
It'll be difficult soaking in your tub after a long day at work if the exhaust fan is shrieking nearby. Thankfully, some of the best extractor fans for bathrooms are virtually noiseless (except for rattling sounds which can be fixed by using insulation). The noise output of bathroom extractor fans is measured in sones. The lower the sone rating, the quieter the fan is.
Types of Bathroom Exhaust Fan
There are several types of bathroom exhaust fans to choose from. The items on our list can be split into the following:
 Ceiling-Mounted
Ceiling-mounted extractor fans—such as the Hunter Sona, Air King, and Panasonic Whisper Ceiling—move air from one room to the attic. This, however, does not solve the problem of humidity but rather places it in another room that is more prone to moisture damage unless properly ventilated.
Wall-Mounted
Wall-mounted models—the Canarm, Broan NuTone, Delta BreezGreenBuilder, TechDrive, and Homewerks—come with integrated ducts that connect to your home's ductwork. This system expels humidity and malodors to the outdoors, eliminating them permanently from causing damage inside of your home. They're a lot more effective at what they do, but they can be trickier to install (unless swapping them with your current fan).
 Exhaust Fan/Light Combos
It'd be nice if the fan didn't just suction smelly, humid air. If you're looking for more than just a one-trick pony, consider exhaust fan/light combo models. Only the Hunter Sona and Broan NuTone combine the best of both worlds—the former with nightlight mode, the latter with extremely bright lights.
Why Do You Need an Exhaust Fan in the Bathroom?
We've said it before and we'll say it again: bathroom exhaust fans remove nose-wrinkling odors and excess humidity, creating a more inviting environment in the room we seek comfort the most. Let's talk a bit about why exhaust fans in the bathroom are important.
Odor Control
A powerful extractor fan will remove odors directly from the source in very little time. They can be activated while the bathroom is empty so the next person who comes strolling along doesn't have to be exposed to leftover noxious fumes.
Reduced Humidity
Humidity is a huge problem. It promotes bacteria, dust mites and mold growth which can create not only health problems but can be expensive to remediate. Prevention is a lot cheaper than fixing or replacing, so do yourself a favor and invest in a dehumidifying exhaust fan for your bathroom.
Cleaner Air
It's not uncommon for homeowners to clean bathrooms with harsh chemical solutions. Toxic fumes tend to linger in enclosed spaces (who leave their bathroom door open?), but with proper ventilation, you'll have a lot less to worry about. With less humidity, contaminants, and toxic fumes in the air, you can actually end up breathing a lot better when soaking in your tub.
Final Thoughts
We hope we helped clear the air a bit regarding extractor fans and why they're a crucial tool to have. You can find our list of the top 8 best extractor fans for bathrooms above–it contains a little bit of everything so everybody can enjoy clean, breathable air where it's needed the most.