DISCLOSURE: This post may contain affiliate links, meaning when you click the links and make a purchase, we receive a commission.
Cleaning your home can be a messy and tedious affair especially when you need to clean areas that are hard to reach by conventional cleaning tools. The handheld steam cleaners offer the right balance of versatility and the capability to remove dirt residue and germs with its strong burst of hot vapor.
Steam cleaners work well on carpets and floor but it's going to be a hassle to eliminate dust mites, bed bugs, or other allergens on a mattress without being clumsy. Such occasions call for the handheld version, as it packs a similar punch when it comes to lifting stubborn dirt or killing germs with heated vapor.
Handheld Steam Cleaners For Mattress Compared
How Does A Handheld Steam Cleaner Works?
A handheld steam cleaner operates similarly to its larger counterpart. It uses steam, which is produced by heating the water in the tank to remove stubborn dirt from various types of surfaces. Unlike regular steam cleaners, which channel the heated vapor through a considerably large hose, handheld steam cleaners have a shorter and smaller nozzle.
These smaller nozzles enable you to reach difficult cleaning areas where the steam will make short work of dirt and residues that have been accumulating for a while. You wouldn't need to worry about causing the surfaces to be wet or damp as the vapor produced by a steam cleaner consists of only 5% of water.
What you need to be wary of is not directly exposing yourself to the vapor, as it can get very hot. A steam cleaner heats up the water in its tank considerably and it's not unusual for the vapor to reach 225 Fahrenheit (107 Degrees Celcius).
At such a high temperature, the vapor will have no problem removing the hardened debris. However, the handheld steam cleaner doesn't remove the debris or dirt from the surface, which means you'll need to have a cleaning cloth ready as you go around steam cleaning your home.
---
Why Use A Handheld Steam Cleaner?
When I started a cleaning regime to battle dust mites in my home, the mattress is the first place that needs a thorough cleaning and naturally, a handheld steam cleaner comes to mind. It's highly mobile and emits sufficiently hot vapor to kill dust mites and other germs that are lurking in the room.
But there are other reasons why you'll want to keep a handheld steam cleaner ready at home.
1. Chemical-free cleaning
If you're environmentally-conscious, you know that most cleaning solutions are made with chemicals that pollute the earth, regardless of whether they are effective in removing the stains. A handheld steam cleaner uses electric, water, and brilliant engineering to turn natural water into heated vapor for cleaning.
In other words, a handheld steam cleaner doesn't add any pollutants to the already-suffering earth.
2. It kills germs, bacterias and yes, dust mites.
It's worth mentioning again that the handheld steam cleaner is an effective arsenal against germs, bacterias and dust mites that are lurking in the mattress or upholstery. Dust mites are easily killed when exposed to a temperature of around 122 Fahrenheit (50 degrees Celcius) and the vapor produced by a steam cleaner goes beyond that.
3. It doesn't leave a mess
Using a steam cleaner is also considerably less hassle than soaking or spraying the items in hot water. The vapor produced by the steam cleaner contains very little water particles, so the surfaces are dried easily.
4. A handheld steam cleaner is mobile
It's a nightmare pulling and pushing a full-blown steam cleaner around. Or twisting and turning the hose to reach awkward spots in the room. A handheld vacuum cleaner is highly versatile, plus it is easy to store after you've done the cleaning.
5. It's Economical
A handheld steam cleaner is way less expensive than its full-sized counterpart. Besides the initial cost, a handheld steam cleaner has a smaller tank and this means it uses less energy to vaporize the water. In a way, it will be friendlier to your utility bill.
---
How To Use A Handheld Steam Cleaner?
At a glance, a handheld steam cleaner looks intimidating, especially if you're not fond of new and innovative gadgets. But once you've got the hang of it, operating and using a handheld cleaner is easy.
1. Assemble the detachments
Handheld cleaners are usually shipped with detachments like the jet nozzle, brush head, nylon brush, and upholstery tool. Depending on what you're going to clean, you'll need to connect the detachments accordingly. Assembly is often self-explanatory or you can refer to the guide that comes with the steam cleaner.
2. Fill in the water 
Steam cleaners are built with a tank that you'll need to fill with water. It usually ships with a funnel and a measuring cup. Rather than filling directly from the tap, use the accessories provided and it helps prevent water spilling and potentially wetting the electrical parts.
Before you fill in the water, make sure that the handheld steam cleaner is not plugged into the power socket. Place the cleaner on an even surface and pour the water into the tank. Make sure you don't pour more than the specified capacity of the tank.
3. Power On And Clean
Once you've filled up the water, secure the inlet cap and connect the cable cord to a power socket. Power on the steam cleaner and check if the steam indicator is lighted up. Be careful and avoid directing the nozzle to body parts as the steam is at boiling temperature.
Press the steam button to blast hot vapor on the mattress or other surfaces that you're cleaning. It helps to have a cleaning cloth ready to remove dirt that has been made unstuck by the handheld steam cleaner.
4. Cleaning the handheld steam cleaner
Of course, after serving its purpose of killing germs and removing dirt, the handheld steam cleaner deserves to be cleaned. Remove all the detachments and wash the nozzles with running water. You can also clean the water tank before storing the steam cleaner.
---
When You Should Avoid Using A Handheld Steam Cleaner?
There are occasions where using a handheld steam cleaner could spell disaster on the items or surfaces that you're cleaning. You'll want to know what to avoid when you're cleaning with a steam cleaner at home.
Paintings – Stay away from those precious Picassos, or other water-based paintings. The steam produced will damage the paint in an instant. Also, avoid using the steam cleaner on other heat-sensitive materials
Silks – Silk-covered upholsteries are pleasant to the eyes, and you'll want to avoid steam cleaning even if you're allowed to.
Hardwood floor – Hardwood floor is sensitive to water and heat. While it will survive a session of steam cleaning, doing so regularly may damage the floor in the long run.
Painted walls – Or specifically walls painted with water-based paint. The hot vapor will be a destructive force strong enough to damage the paint.
---
So, What Can You Clean With A Handheld Steam Cleaner?
Now that we've got the forbidden items out of the way, you are left with a wide range of materials or surfaces that you can clean with a handheld steam cleaner. Obviously, the mattress is one of the items that will benefit from a handheld steam cleaner.
Besides that, you can also use the steam cleaners on the following surfaces:
Upholstery  – A handheld steam cleaner is versatile and the right equipment to clean upholstery.
Curtains – Curtains are often overlooked when you're hunting pests and allergens, and a handheld steam cleaner ensures hassle-free cleaning.
Carpet – While a handheld steam cleaner won't damage the carpet, it won't cover a large area compared to its full-sized counterpart.
Ceramic & Tiles – Molds and mildews are an unpleasant sight when they grew rampantly on the ceramic or tiles. A handheld steam cleaner will be effective in removing them on the spot.
Others – Other items that may benefit from steam cleaning includes cutleries, kitchen appliances, rubbish bin, car cushion, pet blankets, and mirrors.
---
How To Choose A Handheld Steam Cleaner For Mattress?
Handheld steam cleaners are becoming a popular household item. It's understandable if you're hoping to get one to make cleaning easier. But in your haste in doing so, never choose a handheld steam cleaner just because it's the cheapest amongst the pack or you may end up with a product with inferior quality.
Instead, consider these points when you're shopping for a handheld steam cleaner.
Fast-heating – You don't want a handheld steam cleaner taking forever to heat up the water. Generally, it takes 3-4 minutes for a decent handheld steam cleaner to warm up, although there are exceptional ones that can do so in less than 60 seconds.
Capacity – You'll want to pay attention to the water tank capacity, or your cleaning routine will be one punctured with frequent water refills. Handheld steam cleaners typically allow continuous cleaning of up to 20 minutes before a refill is needed.
Steam Indicator – Having an LED indicator takes the guesswork out of knowing when the steam is ready.
Cord length – While the handheld steam cleaner is highly mobile, it is still restricted to the length of its electrical cord. You want to have a reasonable room to use the cleaner in your home.
Accessories – A handheld steam cleaner is as good as the attachments that come with it. If you're cleaning upholsteries, make sure it has an upholstery brush. An angled nozzle is also handy, as it helps you to reach difficult crevices.
Warranty – Warranties are crucial when you're getting a handheld steam cleaner or any type of electrical appliances.
---
Where Can You Buy A Handheld Steam Cleaner?
Generally, the best place to shop for a handheld steam cleaner is an electrical appliance store. You'll have the luxury of getting hands-on with the product before bringing it back home.
Alternatively, online retailers like Amazon offer some of the top-rated handheld steam cleaners. You also get to compare feedbacks amongst the brands before making a decision.
---
Best Handheld Steam Cleaners For Mattress 2020
So, what's the best handheld steam cleaners that deserve to be in your wishlist? I've consolidated these top-rated models from their hundreds of other counterparts.
1.
Vapamore MR-75 Amico (Life Time Warranty)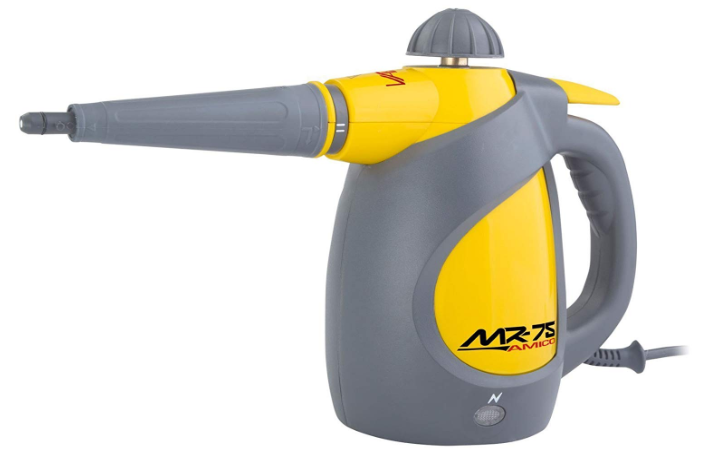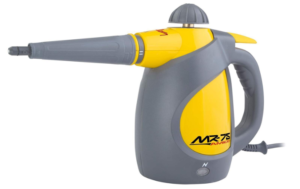 Buy At Sylvane
If you need to tip the battle against dust mites and germs in your favor, you'll want to consider getting the Vapamore MR-75 handheld steam cleaner. With a pressurized vapor of up to 210 Fahrenheit, these pests and allergen will have no room of escapes.
At the heart of the steam cleaner is a powerful 1,000 Watt heater that turns the water in the 6.7 oz tank into heated vapor. You'll find the steam cleaner a great help in cleaning and disinfecting surfaces in the bathroom, kitchen and upholstery. It also does a fine job cleaning hard surface floors and windows.
It only takes 4 minutes for the steam vapor to build up and ready for cleaning. The steam cleaner also comes with a notably huge range of accessories with 16 different brushes, scraper, nozzle, and other useful tools. If you're worried about heavy appliances, you'll find the 3.5 lbs Vapamore MR-75 effortlessly light.
As the Vapamore handheld steam cleaner is built to be perfectly chemical-free, you can use the cleaner without worrying it may cause harm to your family or pets. Besides, it's also an environmentally friendlier approach than using conventional cleaning solutions.
Features:
4 minutes to heat up.
6.7 oz water tank.
A large collection of accessories.
Lifetime warranty.
Very light at only 3.5 lbs.
---
2.
BISSELL 39N7A/39N71 
(Shortest Preheat Time)
You'll want to stop scrubbing stubborn dirt and grime with a cleaning solution that is harsh for both humans and earth. Instead, a portable steam cleaner like the BISSELL 39N7A/39N71 is the better solution. A single press will release a powerful stream of heated vapor that gets the grime off the surface or eliminate dust mites hiding in the mattress.
This Bissell steam cleaner is incredibly efficient, capable of producing hot pressurized vapor in just 30 seconds. It has a 6.6 oz tank capacity, which gives you more than 15 minutes of continuous cleaning. Efficiency is highly ingrained in the heating element as it takes up only 1000 W of energy usage.
With a 20′ power cord, you'll have ample room of maneuvering the steam cleaner. It gives you the flexibility to clean hard-to-reach places.  Also, your cleaning task is further aided by the accessories, such as the grout brush, fabric steamer, and the extension hose.
You'll also have peace of mind when using this steam cleaner from Bissell. It is guaranteed to be fully chemical-free and you won't toxin residue generated from the steam cleaner. Weighing only 4.6 lbs, you'll hardly feel the weight as you tackle hardened dirt at higher places like the countertop.
Features
Heat up in 30 seconds.
20 feet power cord.
100% chemical-free.
Lightweight and mobile.
6.6 oz tank capacity.
---
3. Polti Vaporetto Easy Plus (Largest Water Reservoir)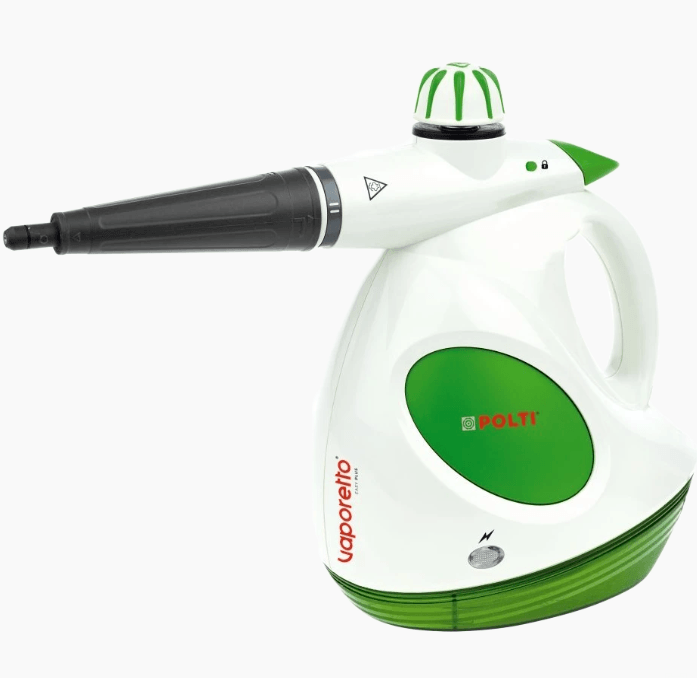 You don't have to tolerate the ever-growing mold in the bathroom, nor the germs that are having a field day in your bed. The Polti Vaporetto handheld steam cleaner is an able companion for your regular cleaning routine.
This powerful cleaner produces high-pressure steam of up to 275F. The heated vapor and the pressure applied is sufficient to remove grease and grime. With a tank capacity of 200 ml, you'll be able to clean continuously for up to 20 minutes.
The application of the Comforday handheld steam cleaner extends to a broad area of your home. With the jet-nozzle, it removes dirt and grime easily. But if you need a softer touch to sanitize your clothes, replacing the nozzle with a clothing steamer tool does the trick.
The Polti Vaporetto Easy Plus also features a child safety lock. This can be handy if you're worried about children playing around with the steam cleaner when you turn your eyes away.
A keynote and reminder from the manufacturer when using the steam cleaner is not to fill the tank to the brim. Common sense dictates that some space must be spared for the steam generated. Also, don't tilt the steam cleaner beyond 45 degrees as this may result in spilling the scalding hot water.
To be safe, you'll want to ensure the steam cleaner does not have a leak before using it to clean the various parts of your home. You'll also find the accessories included with the steam cleaner for diverse usage.
Features
Heated up in 3 minutes.
Holds 200 ml of water.
Heats up to 275 F
Child safety lock.
Works on various surfaces.
---
4.
McCulloch MC 1230

Buy At Sylvane
It's time to bid farewell to cleaning solutions that are not supportive of the environment. Instead, use a handheld pressurized steam cleaner like this unit by McCulloch MC1230 when you want to remove dirt and grime or sanitize beds and mattresses from allergens.
This handheld steam cleaner is engineered with efficiency. It has a tank capable of taking 177 ml of water which will be vaporized by up to 212 Fahrenheit. You can expect the cleaner continuously produce steam for up to 10 minutes.
You'll find that the steam cleaner is effective on a broad range of surfaces. For instance, the hot vapor will clean the shower curtain effectively, or you could use the steam cleaner for killing dust mites in the mattress. If you're concerned with your car's hygiene, you can clean the interior with the steam cleaner.
Once you've filled the reservoir with water you'll need to wait for the indicator light to turns on. This indicates there's sufficient vapor for you to start cleaning. You'll need to be cautious when opening the safety cap. Make sure you power off and release the steam before unlocking the cap.
This particular model is shipped with 11 pieces of accessories. These accessories, such as the extended nozzle and bent spray, allows you to deep clean your home effectively.
Features
Heats up in 3 minutes.
Fills up to 177 ml of water.
Steam ready indicator light.
Shipped with 11 pieces of accessories.
Powerful steam to cut grime off.
---
5. Reliable Pronto
CH100  
You can easily confuse bed bugs with dust mites, but it doesn't matter as the Reliable Pronto CH100 handheld steam cleaner will put an end to both types of pests. Besides aiding you in pest termination, you'll find that the steam cleaner is an equally adept tool in cleaning stubborn allergens and dirt both in or out of your home.
The Reliable Pronto handheld steam cleaner has a distinguishing feature compared to its competitors. Rather than waiting 4 minutes, you can start using the steam cleaner in 2 minutes with a max pressure of 58PSI. You can steam clean for up to 15 minutes on various surfaces.
Unlike conventional handheld steam cleaners, you won't find a screw cap on the Reliable Pronto. Instead, it's built with a proprietary safety technology called the Comfort Safety System. The capless designs allow you to open or close the reservoir safely at all times.
It's also worth mentioning that the Reliable Pronto CH100 is an inherently safe steam cleaner where health and environment are concerned. The steam cleaner doesn't produce any harmful chemicals when it is heated up. The only harm it causes is to the colonies of bed bugs and dust mites in your home.
Features
Up to 58 PSI of pressure.
Start cleaning in 2 minutes
Capless design
Powerful and mobile.
Lightweight, 2.5 lbs.
---
6. Steamfast SF-210 
When you need an extra blast of hot steam, this handheld steam cleaner by SteamFast is the right answer. It is engineered to deliver intensely pressurized vapor that rivals its competitors. It might just be the extra firepower to blast off stubborn greases, dirt, and grime in your home.
The handheld steam cleaner is engineered for efficiency and with a sturdy handle that enables cleaning with ease. It is fitted with a 12.5-foot cord which does well for indoor or outdoor cleaning. You'll also find that the cord is thick and rugged, eliminating worries of quick wear and tear.
The tank takes in 177 ml of water and it takes 3 for minutes for the water temperature to rise to the maximum, which is about 212F.  You'll know when that happens as the built-in indicator will turn green. After the water is heated up, you can start using the steam cleaner.
This handheld steam cleaner will do a brilliant job in cleaning a variety of surfaces, including mattresses, laminate tiles, cotton/wool carpets, granite, and ceramic tiles. With its versatile design and lightweight-built, you can use the steam cleaner in the kitchen, living room, bedroom and bathrooms.
Filling the tank is quite easy as it has an ample opening size on the inlet.
You'll also receive accessories that allow you to clean certain surfaces more thoroughly. These attachments can be attached to the steam cleaner easily and some come with its own extension hose.
Features
3 minutes warm-up.
12.5 ft cord
Product pressurized steam flow.
Highly effective against grime and dirt.
Lightweight and sturdy.
---
7.
Lambow Handheld Pressurized Steam Cleaner
The Lambow handheld steam cleaner is a great tool to put an end to the dust mites partying in your mattress. Of course, that's not only what this multipurpose cleaner can clean, as it is designed as a multipurpose tool to get rid of dirt and grime in your living room, kitchen, bathroom and other areas of your home.
At the heart of this powerful cleaner is a 1,500 Watts pressurized steamer. Coupled with a 12 oz. water tank, the steam cleaner can be put to use continuously for up to 20 minutes before a refill is needed. The high-pressure steam delivered from the nozzle is sufficient to remove even the most stubborn grime.
Weighing at only 4 lbs., the handheld steam cleaner is incredibly light, so you wouldn't have problems moving and using it in various areas of your home. The steam cleaner is connected with a 9 ft power cord, which is the right length for versatility without being a tripping hazard.
Lambow has also thoughtfully built in a child lock and safety cover. This eases worries of your child getting hurt from coming in contact with the heated vapor. Also, the steam cleaner does not emit any harmful chemicals and is a perfectly safe appliance for your family.
There's no need to keep checking if there's water remaining in the tank. The steam cleaner is built with a sensor that automatically cuts off the power then the is insufficient water in the tank.
You also get a full set of 9 accessories that aid you in cleaning your home. The bent nozzle is helpful in removing dirt at difficult corners while the 100 cm extended hose gives you an extra reach in spaces where the steam cleaner doesn't fit.
Features
12 oz. water capacity.
9 ft. power cord.
Auto-off water-sensor.
Child-lock and safety cover.
High pressure, efficient steamer.
---
Precautions When Using A Handheld Steam Cleaner
Chances are, you will be getting a handheld steam cleaner delivered to you in no time. And if you're like me, you'll want to start playing/cleaning with your new appliance.
While it's fun to get rid of allergen that you've struggled for so long, take note of these precautionary notes before you start blasting the heated vapor at anything.
The vapor is boiling hot, so you'll want to get out of the nozzle's way when you press the steam trigger.
Ensure you know what types of material you're cleaning. Some materials can't handle the heat and vapor.
When cleaning fragile items like windows or mirrors, note that an extreme change of temperature may crack or break the items. Be aware of your surrounding temperature.
Make sure the attachments are secured properly. You don't want heated nozzles falling on your feet.
Attachments don't cool down immediately. Allow a certain period before handling them.
Always unplug the handheld steam cleaner when you're refilling the water.
I hope you've found this guide useful in choosing a top-rated handheld steam cleaner to aid you in neutralizing allergens in the mattress.
Related