DISCLOSURE: This post may contain affiliate links, meaning when you click the links and make a purchase, we receive a commission.
When you're suffering from allergies, especially from dust mites and related allergens, vacuuming your home is one of the common suggestions. It may not occur to you but getting the best vacuum cleaner with a HEPA filter matters if you'll want to effectively remove dust mites from your home.
If you're still using the conventional vacuum cleaner, you'll want to stop right now. Vacuum cleaners without a HEPA filter are ineffective in trapping the allergen within, often resulting in sending the microscopic particles back into the air when cleaning.
That's exactly what I've been doing, as I struggled to keep my home free of dust mites and prevent my son's allergic symptoms from worsening. It wasn't until the doctor suggested that I use a HEPA filter vacuum cleaner that I've had a realization that an old vacuum cleaner can aggravate the situation.
Top Rated HEPA Vacuum Cleaners Compared
Choosing The Right HEPA Vacuum Cleaner For Allergies
While HEPA filter helps to keep allergens from circulating in the air, it isn't the sole criteria to consider when you're choosing a vacuum cleaner. With the pace of innovation, you have a huge variety of vacuum cleaners to shop from.
Here are what you should thoroughly consider when shopping for a vacuum cleaner, particularly when you're dealing with allergies.
1. Bagged vs Bagless
Typically, modern vacuum cleaners are broadly categorized into bagged and bagless. Bagged vacuum cleaners trap the dirt in a dust bag. All you need to do is to replace the bag with a new one when the old bag is getting full.
Meanwhile, bagless vacuum cleaners use a removable dirt cup to store the dirt gathered. You'll require to manually empty and clean the cup as the dirt pile up.
Both types of vacuum cleaners have their pros and cons. Bagless vacuum cleaners are increasingly popular as they are more environmentally friendly and economical. You don't need to keep buying a supply of bags for the vacuum.
However, you'll want to be cautious when emptying the dust from the dirt cup, as you may send some dust into the air during the process.
If you're suffering from allergies, bagged vacuum cleaners may be the better option. You'll be spared the trouble of cleaning dirt from the vacuum. All you need to do is to replace the bag before it gets full.
Ultimately, the choice of bagged or bagless depends on individual preference and you'll find the best of both variants in this guide.
2. Canister vs Upright
You'll also notice that vacuum cleaners are designed either upright or with a canister. Upright vacuum cleaners have always been the preferred model for US households. However, canister vacuum cleaners are getting increasingly popular.
Upright vacuum cleaners have the advantage of a motorized brush and that made them ideal for cleaning carpets or fabric surfaces. Besides, they are relatively more economical than their canister counterparts.
However, upright vacuum cleaners have poor noise insulation and aren't the most mobile vacuum cleaner to have when you need to move between floors.
Canister vacuum cleaners are lighter and with the cleaning tip attached to a hose, you can have a better reach in narrow spaces. You'll also find canister vacuum cleaners quieter as they can be better insulated for noise.
You'll want to consider the arrangement of your home before deciding between the canister or upright vacuum cleaner.
3. Carpet or Floor Type
You wanted a vacuum cleaner that removes allergens from the floor and hopefully leaving the carpet intact. Some vacuum cleaners can be harsh for delicate materials.
When shopping for a vacuum cleaner, you'll need to ensure that the vacuum cleaner is suitable to be used on the carpet in your home. Preferably, you'll want to have the flexibility of special tools equipped for specific types of material.
For example, an upright cleaner with a heavy motorized brush will work fine on cut yarn but you'll want to use suction-only tool for silk carpets.
4. Capacity
If you have children in your home and hygiene isn't their best traits, you may need a vacuum cleaner with a larger capacity. With small dirty feets trampling the carpets, you'll be vacuuming more often.
Whether you're using a bagless or bagged vacuum, having a larger capacity vacuum cleaner means you'll be clearing the dirt off the unit less often.
5. Suction Power
You shouldn't neglect the suction power of a vacuum cleaner when choosing one. The HEPA filtration system will be meaningless if the vacuum cleaner doesn't pack enough power to suck of dust mites or other allergens stubbornly entrenched in the carpet.
Most people are mistaken when it comes to how to suction power is measured. The Watt rating on the vacuum cleaner does not indicate the suction capability of the unit.
Instead, suction power is often measured by airflow or CFM. This value indicates the amount of airflow in cubic feet per minute. Also, you can get a good picture of the suction power with the Air Watts value. Basically, this value tells you how much power (Watt) is needed to move a unit of air.
Power rating (Watt) tells you how much power the vacuum cleaner will be consuming. Depending on its design, a higher Watt vacuum cleaner may or may not have a stronger suction than a lesser Watt unit.
---
Best HEPA Vacuum Cleaners For Allergies 2020
You'll want to be attentive when choosing a vacuum cleaner to reduce allergy symptoms. I speak from experience when I claim that not all vacuum cleaners are effective in getting rid of allergens.
Here are what I considered the right vacuum cleaners that are fit to remove pollens, dust, dust mites and pet dander from your home.
1.
Miele Complete C3 Marin
HEPA Canister Vacuum Cleaner (Most Powerful)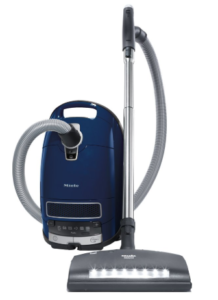 Buy At Sylvane
The Miele Complete C3 Marin is a powerhouse when it comes to removing allergens and keeping them sealed in the vacuum cleaner. While the price may put off some individuals, it is arguably the best in the industry for an airtight filtration system.
It features a 12 stage Sealed Air Clean System that performs beyond the HEPA standards. The filters can reliably contain 99.99% of 0.3-micron particles within the filter bag. This unprecedented standard makes it a great choice for people suffering from dust mites allergies and asthma.
Complementing the superior filtration system is an equally unique cleaning tool, the Miele's SEB-236 Powerhead. It is more than an ordinary sweeping brush as the powerhead is driven by an electrical motor and is perfect for deep cleaning thick carpets.
You'll also find an array of LEDs lining up the top-front of the powerhead. The lighting from the LED enables visibility when vacuuming shaded areas, such as underneath a couch. When cleaning hard floors, you can switch to the Parquet Floor Brush to avoid damaging the surface.
Care and attentiveness are evidenced in the Miele Complete C3 Marin's design. There's a bag-full indicator that pre-preemptively warns you to replace the dust bag. The dust bag is auto-sealed by a locking mechanism to prevent debris from spilling accidentally.
Tests have found that the Miele Complete C3 Marin is built to last up to 20 years and the unit is backed by a 7 years warranty. Such durability is due to the powerful 1,200 Watts Vortex motor that runs quietly. For such a powerhouse, you'll find the vacuum cleaner surprisingly light, with a weight of only 12 lbs.
Features
12 State Filtrations with HEPA standards.
Motorized powerhead for deep cleaning.
Durable, quiet and lightweight.
Auto-seal dust bag to prevent spilling.
Comes with tools for cleaning soft and hard surfaces.
---
2. Dyson V8 Animal Cordless Stick Vacuum (Best Portable)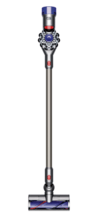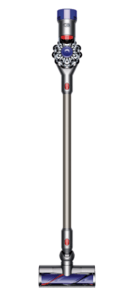 Buy At Sylvane Buy At RC Willey
For individuals who tripping over dangling cords, or need an unrestricted vacuum cleaner, the Dyson V8 Animal cordless stick vacuum is the answer. The vacuum is surprisingly light, weighing at only 5.63 lbs. Combined with its sleek and simple design, you'll find it easy to carry it around your home.
Despite its lightweight body, the Dyson V8 cordless stick boasts a considerably high suction power. It will do a good job of cleaning up the debris of all sizes. Also, you'll find the vacuum works perfectly on different types of surfaces.
The cordless stick is designed for easy assembly and features a unique design where the motor is located at the handheld portion. For cleaning floors, you can use an extended hose to connect the sweeping brush to the motor.
If you intend to clean the mattress or couch with the vacuum, you can connect the brushing tool directly to the motor, effectively turning it into a handheld vacuum. When cleaning narrow spaces, you can adjust the motorhead to give you better reach. Also, the motorhead is light enough that you can lift it and clean higher parts of your home by itself.
Despite its minimal built, the Dyson V8 cordless stick features a reliable filtration system using the HEPA filter. Debris, including potential dust mites allergens, are trapped in the dirt cup until you empty it out. The HEPA filter is easily detachable for cleaning or replacement.
As this is a cordless vacuum cleaner, you'll be wondering about the capacity of its battery. For typical usage, the Dyson V8 cordless stick will last up to 40 minutes before the batteries need to be charged. Charging is relatively simple, as a charging base is provided to mount the motorhead.
With the motorhead fitted at the handheld section, you'll expect a loud buzzing sound. Surprisingly, the Dyson V8 cordless stick is noiseless, which makes vacuuming a pleasant experience.
You'll also be receiving a set of tools with the vacuum, including a couple of brush heads for hard or soft surfaces and an additional HEPA filter.
Features:
Cordless technology for unlimited movement.
HEPA filtration to keep microparticles in.
Noiseless when in use.
Adjustable motorhead.
Can be converted to a handheld vacuum.
Buy At Sylvane Buy At RC Willey
---
3.
Shark Navigator Upright Handheld Vacuum (Best Maneuverability)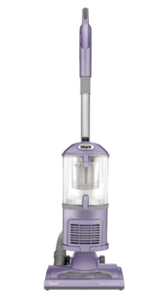 Buy At Sylvane Buy At RC Willey
Shark strays away from the conventional norm of the upright vacuum cleaner with this NV352 model. Besides providing you the convenience of a traditional upright vacuum, Shark incorporates a Lift-Away feature where the canister can be removed from the base.
The Lift-Away feature means you can use the Shark Navigator easily to clean both stairs and floors. You'll also find this vacuum cleaner to be surprisingly lightweight for an upright unit, measuring at only 12.5 lbs.
The Shark Navigator is an ideal choice for allergy sufferers as it is equipped with a HEPA filter, foam filter, and the Anti-Allergen Complete Seal technology. You can be assured that allergens sucked into the vacuum stands no chance of escaping the tightly contained dust cup.
You'll have the flexibility to turn on and off the motorized brush to suit the surface that you're cleaning. It helps to prevent scratching hardwood floors when you have the option to turn it off.
Suction power is an important factor that defines a good vacuum cleaner and Shark Navigator doesn't disappoint. It is engineered with a proprietary cyclonic technology that makes it never to lose suction power while you're vacuuming.
You don't have to worry about bumping into furniture with the Shark Navigator's swivel steering. While there are rooms for improvement, it helps you to maneuver the vacuum cleaner across the room easily compared to rigid upright vacuums.
For a powerful upright vacuum with a 1,200 Watt motor, Shark Navigator is surprisingly silent. You can vacuum your home without being drowned by loud motorized noise. Also, if you're worried about the excessive suction power, Shark has built-in a suction release feature that reduces the suction when required.
If you have pets, the Shark Navigator will get rid of the frustration of seeing pet hair littering all over the place. The vacuum cleaner works well in removing pet hair from carpet. Besides, you'll also get a set of tools to remove pet hair from upholstery.
Minimal maintenance is required as you'll only need to wash the foam filter. As for the HEPA filter, you can wash it under running water but never with a washing machine. Ensure that the filters are dry before placing them into the vacuum cleaner.
Features
Lift-Away technology separates canister from the base.
HEPA Filter and Anti-Allergen Complete Seal technology.
Swivel steering for maneuverability.
Quiet operation.
Suction release
Buy At Sylvane Buy At RC Willey
Check out more Shark Vacuums For Allergies Here.
---
4.
Hoover T-Series WindTunnel 2 Bagless Upright Vacuum (Best For All Surfaces)
Buy At Sylvane
Pet hairs on the floor often mean numerous allergens like pollen and dander are present too. The Hoover T-Series WindTunnel 2 Upright Vacuum is designed to clean up pet hairs and other smaller particles in your home. It does a good job of cleaning carpets, where dust mites, pet hairs, and danders are often trapped within.
The underlying technology powering this vacuum cleaner is called the WindTunnel 2. It is a proprietary technology that enables the vacuum to remove dirt that is embedded deep within the carpet. The vacuum's suction power is considerably high when it comes to removing pet hair from surfaces.
While the vacuum is great for a carper, you can easily adjust the setting if you're using it for hard floors. This is done via a suction mode pedal that deactivates the brush when cleaning hard surfaces. You also have the flexibility to adjust the carpet high setting with a 5-position dial to suit the thickness of the carpet in your home.
Hoover WindTunnel 2 is equipped with a permanent HEPA filter, effectively trapping any small particles down to 0.3 microns from circulating back into the air. A permanent HEPA filter means it doesn't need to be replaced.
There's also no need for guesswork on when should you clean the HEPA filter. A system indicator is built on the vacuum and the LED will alert you when the filter needs to be cleaned. You can clean the HEPA filter by rinsing it.
You'll find that the HEPA filter needs less frequent cleaning than you have thought. That's because the Hoover T-Series vacuum is engineered with a dual cyclonic air system. This technology separates most of the dirt from the airflow, thus reducing the amount of debris passing through the filter.
While the Hoover WindTunnel 2 is an upright cleaner, it comes with an extendable hose that allows you clean areas like staircase easily. There are also some neat tools that shipped with the vacuum, particularly the air-powered turbo tool.
The air-powered turbo tool is fitted with rolling rushes that helps you to remove debris on the couch and upholstery. Of course, there are also the handy crevice tool and dusting brush to make cleaning with vacuum easier.
Features
WindTunnel technology for powerful suction.
Permanent HEPA filter.
System indicator for filter cleaning.
Air-powered turbo tool to clean furniture.
Suction mode pedal for hard floor cleaning.
---
5.
Vapamore Vento MR-500 Canister Vacuum
If you wanted a decent HEPA filter that does the trick while staying economical, this Vapamore Vento MR500 canister vacuum cleaner is a great option. The vacuum features a HEPA filter to keep microscopic particles and dust mites trapped within a bag in the canister.
The Vapamore MR500 uses a dust bag to store the dirt it sucks from the floor. You won't have to worry about getting your hand dirty when cleaning the canister. Just replace the filter bag when it's full to keep vacuuming.
Having an overflowing filter bag is a nightmare and you can avoid such a situation with the Vapamore MR500. It has an LED indicator that lits up when the bag is full or some parts of the vacuum are clogged.
Besides the attentive design catered for allergy sufferers, the vacuum packs a punch when it comes to suction power. The suction mechanism is powered by a 1400 Watts electric motor and proved more than capable of removing stubborn particles.
Convenience is the keyword that's synonymous with the Vapamore MR500. It has a space-saving design and it's built with 5 different height adjustments. This allows you to clean on almost any surfaces in your home.
You also have a sturdy metal-based wand that is built to last. The vacuum also comes with a set of tools and brushes that allow you to clean different types of floors and carpets.
Features
Fitted with a HEPA filter
Easily replaceable dirt bag
Maintain powerful suction on different surfaces.
Step-button for on/off and rewinding cord.
Filter bag indicator light.
---
6. SEBO Felix 1 Upright Vacuum
Buy At Sylvane
The SEBO Felix 1 vacuum cleaner brings both convenience and allergen removal together. It is built with a HEPA filtration system that traps the minuscule particles in the dirt bag. The dirt bag can be replaced easily when it's full. There's no guesswork involved for replacing thee dirt bag, as the vacuum is fitted with an LED indicator.
This vacuum uses 3-stage hospital-grade filtration to trap almost every single particle of allergen within the dirt bag. To keep the filtration system optimal, you'll need to replace the HEPA filter every 6 months, or when it's in a worn condition.
Need to vacuum under the furniture? You'll find the SEBO Felix 1 surprisingly low profile. Along with its 180-degree swivel neck, you'll have all the reach you need on hard-to-reach areas. You can also turn the upright vacuum into a handheld vacuum when cleaning narrow areas.
Problems with pet hair littered over the carpet are solved with the vacuum. With a powerful motorized head, the SEBO Felix 1 will have no issue removing pet hairs, dander and other forms of allergens that are trapped deep in the carpet.
You'll have no problems maneuvering the vacuum as it is aided by the wheels on the sweeper base. It also features intelligent indicators that will tell you if the brush rolls are worn off.
Features
Powerful motorized head.
Fitted with a HEPA filter.
Suitable for light and heavy cleaning.
Flexible and low profile.
---
7.
EUREKA Mighty Mite Bagged Canister Vacuum Cleaner
3684F
Check Price
If your allergies are triggered by the slightest presence of dust, you'll want to get a bagged vacuum cleaner, like this EUREKA Mighty Mite 3684F. It is fitted with a replaceable dust bag that you can dispose of without exposure to the debris.
The EUREKA Mighty Mite also has a HEPA filter, which traps 99.97% of 0.3 microns particles within the unit. If you're wary of the foul odor from the dirt, EUREKA has ensured that the dust bags are designed to trap odor too.
Families with pets will appreciate this vacuum cleaner, as its superior suction power ensures that pet hairs, dust mites, pollen, and other particles are removed effectively from the floor. The standard floor sweeper is 10 inches in width, giving you a considerably wide cleaning area.
The vacuum is also built with a blower port, which may be handy if you wanted to blow some leaves in the garden. Of course, this isn't a good idea for allergy sufferers as you'll send dirt and debris into the air.
At a glance, the EUREKA Mighty Mite gives the impression of a bulky unit. The fact is, the vacuum only weighs 8.6 lbs, making it easy to carry around when you're cleaning in different areas of the house.
You'll find that cleaning higher parts of your home will not be a problem as the EUREKA Mighty Mite comes with 2 extended wands. Both of the wands can be connected for greater reach. Besides the wands, you'll find a crevice tool and dusting brush for cleaning tight corners.
A common concern with a bagged vacuum is the cost of the dust bags. For EUREKA, replacing the dust bags is relatively cheap and it's the better option if you're highly sensitive to dust when emptying dirt cups.
Features
Economical replaceable odorless bags.
Uses HEPA filter to contain dirt.
Relatively lightweight at 8.6lbs
Built with a blower port.
Strong suction power.
---
8. Vacmaster
VK811PH HEPA Vacuum With 2 Stage Motor
Keeping your home clean is crucial to minimize allergy symptoms, but sometimes the culprit is your workplace. For large areas, you'll need an equitably powerful vacuum like the Vacmaster VK811PH. This beast of a vacuum cleaner is engineered for commercial usage.
The Vacmaster VK811PH comes with not one but four HEPA filtration stages. The vacuum relies on a HEPA cartridge filter and a HEPA bag to trap microparticles from escaping to the air. Besides that, you'll find a HEPA-certified pre-filter and exhaust filter that effectively seal the dust mites allergens within.
You'll also be impressed that the filtration system built in the vacuum goes beyond the industrial HEPA standards. Regular HEPA filters are guaranteed to filter out 99.97% of microscopic particles but the Vacmaster's HEPA is designed for 99.996% filtration efficiency.
Huge is the keyword for the HEPA Vacmaster VK811PH, particularly the capacity of the polypropylene tank. It has an immense capacity of 8 gallons, which will take a while before filling up.
Like most commercial vacuum cleaners, you can turn the Vacmaster VK811PH into a wet vacuum.  This allows you to clean liquid spills in the workplace without buying a separate vacuum cleaner.
For such a huge vacuum cleaner, you'll expect substantial noise when operating it. However, Vacmaster did a brilliant job by incorporating a dual-stage motor system. These motors will gradually increase their speed, and that keeps noise to a minimum.
You can expect a massive suction power generated by this vacuum cleaner. The airflow is rated at a maximum of 125 CRM, a value that effectively removes stubborn debris in your workplace.
The Vacmaster VK811PH comes with a generous set of accessories. You'll find the two steel wands and the 10 ft hose useful in providing extended reach when cleaning. Also, there's a crevice tool, horsehair round brush and the combo floor nozzle to aid cleaning.
Features
4 HEPA filters
Very strong airlift at 125 CRM.
Dual-stage motor for minimum noise.
Beyond HEPA standards with 99.996% efficiency.
Can be used for dry/wet applications.
---
9.
Atrix – VACBP1 HEPA Backpack Vacuum Cleaner
When you're tired of lugging a vacuum cleaner around, the next best option is to get one that's designed like a backpack.  The Atrix VACBP1 backpack vacuum cleaner will turn you into a pest control expert right in your home.
Weighing at only 10.3 lbs, the Atrix backpack vacuum is ergonomically designed to fit onto your back without causing discomfort. Besides the shoulder strap, the vacuum is further secured by a belt loop which doubles up as storage for the accessories you may find handy when cleaning.
The Atrix VACBP1 vacuum is the perfect equipment for you to start a witchhunt on dust mites allergens in your home. It is built with a four-stage HEPA filtration system, which prevents the microscopic particles from escaping the HEPA bag. The bag is easily replaceable when it's full.
Despite it's lightweight and mobility, the Atrix packs considerably strong suction power. The vacuum is rated at 1,400 Watts and produces an airflow of 106 CFM, a notable value compared to competitors within its range. Such impressive suction allows the Atrix vacuum to remove both miniature and larger particles.
Your effort in getting rid of allergens is further aided by the accessories that shipped with the vacuum. A 6 ft. hose and an extendable wand will give you the reach needed for cleaning walls and ceilings.
Also, the crevice tool, furniture nozzle, round brush, and floor brush allows you to remove debris from compact and different surfaces.
There may be a concern that the vacuum will get hot, especially when strapped around your body. This is proven unfounded as it is engineered to be relatively cool compared to other competing models.
Features
Backstrap design for mobility.
Four-stage HEPA filtration for trapping allergens within.
Does not get hot.
Reasonably lightweight.
Strong suction power to pick up larger debris.
---
10. Kenmore
Floorcare 81214 200 Series
Bagged Canister Vacuum
If you need a basic canister vacuum that does a reasonably good job in removing allergens, you'll want to go with the Kenmore Floorcare 8124 200 vacuum cleaner. While it lacks the advanced features of its more advanced models, the Floorcare 200 series have what it takes to reduce dust mites allergens in your home.
For a start, it is equipped with an enhanced HEPA filter. This ensures that the allergens sucked into the vacuum remain there until the bag is disposed of.
At the heart of the Kenmore Floorcare is a dual-stage motor. This technology ensures a consistent suction force on any type of surface. You'll be able to remove debris off easily when cleaning with this vacuum cleaner.
The canister vacuum is becoming the preferred option when cleaning staircases. Weighing lesser than 20 lbs, you'll have little problem in moving the canister along when cleaning your home.
There's also a 4-height adjustment feature that allows the Floorcare 8124 vacuum to clean on a broad range of surfaces. You'll also find the crevice tool, dusting brush and bare floor tool helpful in cleaning various parts of your home.
Generally, the Kenmore Floorcare 8124 2oo Series is a decent no-nonsense vacuum cleaner to minimize allergens at home.
Features:
Enhanced HEPA filter.
Dual-stage motor for consistent suction force.
4-height adjustment for a wide range of surfaces.
---
What Is A HEPA Filter And How Does It Work
The term HEPA may be intriguing, but what it really means is a filter that traps particles as small as 0.3 microns with a 99.97% success rate. Today, HEPA filters are made of glass fibers and are produced in a way where contaminants are trapped in their mazy pathways.
HEPA filters have been used in environmental-sensitive settings for decades, such as laboratories, hospitals, and factories. In recent years, it is incorporated into consumer products, including vacuum cleaners.
You'll also notice that terms like True-HEPA are often used to differentiate certain products. It is used as more of a marketing hype, than meaning a different standard of filtration. It doesn't matter if it's called a True HEPA, Super HEPA or other similar terms as long as the filter is guaranteed to take out 99.97% of 0.3 microns particles, including dust mites.
Some filters are advertised as HEPA-type filters and you'll want to be cautious of using your equipment with them. Unlike HEPA filters, these HEPA-type variants are not designed to fully comply with the HEPA standards. Often, HEPA-type filters are only capable of filtering up to 85% of microparticles in the air.
Note these subtle terms when buying household equipment fitted with HEPA filters. If you're in doubt, it's best to clarify with the manufacturer before spending your hard-earned cash on it.
Allergen-Removal Vacuum Cleaners FAQ
1. How Often Should You Change The Dust Bag?
It is generally accepted that bagged vacuum cleaner is the better option for allergy sufferers. It's important that you change the dust bag when it's full to prevent overflowing. Some vacuum cleaners are built with LED indicators that light up when the bag is full.
If you're using a bagged vacuum cleaner without an indicator, you'll need to replace the dust bag every month or two. The frequency ultimately depends on the usage and the amount of dirt accumulating in your home.
2. How Fast Can You Clean The Carpet With A Vaccum Cleaner
The ability to clean debris from the carpet with minimal pass seems to be a deciding factor on the vacuum cleaner's efficiency. It is hard to put a number on it as there are various factors that may affect how a vacuum cleaner performs.
For example, a heavily soiled carpet may need more passes before it is thoroughly cleaned. Generally, you can expect between 2 to 8 passes when cleaning carpets with a vacuum cleaner.
3. Does High Power Rating Mean High Suction?
No.
While vacuum cleaners with higher power ratings often demonstrate higher suction force, this is not typical for all models.
Suction power depends on how the vacuum cleaner is designed. A highly efficient vacuum cleaner can deliver more suction power compared to its higher power counterparts.
4. Can You Wash The HEPA Filter?
It depends and you'll want to check the labeling or manufacturer's instruction before doing so.
Generally, washing or rinsing HEPA filters results in decreased performance. The HEPA filter becomes less effective as it allows larger particles to pass through.
Only wash a HEPA filter when it is specifically stated, or the filter is labeled as permanent HEPA.
---
One of the first products that I've invested in is a vacuum cleaner with a HEPA filter when my son showed symptoms of dust mites allergies. I hope that my research and experience has been helpful to you in choosing the right vacuum cleaner.
Related: