DISCLOSURE: This post may contain affiliate links, meaning when you click the links and make a purchase, we receive a commission.
The warm, cozy, and soft environment of our bedding is one of the most favorite places for house dust mites, mold, dust, dander, and other microbes. Dealing with allergies is an extremely painful and difficult process.
One of the most effective methods to keep yourself protected from dust mites is to use hypoallergenic bed sheets. They are manufactured using special fabric that is intensely weaved thus rendering the entry of all the harmful microscopic organisms and dust.
Bed Sheets For Dust Mites Allergies Compared
How To Choose Hypoallergenic Bed Sheets
Fabric Type
Hypoallergenic bed sheets are available in different fabrics including cotton, polyester, silk, and bamboo. The manufacturing process and the diameter of the weave make the fabric hypoallergenic or a non-entry zone for the dust mites, dust, and other allergens. Choosing any of these fabrics will be effective in this regard. Therefore, the fabric choice completely depends on your personal preference.
For instance, some people find silky sheets uncomfortable as they feel that these are not breathable enough and go for cotton ones. In addition to fabric type, some manufacturers use harmful chemicals or artificial dyes to make it hypoallergenic.  The bedsheet should be very well constructed and perfectly woven that it completely repels the allergens. So, if you are allergic to such material then it is better not to buy that.
Breathability
The fabric of the hypoallergenic sheets must be breathable and must not contain the heat inside. Regulation of temperature is extremely important in any bedding product to keep your skin feel comfortable and relaxed.
Some hypoallergenic bedding products come with an internal lining of the membrane to prevent allergens. These membrane bedding products surely offer great protection against harmful allergens, but simultaneously provide very little breathability and on top of that retain heat inside them. This causes sweating during sleep.
So, before choosing a bed sheet, do check the breathability level of the fabric to get calm and relaxed sleep at night.
Fitting on the Mattress
The size and fit of the bedsheet about the size of the bed and mattress are extremely important. A perfectly fitted bed sheet, without leaving any wrinkles or air pockets looks particularly appealing and defined.
Easy to Care
Before choosing any hypoallergenic bed sheet, it is highly recommended to pick the one that is easy to wash, dry and care for. The bed sheet must retain its actual shape, size, and color after machine wash. For this, do look for qualities like "fade-resistant", "wrinkle-resistant" and "shrink resistant" on the back of the cover.
Best Hypoallergenic Bed Sheets For Allergy Sufferers
1. Sleep & Beyond Organic Cotton Sheets Set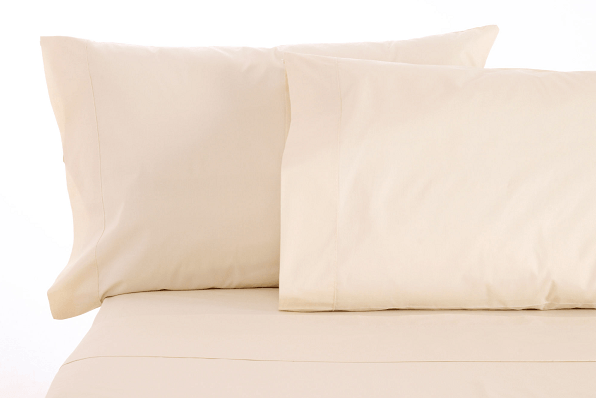 Buy At Sleep & Beyond
Sleep & Beyond started its business in 1992. Since then, it has been producing high-quality hypoallergenic beddings that are made of natural material. The basic goal of the company is to provide sustainable products that aren't harmful to the planet.
The Organic Cotton bed sheet set by Cosy House Collection is manufactured by using pure organic cotton sheen. This results in a soft, comfy, and cozy sheet. It's gentle on your skin, breathable, and provides a soothing sleep experience
Cotton is naturally hypoallergenic, and you'll get ample protection from dust mites with these bedsheets. The organic cotton sheets set also comes with two pillowcases which are made from the same hypoallergenic material.
---
2. Coop Home Goods Solstice Sheet Set
Buy At Coop Home Goods
Coop Home Goods is an LA-based home business that's generating interests in its high-quality 100-days free trial bedding products. With customers at the utmost priority, the team is focused on creating rejuvenating sleep experience with premium beddings.
If you are looking for luxuriously comfortable and fine-looking duvet covers, mattress protectors, pillows and pillowcases, bedsheets, and other bedding products, then look no more as you can completely trust on Coop Home Goods.
Its bed sheet set is made of 100% polyester that makes it super comfortable, soft, and luxurious. This set is great for any room of your home including guest room, bedroom, kids room, etc. There is a wide range of color schemes, prints, and textures available for this set and you can choose as per your room's color scheme.
---
3. Danjor Linens Hypoallergenic Bed Sheets
The most appealing characteristic of Danjor Linens is that it offers top-rated premium quality bedding collections with a lifetime guarantee. Hotel luxury soft premium bed sheet collection of Danjor Linens is constructed with tightly woven fabric which makes it completely unapproachable for dust mites, microbes, and other allergens.
Moreover, the fabric is wrinkle and fade resistant so you can wash it in the machine.
The items included in the bed sheet set are one flat sheet, one fitted sheet, and four pillowcases. The fitted sheet of the bundle is elasticized so that you can easily and completely wrap it around the mattress without any air pockets.
---
4. Hotel Sheets Direct Bamboo Bed Sheet
Hotel Sheets District has remained a major manufacturer and supplier of sheets in the USA for hotels. The brand grew bigger and better, and after receiving huge compliments from the guests of the hotels they started selling bedsheets directly for the domestic consumer. And the results were remarkable.
Bamboo sheets by Hotel Sheets District feel super soft and plush to the skin. These are manufactured using 100% viscose created from bamboo. Use of highest quality, actual bamboo (144gsm 60×40 173×120) fibers exhibit all the much-needed characteristics of the material.
These sheets fit perfectly to the mattress. Most importantly, these are hypoallergenic and eco-friendly.
---
5. Sonoro Kate Microfiber Bed Sheet
Sonoro Kate is one of the most prestigious brands in the business. The basic goal of this brand is to provide the most comfortable, luxurious and premium quality products to its customers.
Sonoro Kate's Bedsheets set truly depicts the combination of lavish appearance with plush comfort. These luxury Egyptian sheets are manufactured using 100% microfiber polyester giving it a silky smooth feel. And the use of innovative technology in the weaving process imparts the much necessary qualities of breathability and hypoallergenic in the fabric.
The size, fit and grip of the sheets are exceptional. Plus, these are fade, wrinkle, and stain-resistant.
---
The choice of a hypoallergenic bedsheet can mean a great difference when you're dealing with allergies. Hopefully, this guide has served its purpose in helping you to get one.