DISCLOSURE: This post may contain affiliate links, meaning when you click the links and make a purchase, we receive a commission.
Hypoallergenic pillows are a great help in managing allergies, including those triggered by dust mites.
People who are sensitive to allergens and have to go through sinus pressure, runny nose, watery eyes, sore throat need immense protection to remain safe from allergies. In the worst cases, allergies can lead to skin irritation and devastating respiratory problems, especially for people who have asthma.
Dust mites thrive in the humid temperatures and eat our shredded skin, which makes our mattress and pillow just the right spot for them to inhabit. For that matter, hypoallergenic pillows can work magic in keeping you away from the harmful effects of dust mites, molds, bacteria, dust, and other microscopic organisms.
Pillows For Dust Mite Allergies Compared
What Are Hypoallergenic Pillows?
Hypoallergenic pillows are manufactured using specific natural and man-made fabric that are known to resist dust mites, molds, mildews, and other allergens. These pillows have amazing breathability with airy structure and are a perfect option for people dealing with allergies.
You'll find hypoallergenic pillows made with different materials, including natural cotton and latex fibers, bamboo and Tencel fibers, polyester fibers, and memory foams. Such pillows prevent allergens like dust mites from turning your pillow into a breeding spot and causing you to inhale the allergen at close proximity.
---
How Hypoallergenic Pillows Help With Allergies and Dust Mites?
Hypoallergenic pillows are essential to protect you from house dust mites, molds, and other microbial creatures. These pillows are tailored with certain fabric which halts the entrance of allergens inside your pillow and will safeguard you from their harmful effects.
Also, natural fibers are also used to manufacture these hypoallergenic pillows. One of the natural compounds, Asclepias syriaca, has gained commercial status in America for its use in the hypoallergenic pillows. This crop has a natural ability to resist dust mites and other allergen-causing microbes.
Other than that, milkweed is also used in the manufacturing of hypoallergenic pillows and also comforters. This is an industrial crop and is used for commercial purposes. The fibers of this material are weaved tightly to further enhance its effectiveness against mites, molds, and various microbes.
---
Protecting Your Pillow with a Hypoallergenic Pillow Cover
The quality of the cover, filling, and fabric are the deciding factors for the people dealing with any kind of allergies. To further enhance the protection of the hypoallergenic pillows, dust mite covers are often used. Zippered covers, made with highly protective fabric are perfect to seal your pillow against allergens. Vinyl covers are highly recommended in this regard.
With such a pillow under your head, you can enjoy a stress-free good night's sleep without worrying about any type of allergens. There are numerous companies in the market that supply hypoallergenic pillows and their covers.
---
How to Choose the Right Pillows for Allergies?
Choosing the right pillow is exceptionally important to ensure that you have a rejuvenating sleep. Getting a good night's sleep is crucial for your mental and physical health. A deep, uninterrupted sleep keeps you active the next day, and you can perform your daily tasks with zeal and passion.
However, if you are suffering from allergies, then it becomes even more important to choose your pillow wisely. So, what are the main characteristics of a pillow that enable protection against allergies and ensure a good night's sleep? Here are a few of the fundamental qualities that you should keep in mind before purchasing a hypoallergenic pillow.
Firm vs Soft
While choosing a pillow, fluffiness of the filling is one of the most important factors. There must be a perfect balance between firmness and softness. A soft pillow surely looks more appealing, but it will not give your neck, head, and shoulders much-needed support. And, the extremely fluffy pillow may cause you pain, or soreness in the upper body.
Moreover, if the pillow lack required firmness, then you will remain uneasy, anxious, and uncomfortable all night. The right amount of support is exceptionally important to keep your back in a properly balanced position.
If you are a stomach or back sleeper, then a soft pillow will suit you the best, as it will give just the right amount of support to your stomach.
The medium pillow is the best option for people who sleep on their back or sides (which is scientifically the best position to sleep). These pillows provide perfect support to keep your body well aligned from the head through the backbone till hip bone.
Choose the firmness of your pillow according to your sleeping style.
Material/ Fabric
The fabric of the pillow should be breathable, have a soft feel on the skin, and must nor retain temperature. Some pillows absorb the environmental and body temperature, and it becomes really difficult to sleep on them.
Secondly, the fabric of the pillow must not feel like plastic under your skin; rather, it must be soft and airy. Plastic-like pillows create irritating noise that is impossible to fathom. So, before picking up any pillow from any brand, do ponder on the fabric or material it is made from.
Hypoallergenic pillows are usually made of memory foam, wool or cotton as these materials are known to be anti-microbial, allergen and dust mites resistant.
Number of Thread Counts to Block Dust Mites
The pillow must be constructed with hypoallergenic synthetic down encasement, and the fabric thread count must be so minute that house dust mites, dust particles or any microbial creature cannot seek entrance inside the pillow. Extremely tight micro-weaves will prevent the entrance of microbes in the pillow.
Generally, you'll need a minimum of 300 thread counts for hypoallergenic pillows.
With hypoallergenic pillows, you won't need pillow encasement as these pillows themselves are the perfect solution to keep the dust mites out of reach. But getting a pillow cover is still helpful as it prevents wear and tears on your pillow.
Design of the Pillow for Sleeping Positions
The design of the pillow is an important factor to consider before buying one. The structural design of the pillow, the length, height, and amount of filling are some of the deciding factors. The shape of the pillow also plays an important part in ensuring your body relaxed thoroughly when sleeping.
The pillow you choose must be structurally well-tailored. Moreover, check if it is made with microfiber and memory foam that can be removed or filled as per your preference. This will give you immense ease to restructure it as per your liking, required support and softness.
---
Best Hypoallergenic Pillows for Allergies And Dust Mites 2020
Among numerous brands available in the market, I've narrowed down the following highly recommended brands for you that deliver the best quality hypoallergenic pillows.
1. myMerino Natural Wool Pillow by Sleep & Beyond (Most Comfortable)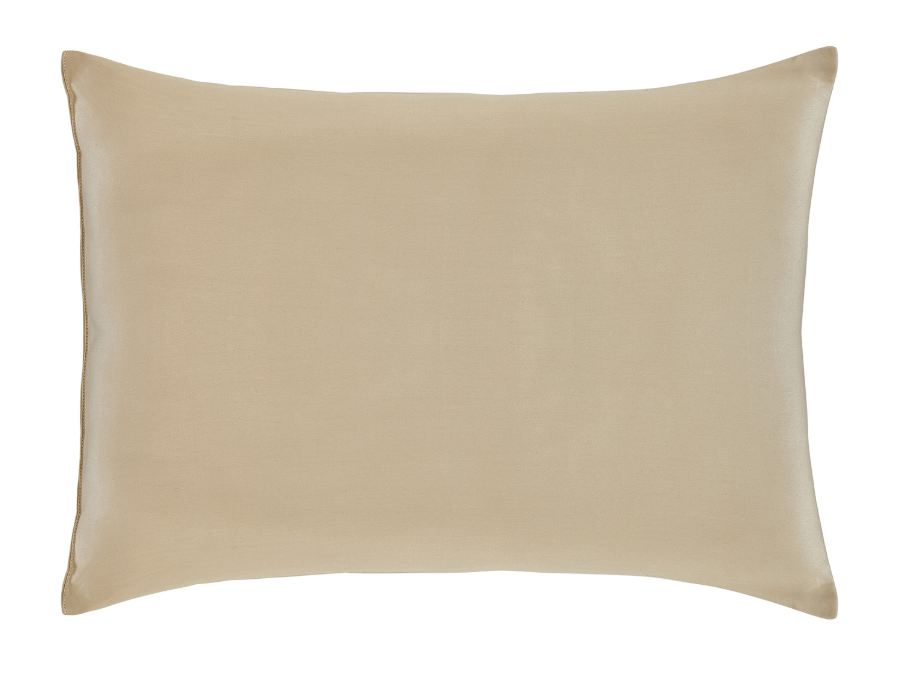 Sleep & Beyond operates on a firm 'zero waste' philosophy. In its missing to produce the finest bedding products, its team has strived to reduce excesses
and shy away from using non-sustainable packaging.
The myMerino natural wool pillow perfectly portrays the brand's excellence in maintaining quality. These pillows are filled with just the right amount of filling, keeping the perfect balance of firmness and softness.
The pillows are designed to give excellent support to your body and help you get rid of neck pain or headache. Most importantly, these are an exceptional choice for anyone allergic to dust or bugs. These pillows are hypoallergenic,  and the wool fillings are naturally inhabitable for dust mites.
Pros
Feel plush and luxuriously comfortable.
The right density of natural wool filling.
Highly breathable.
Cons
Some people may find these pillows hard to sleep on.
---
2. Memory Foam Pillow by Coop Home Goods (Most Breathable)
Buy At Coop Home Goods Check Price
Coop Home Goods is a family-owned company that is flourishing amazingly well among prestigious competitors. The main goal of this company is to deliver the highest quality products to its loyal customers. This hardworking team strives hard to produce premium quality bedding products including pillows, pillow protector, mattress topper, mattress protector, pillowcases, eye masks, and much more.
The hypoallergenic, washable pillow of Coop Home Goods is filled with memory foam, and while the cover is made from rayon. Rayon material is derived from bamboo. The mixture of these two materials provides softness along with the strength of the fabric.
This pillow has a unique adjustable design as you can alter the size and shape of the foam as per your sleep position. Most importantly, this pillow will keep you guarded against house dust mites. Besides, you can easily wash this in the machine whenever you want to.
Pros
Five years warranty.
GREENGUARD Gold certified and CertiPUR-US certified.
Customizable shape.
Cons
Some people received defective pillows.
Buy At Coop Home Goods Check Price
---
3.
Hypoallergenic Gel Pillow by
Beckham Luxury Linens
Beckham Luxury Linens believes in delivering the highest quality product that gives comfort and luxurious ease to the customers. The craft, design, tailoring, and material, everything speaks superior quality, comforting luxury, and most of all, reliability. You'll see amazing bedding products that will meet the highest of expectations. This brand offers comforter, pillows, mattress pads, and much more.
The pillows from Beckham Luxury Linens offer the perfect combination of stiffness for support and softness for comfort. Pillow is filled with gel fibers that bring cloud-like feel under your head. The stitch and design of these pillows are extraordinary and suitable for all sleep positions.
These pillows chemical-free and the fabric and filling keeps allergens, dust mites, all other microscopic creatures out of reach. Thus, making it an excellent choice for asthmatic people. Additionally, you can easily wash these pillows without worrying about shrinkage of fibers or filling.
Pros
No-Shift construction keeps your head at a fantastic resting place.
Mold, dust, and dust mites resistant.
Stain-resistant and easy to wash.
Cons
A few people received low-quality pillows, covered in mold.
---
4. DreamNorth  Hypoallergenic Gel Pillow
Check Price
DreamNorth is known for its high-quality standards. This brand specializes in manufacturing premium quality pillows that are tailored specifically to improve your night's rest. The pillows are designed and stitched in the best possible way to maintain the balance of plush softness and firmness for better support.
The Premium gel Pillows by DreamNorth are made with superbly breathable, soft, and dry cotton fabric. And the pillows are filled with gel fibers that give softness and comfort to your neck and head. The fluffiness of the pillows ensures a comfortable sleep.
The designing of the pillows provide support to your neck and head. It keeps your head and neck perfectly aligned with your spine. Most of all, the pillows are hypoallergenic, keeping you safe from dust, allergens, bugs, and house dust mites. Surely, a perfect choice for people having respiratory difficulties.
The company offers one year warranty for its products.
Pros
Luxurious design, perfect for any sleeping position.
Gel fibers filling provide plush comfort.
Dirt and allergen resistant.
Cons
Some people complained about the softness of the pillow.
---
5. Sleep Restoration Dust Mite Resistant Gel Fiber Filled Pillow
Sleep Restoration is one of the most pestiferous brands in the market that is well-known for maintaining its quality and great customer care. This company strives to deliver the best quality bedding products to its customers. They have an immense variety of products that are great to help you sleep in a luxurious, comforting, and stress-free environment. These products include pillows, pillow encasements, travel neck pillows, comforter, mattress pad covers, and much more.
The hypoallergenic, soft, and high-quality pillows from Sleep Restoration are what you desire for a soothing sleep at night. These pillows are intelligently tailored and expertly designed to cater to all kinds of sleep positions.
The pillows are filled with gel fiber that creates a plush, soft, and fluffy mass below your neck and head. This cloud-like feel will ease your way into uninterrupted sleep. The hypoallergenic quality makes these pillows a perfect choice for people who have allergies.
Pros
Stain and fade resistant making the pillows easy to wash.
It is designed with no-shift technology.
Super soft and plush.
Cons
Some customers experienced packaging issues.
---
6. Allergy-Free Bed Pillow by

Queen Anne Pillow Company

Queen Anne Pillow Company is a family-owned and operated a business in the U.S. This brand works with the mission "To Make the Most Luxurious Pillows on the Planet." And this company is certainly doing it with its superb quality products which are plush, high quality, and have a luxurious touch. With the firm belief," Better Health Starts with Better Sleep," and " Better Sleep Starts with Better Choices," all their bedding products reflect comfort, tranquility, and class.

The pillows from Queen Anne Pillow Company exhibit the high-quality characteristics of this company flawlessly. These are designed, tailored, and manufactured in America, which ensures that these are of the best quality.

The designing of these pillows is made by keeping the scientific facts in mind. And these are rightly made for all sleep positions. These pillows are hypoallergenic and keep you safeguarded from the harmful attack of dust, dust mites, and other microbes. This will keep your mind at ease from the spread of allergens.

Pros
Allergens free 100% hypoallergenic filling.
300 thread count ensuring high quality.
Breathable cover of cotton fabric.
Cons
The filling may feel flat to some people.
---
7. Mastertex Microfiber Fill Hypoallergenic & Allergy Safe Pillow
Mastertex is one of the leading mattress manufacturing brands in the business. It is a private, family-owned business. This company was launched in 2009 in New York state and became a hit with its exceptional bedding products. This company offers an outstanding variety of pillows, duvets, linen, pillowcases, mattress protectors, sheets, and comforter sheets. These products provide a mix of luxury, comfort, and quality, all things that you'll need to have a good night's sleep.
The Morningstar pillow by Matertex is ultra-soft, breathable, and above all, a great option for people suffering from allergy. This pillow is filled with super soft microfibers, which are hypoallergenic, safe for your health, and breathable.
This pillow can flawlessly balance the temperature as it does not hold heat and you can enjoy its squishy and comfortable feel in all seasons. Moreover, you can wash it in a machine with cool water, and the fibers will stay as it is.
Pros
Ultra-soft filling with firm designing.
Machine washable.
Multi-purpose- provide great support to your back, or fold it up to read a book.
Cons
Some people may not find it perfectly supportive and firm.
---
8. Hypoallergenic Soft and Fluffy Pillow by

In Style Furnishings

At In Style Furnishing, you can find superbly stylish, unique, and comfortable furnishings and bedding products. This is a one-stop-shop to let you complete your whole home. The company offers a range of beds, including daybeds and platform beds and distinctively designed furnishings for your home.

The hypoallergenic soft pillow from this brand has every quality that you'll need in a pillow. These pillows are designed perfectly well to give support to your neck and head. You can use this pillow without a pillowcase because it's cotton fabric feels soft and comfortable to the skin.

Pillows are filled with 7D hypoallergenic, soft, virgin grade filling, which ensures luxurious comfort and protects you from allergens. This pillow provides an amazing blend of support, softness, and health safety. In addition to that, the price range of this pillow is very affordable.

Pros
Silicon fiber support gives incredible comfort.
Hypoallergenic, perfect for people suffering from allergies.
Easy to wash and dry.
Cons
Height and the filling of the pillow may be uncomfortable for some.
---
When you're sensitive to allergens, you'll have to suspect every item in your bedroom in housing dust mites and other microscopic organisms. Changing ordinary pillows to hypoallergenic ones is a sound idea and possibly reduce your exposure to the allergens.
I hope you've found this article useful in choosing the right hypoallergenic pillow that not only keeps allergen away but also fits your sleeping style.
Related: