DISCLOSURE: This post may contain affiliate links, meaning when you click the links and make a purchase, we receive a commission.
Often, the advice for allergy sufferers is to keep their house dust-free. This often calls for a good canister vacuum that sucks up all the allergen lingering on the floor.
The problem is, getting a canister vacuum isn't a cheap investment. With all the different models available, you'll need to get one that suits your needs.
Read on and find out how to choose the right canister vacuum that helps to reduce your allergies.
Top Canister Vacuums For Allergies Compared
Choosing A Canister Vacuum For Allergies
Before choosing a canister vacuum cleaner, be sure to check out the following guidelines to make the best choice.
Filtration System
A proficient filtration system that can suck maximum dust and dirt particles, and also has the ability to lock and seal them inside is extremely important. More importantly, for allergy sufferers, vacuum cleaners with HEPA (High-Efficiency Particulate Air) filters are highly recommended. Because these filters block mite allergens, microbes, and other microscopic particles.
Easy to Handle and Store
The vacuum cleaner should be easy to handle and carry around thus to avoid back pain and muscle damage. It's also good to have a canister vacuum with large wheels. The cord and wand must provide you a large cleaning radius. The length of the power cord must be at least 20 feet long and the cleaner should not be heavy.
Bagless vs Bagged
Mainly, there are two types of canister vacuum cleaners available in the market, bagless and bagged. In addition to the main differentiating feature of the presence or absence of the dust bag, both types of vacuum cleaners also vary in filtration quality, noise level, and cost.
Bagged vacuum cleaners are slightly cheaper, durable, and are silent. On the other hand, generally, bagless vacuum cleaners are a bit expensive and noisy. But with bagless cleaners, there is no need to buy and replace dust bags.
People with allergy often opt for bagged canister vacuums, as emptying the bagless canister may send microparticles flying in the air. Replacing the bag is a friendlier process if you have allergies. Of course, the downside is you have to purchase the dust bags when you've run out of them.
Durability
Durability is another deciding factor in choosing a canister vacuum cleaner. For this, It is highly advisable to always check for the manufacturer's warranty. This shows the maximum time limit that the manufacturer guarantees for the efficiency of the product. Higher the warranty, better the product.
Best Canister Vacuum Cleaners For Allergy Sufferers
1. Miele Compact C1 Canister Vacuum Cleaner (Best in Quality)
Buy At Sylvane
Who Made It 
Miele is an independent family own company established back in 1899. For 120 years, this brand is providing premium quality products to its consumers and is one of the renowned names in the business. Miele deals with coffee machines, cooker hoods, dishwashers, washing machines, tumble dryers, vacuum cleaners, and other domestic appliances.
Description
Miele Compact C1 Pure suction canister vacuum cleaner is a premium quality German-engineered product. This powerful machine has a suction power of 1200 W which makes it an ideal cleaner for hard floors.
The motor of this cleaner comes with a seven-year warranty.
Functionality
There are six suction power levels of this cleaner, each specific to the surface it can clean. You can control these suction levels through rotary dial placed on the vacuum.
The signature Miele AirClean System includes Miele FilterBag, AirClean exhaust filter, and motor protection filter. This premium quality cleaning system allows maximum filtration of air and cleaning. With the presence of self-sealing collar, once dirt and dust are entered inside the bag it will not escape.
With lengthy electrical cord and cleaning want, this vacuum cleaner provides you an incredible cleaning radius of about 29.5 feet. This long length allows you to reach and clean otherwise inaccessible areas, such as blinds, shelves, and ceiling fans.
The Classic C1 pure suction vacuum cleaner comes three accessories which include the crevice tool, upholstery tool, and dusting brush. All of these accessories can be easily clipped with the hose and can make it immensely easy to clean hard-to-reach places.
---
2. SEBO Airbelt E3 Bagged Canister Vacuum (Most Powerful)

Buy At Sylvane
Who Made It 
SEBO is in business since 1977 and has used cutting edge technology for its products. This is one of the most prestigious brands for vacuum cleaners in the market. And they have gained the immense trust of their consumers over the years with their high quality, easy to use, and exceptionally designed products.
Description
SEBO Airbelt E3 canister vacuum accumulates all the necessary qualities one would want in a handy vacuum cleaner. First thing first, it weighs just 11.4 pounds which makes it extremely easy to carry all around the home.
Moreover, with the powerful motor of 1375 Watt, it can suck up fine dust particles efficiently. In addition to the suction pump, this cleaner also has a blower port which will help you to blow debris, dust and large particles from the workshop floors or garage.
Functionality
The availability of an upright wand along with roller brush, which can be controlled with the fingertip, enhances maneuverability. This means that with just a twist of your fingers, you can control the movement of brush at the end.
The cord of the vacuum cleaner is up to 25 feet long. This length allows you to easily clean a room with a long hallway or long stairs.
This vacuum cleaner comes with a dusting brush, crevice tool, and the upholstery nozzle. An optional extension wand helps you reach the ceiling with ease. The dust bag of this vacuum is very easy to empty. This is one of the best products to get efficient cleaning in no time.
---
3. Vapamore Vento MR-500 Bagged Canister Vacuum (Most Durable)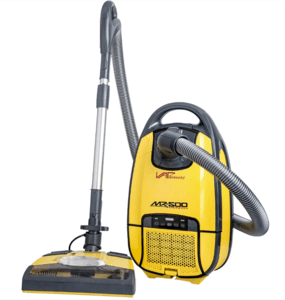 Who Made It 
As an industry leader, Vapamore is presenting high performing innovative products making their daily chores of their consumers easy and hassle-free. Their vacuum cleaners possess all the innovative and high-quality features and are exceptionally useful, practical and modern.
Description
Talking about the Vapamore Vento MR-500 bagged canister, the most appealing quality of this vacuum is the presence of HEPA (High-Efficiency Particulate Air) filtration system.
HEPA filtration system not only removes the fine dust particles, and pet dander but it also removes microscopic allergens, pollen, and small particles as well. This makes it highly preferable for allergy sufferers as it can trap 99.97% of the dust and other allergens.
With the presence of a powerful dual-motor system, the suction strength of this vacuum is commendable. This vacuum can efficiently clean your home from every nook and corner.
Functionality
The weight of this vacuum is super easy to handle. It weighs about 26 lbs. and you can easily carry it around all over your place.
You can use this vacuum cleaner on any surface including hardwood, linoleum, a combination of both, and carpet as well. And you can seamlessly transit between these modes of surface cleaning options.
The automatic cord of the cleaner rewinds itself thus preventing tangling and tripping of the wire. This retractable cord is 26 feet long, making it easy for you to take the cleaner all around the place with ease.
It comes with more than a handful of attachments including bare floor tool, dusting brush, and crevice tool. These add to the versatile cleaning capability of the vacuum.
---
4. Simplicity Jill Compact Canister Vacuum (Budget-Friendly)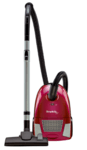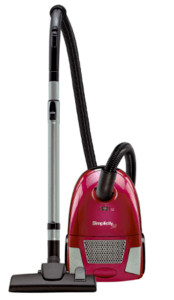 Buy At Sylvane
Who Made It 
Simplicity is an emerging brand in the vacuum cleaner industry. It builds powerful vacuums that last by inserting metal parts in the right places. The philosophy of Simplicity is to make cleaning easier. Specifically, this means vacuums that are simply functional.
Description
Simplicity Jill is a compact canister vacuum that is equipped with a replaceable dust bag.  It's armed with useful cleaning tools which simplifies removing dust and allergens from the floor.
This vacuum cleaner is equipped with a HEPA filter with the ability to trap almost 100% dust. spores, mold, mite allergens, and pollen particles. This makes it an ideal machine for pet owners and especially for allergy sufferers. All in all, with this vacuum cleaner, you experience a cleaner home that's just healthier.
Functionality
The vacuum cleaner is not only equipped with a HEPA filter, but also uses the microparticle filtering on its dirt bag. This ensures that all the allergens removed by the vacuum are safely sealed within the bag.
A HEPA dirt bag also means that there's a lesser chance of the particles entering the air when you're changing the bag.
You can use the Simplicity Jill for both hard floors and low-pile carpets. It comes with a couple of replacement floor nozzles that are designed for different areas. Cleaning upholsteries and corners are also made easier with the crevice and upholstery tools provided.
---
5.Bissell Zing Bagged Canister Vacuum (Best For Hard floors And Carpets)
Check Price
Who Made It 
Bissell is a family-owned business developing cleaning tools since 1876. Over the long span of 140 years, Bissell has developed and crafted hi-tech premium cleaning tools. The main objective of this company is to provide hassle-free cleaning equipment to its customers. You can check out their carpet cleaners, vacuums, steam and hard floor cleaners, and sweepers online and in stores.
Description
Bissell Zing bagged Canister Vacuum excellently exhibits high-quality standards of the company. This vacuum cleaner is designed and structured to provide ease and convenience to the users. It is light in weight so you can effortlessly carry it around your house.
The presence of a telescoping wand helps you maneuver the vacuum on places that seem hard to reach such as under and around the furniture, corners, ceilings, and drapes.
With powerful variable suction, this vacuum excellently removes dirt from all sorts of surfaces including bare floors, rugs, and carpets.
Functionality
Pre-motor and post-motor filters along with dust bags improve the fine dust capturing ability of this vacuum cleaner. Moreover, the dust bag is very easy to remove and empty in comparison with the emptying process of a bagless vacuum.
You can easily control this vacuum's cleaning mode with a simple flip switch, and interchange between cleaning hard floors to carpets and vice versa. The filters can be easily washed and reused.
This vacuum cleaner comes with a dusting brush, multi-surface floor tool, and crevice tool; all of which allow you to thoroughly clean all sorts of furniture and different places of your home.
---
Summary
Vacuuming your home is only part of the remedy in reducing allergies. You'll need to be consistent in cleaning your home and pay attention to spots that attract dust. Take precaution steps such as wearing a mask if start sneezing when you're cleaning your home.