DISCLOSURE: This post may contain affiliate links, meaning when you click the links and make a purchase, we receive a commission.
When dust mites are a major problem in your home, you'll need to clean beddings and other infested fabric regularly. To ensure that these tiny pests are killed, laundry detergents targetting dust mites are a great option. These detergents are formulated with special ingredients that kill dust mites and other bugs efficiently.
Dust Mite Detergents Compared
Title
Allersearch Allergen Wash
Ecology Works
Allersearch ACARIL
Hygea Natural
Price
$99.95 ($0.78 / Fl Oz)
$24.00 ($0.60 / Load)
$19.95 ($2.49 / Fl Oz)
$44.99
How to Kill Dust Mites When Doing Laundry?
Dust mites spread deadly allergens and love to stay in the warmth of bedding including blankets, pillows, and mattresses, and other warm places like carpets, cushions, and covers. If unfortunately, you're encountering this problem in your home, one of the simplest solutions is to wash your beddings every week in hot water.
Washing in hot water is essential as the high temperature (from 130-140 F° or above 55°C) will kill the dust mites and allergens. Regular washing in the water at a normal temperature will be ineffective in getting rid of dust mites.
Another great option is to use dust mite detergents. These detergents are formulated using special ingredients that bear anti-allergen qualities. These specifically made laundry detergents are hypoallergenic, and wash all the dust mites and allergens off your fabrics.
Moreover, high-quality detergents kill microbes such as mold and mildew. Washing with these detergents in hot water is an effective solution against dust mites.
Does Washing With Detergent Help To Kill Dust Mites?
Yes, it does, and it has been practically proved. Studies have shown that regular washing of bedding and other washable clothing with detergent and in warm water helps in killing the dust mites. And washing your bedding with specifically manufactured detergents which are enriched with special ingredients is the best solution to kill dust mites.
In this regard, researchers from Wright State University, Dayton have found that washing clothes with detergent or bleach+detergent in warm water significantly removed dust mites. However, it is best to wash mite-infested clothing separately because mites may transfer to mite-free clothing during machine wash.
What to Consider When Buying Detergent for Dust Mites?
With a number of options to choose from, it is difficult to pick the best detergent to kill dust mites. To make things easier look for the following characteristics on the detergent's packaging to be sure of its quality.
Effectiveness against Dust Mites – The efficiency of the detergent in killing the dust mites is its most important quality. It is advisable to opt for renowned brands with great customer reviews to be sure of detergent's effectiveness.
Safety for Humans and Pets – The detergent should not pose any harmful effects to humans and pets. Ensure that you read the instructions and components of the detergent on the label.
Protect Fabric from Discoloration – Detergent must not contain any harsh chemicals as this will fade the colors of the fabric during the wash.
Best Laundry Detergent for Dust Mites 2020
Here are some detergents that will help you in getting rid of dust mites in the laundry.
1. Eradicator Laundry Treatment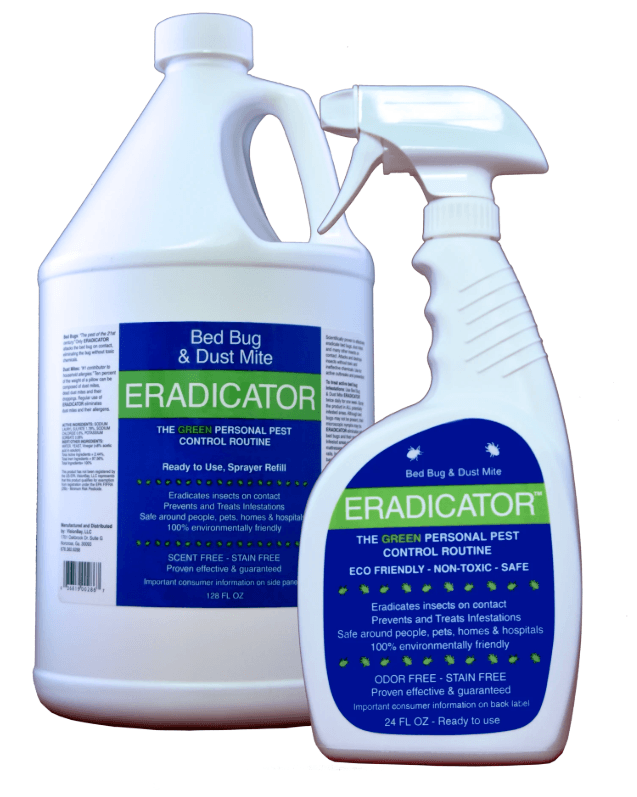 Eradicator bed bug and dust mite laundry treatment truly lives up to its name and cleanse your bedding from dust mites and other bugs effectively. Just one cup of this detergent in the normal load of clothing is enough to kill the dust mites from bedding and other clothing.
One bottle of Eradicator laundry solution contains 32oz detergent which will be great for 32 washes. However, you can increase this amount if you are washing a larger load. It is formulated with highly effective ingredients against bugs including sodium chloride, potassium sorbate, and citric acid.
Pros
Powerful enzyme solution
Non-toxic and biodegradable.
Cons
---
2. Moldergent Hypoallergenic Detergent
Yet another detergent to have in hand if you're washing a bucket full of dust-mite infested laundry. This detergent works regardless of whether you're using warm or cold water. It neutralizes the dust mites allergen which is notorious for causing the allergy symptoms.
A single bottle of 1 Gallon Moldergent detergent will last quite a while in removing stains and allergen. It's also pretty harmless for colored fabrics. The detergent is made of wintergreen oil, and sodium benzeneoxy sulfate.
Pros
Effective for neutralizing dust mites allergen.
Works in both cold and warm water.
Safe for colorfast fabric.
Cons
Only available in single size (1 gallon)
Ultimately, there are two ways of killing dust mites effectively when doing laundry. If you're reluctant to wash the clothes in hot water, these anti-dust mites laundry detergents will serve you well. Hope you've found this guide useful.
---
3. Allersearch Allergen Wash Laundry Detergent
Allergen Wash super surfactant Laundry Detergent provides you excellent protection from allergens. This detergent is a high-quality product, formulated with powerful chemicals with perfect balance. The ingredients used in the manufacturing of this detergent completely remove dust mite allergens, pollen, pet dander, and mold.
Additionally, this product is safe for people, pets, and as well as for the environment. And with this detergent in hand, there is no need to worry about discoloration of your clothing as it works best on both white and colored fabric.
Pros
Protect fabric from discoloration.
Safe for humans, pets, and the environment.
Easy to use in both top loader and front loader machines.
Cons
People sensitive about the fragrance of essential oils may not appreciate its scent.
---
4. Ecology Works Anti Allergen Laundry Detergent
Anti-allergen laundry detergent by the Ecology Works is an excellent choice for people who prefer mild products. The main ingredients of this detergent include mineral and plant-based surfactants, deionized water, and allergens neutralizers.
It is a powerful product against dust mites and other allergens. Moreover, it is a scent-free laundry product making it the preferable choice for people who are not a huge fan of fragrant laundry products. Another great thing about this product is the amount of detergent you get, as this one bottle will go for about 40 regular load washes.
Pros
Soft on the fabric and powerful against dust mites
Uses hypoallergenic ingredients.
Perfect for 40 wash loads.
Cons
Some people may be uncomfortable with the scent.
---
5. DeMite Laundry Additive Dust Mite Control
DeMite laundry additive is a highly concentrated product that effectively eliminates all the dust mite allergens from the bedding in a single wash. This comes in a large packaging containing 1-liter product. Bring this bottle home, and it will last about 45-50 normal load washes in the top-loading machine.
This laundry additive works efficiently well with all high-quality laundry detergents. Moreover, there is no need to wash your clothes in warm temperature with this laundry additive, as it works perfectly at any temperature. This non-toxic and fragrance-free detergent effectively gets rid of all dust mites from the bedding.
Pros
Non-toxic.
Fragrance-free.
Comes in 1 liter packaging.
Cons
---
6. Allersearch ACARIL Laundry Additive
ACARIL laundry additive by Allersearch effectively gets rid of all dust mites without ruining the fabric quality. It works exceptionally well on colorfast fabrics. Wash the clothes in either hot or normal water; this laundry additive will give you the best results with any detergent.
The laundry additive will cleanse rugs, delicates, bedding, and stuffed toys and give you dust mite and allergen-free stuff in a single wash. Washing your clothes and bedding with this detergent and in warm water will solve all your allergen problems.
Pros
Safe for people, pets, and the environment.
Protect fabric colors.
Eliminate bugs efficiently.
Cons
Available in 240 ml packaging only.
---
7. Hygea Natural Bed Bug & Lice Laundry Detergent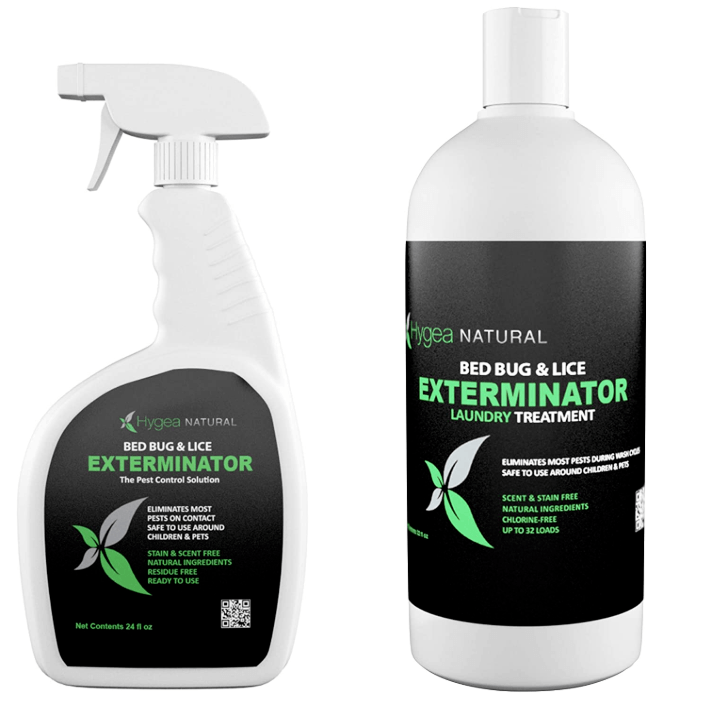 Bed bug and lice exterminator by Hygea Natural is an exceptionally powerful product against all kinds of bugs and pests. This product is specifically formulated to kill crawling pests and other tiny creatures that cause different allergic reactions.
The detergent is available in two sizes. For residential use, small packaging of 32oz will be perfect whereas for commercial use 1-gallon bottle will be great. It's chemical formulation and manufacturing are different and it can be used on any wet stuff including bedding, clothing, floors, walls, etc.
Pros
Made with non-toxic formula.
Available in two sizes, 1 gallon, and 32oz.
Best for both residential and commercial use.
Cons
Related: