DISCLOSURE: This post may contain affiliate links, meaning when you click the links and make a purchase, we receive a commission.
Vacuuming the entire floor of your house isn't fun when you have a large space to cover. But if you're suffering from allergies caused by allergens like dust mites, getting a robot vacuum cleaner will be the best option.
And when you have pets running around in your home, your allergy may worsen, no thanks to the pet hair that shed and gathered on the carpet or floor.
When allergies are wreaking havoc to your health, you need to ensure that your house is practically allergen-free. This means increasing the frequency of cleaning, including vacuuming the floor. Having a robot vacuum cleaner means you get to take a rest while the intelligent cleaning machine does the job on its own.
Robotic vacuums aren't the cheapest home appliances and it goes without saying that some models are superior to others. You'll want to get the best value out of it and this guide is all about doing so.
---
How To Choose A Robot Vacuum Cleaner
You'll want to get a robotic vacuum that is effective in getting rid of allergens on the floor and possibly without much intervention from you. Obviously, you shouldn't make a decision based on price alone as the cheapest model rarely is the best option.
Instead, here are some of the factors that you'll want to consider when choosing a robot vacuum to get rid of allergens and pet hair in your home.
 1. Battery
Robot vacuum cleaners operate on battery. This means that there is a time limit to how long the robotic vacuum can operate before it needs to get itself charged. Some models have no problems vacuuming for a couple of hours while others may need a recharge after 60 minutes or so.
2. Intelligence
Not all robot vacuums are equally smart. The difference in the programs driving the vacuum can mean some units bumping into awkward corners or table legs while others cleverly avoid them. Ensure that the robotic cleaner is designed to behave intelligently when cleaning your home.
3. App-Control
Having an app on your mobile can be handy. Some models of robotic vacuums can be controlled with a tap on the screen or by issuing verbal instructions. If you like the convenience of controlling the robotic vacuum remotely, choose one that comes with an app.
4. Surface
Some robotic vacuums work well on hard floors but not on carpets or vice versa. There are also models that may do a decent job on both hard floors and carpet. You'll want to pay attention to the specifications when selecting a robotic vacuum.
5. HEPA Filtration
As you're getting a robotic vacuum cleaner to reduce allergens in your home, you'll want to ensure that the robot vacuum cleaner has an advanced filtration system. Preferably, you'll want a HEPA filter in the robotic vacuum as it prevents allergens like dust mites from getting back to the air.
6. Pets
Pet hairs can be tough to remove for some robotic vacuum cleaners. In some cases, the cleaning brush may be entangled with pet hair. If you have cats or dogs in the house, you'll need to get a robotic vacuum cleaner that is designed to remove pet hairs.
7. Area
There is a difference in getting a robotic vacuum for a studio apartment than a four-bedrooms mansion. A lightweight robot vacuum cleaner will do a great job for the former but you'll need a larger, powerhouse robotic vacuum for the latter. Of course, it will be more expensive for a higher spec robotic vacuum.
---
Best Robot Vacuum Cleaners For Allergies And Pet Hairs 2020
Robotic vacuums are definitely a popular home appliance and you can expect hundreds of models to choose from. To make it easier, I've shortlisted 5 of the best robot vacuum cleaners that are built for getting rid of allergens and pet hairs.
1. Miele Scout RX2 Robot Vacuum Cleaner
The Miele Scout RX2 is a decent robotic vacuum when you're dealing dust, allergen and pet hairs at home. For a start, it is equipped with a Miele's AirClean filter which keeps tiny particles from escaping back into the air.
As for suction power, the Miele Scout RX2 commands a strong suction, thanks to the Quattro technology. It will make short work of dust and allergy-causing particles on the floor. The robotic vacuum works on both hard floor and middle-pile carpet. It automatically increases its suction force when it senses a carpeted surface.
You can expect the Miele Scout RX2 to clean in a systematic manner. It is built with intelligent motion tracking sensors that enable it to chart the shortest path of cleaning in your home. Instead of wandering randomly, it cleans in a pre-determined path, thus cutting off cleaning time to as much as 30%.
There's no risk of the Miele Scout getting damaged when bumping into a chair or your curious pets. It automatically slows down when obstacles are detected, thus preventing damage and shock to objects and pets. The Miele Scout is also designed to avoid falling off stairs or ledges.
In terms of cleaning duration, the Miele Scout RX2 can last up to 120 minutes before returning to the charging base. As it has a relatively large dust bin, it's going to take a while before you need to empty the dust that it has collected.
With a mobile app connected to the Miele Scout RX2, you can schedule, control and monitor the robotic vacuum cleaner easily. There are multiple modes to choose from to maximize the cleaning capacity of the robotic vacuum.
Key Features
Equipped with Miele AirClean filter.
Strong Quattro-powered suction.
Intelligent cleaning path mapping.
Up to 120 minutes of cleaning when fully charged.
Clean both hard floors and carpets.
Collision and drop prevention.
Remotely controlled with a mobile app.
---
2. Neato Botvac D5 Robot Vacuum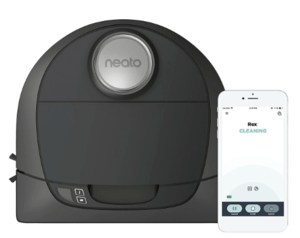 Neato Robotics is a pioneer in robotic vacuums and the Neato Botvac D5 is one that is ideal for getting rid of allergens and pet hairs. It is built with an Ultra Performance filter which traps allergens as small as 0.3 microns.
The Neato Botvac D5 works on both hardwood floor and medium-pile carpets. It boasts powerful suction while keeping the volume low. You'll find that the Neato Botvac D5 no louder than a microwave when it's working hard to remove dust and debris on the floor.
Besides having the drop-sensing technology, the Neato Botvac unique 'D' structure allows it to clean narrow surfaces and corners. These areas are usually hard to clean by regular robotic cleaners. You can also get the Neato robotic vacuum to spot clean on specific areas.
This robotic vacuum also has a super slim profile that allows it to effortlessly clean surfaces beneath the furniture. There are multiple preset cleaning modes that you can choose from to get an optimized cleaning for your home.
Despite having a strong suction power, the Neato Botvac can clean up to 90 minutes on a single charge. This is a considerably long battery duration amongst robotic vacuums. The sleek robotic vacuum is fitted with a large dust box, which means lesser disposing of dust is needed.
Key Features
Ultra Performance Filter
Slim profile.
Quiet operation.
Drop-sensing technology.
Clean up to 90 minutes per charge.
Large dust box.
Multiple preset cleaning modes.
---
3. iRobot Roomba 960 Robot Vacuum

The iRobot Roomba 960 is a versatile robotic vacuum that connects to smart home systems. It can be controlled with voice commands from either Alexa or Google Assistant sent from the iRobot HOME app. This enables you to schedule and operate the Roomba 614 remotely.
One of the key features of the iRobot Roomba 960 is the dirt-sensing technology. It is built with sensors and an algorithm that enable the Roomba vacuum to focus on areas that are high-dirt zones, particularly walkways.
Cleaning dirt of all sizes is a breeze for the Roomba 614 as it is equipped with dual multi-surface brushes. The robotic vacuum will have no difficulties in switching from hard floors to carpets, thanks to is auto-adjusting cleaning head.
Edges and corners are notoriously difficult to clean with a robotic vacuum. iRobot solves the problem by fitting the Roomba 960 with an edge sweeping brush. The specially designed 3-stage cleaning system will easily remove dust from awkward corners.
While the Roomba 614 does not use a HEPA filter, it uses AeroForce filtration system. The AeroForce filter traps up to 99.99% of microparticles with a minimum size of 10 microns.
When set to clean your home, the Roomba 960 will operate for up to 75 minutes before returning to its charging dock. The robotic vacuum can also be configured for spot cleaning on a specific area by pressing the SPOT button.
Key Features
Patented dirt-sensing technology.
Up to 75 minutes of cleaning time.
Clean both hard floors and carpets.
Edge-sweeping brush to clean difficult corners.
Controlled with an app.
Self-docking and charging.
Multi-surface brushes for different floor types.
---
4.Shark ION Dual Action Robot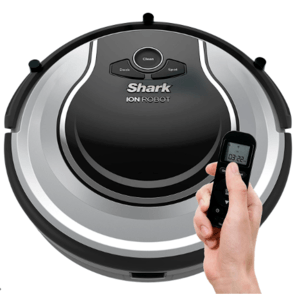 Shark ION has an impressive suction force that makes escape impossible for the dirt and debris on the floor. While the GOOVI robotic vacuum is designed for hardwood floor, it works reasonably well on low-pile carpet too.
At the core of the Shark ION is a couple of rotating brush.  These powerful brushes will spring into action as the vacuum moves through calculated paths in your home. Any debris and dust will be swept into a vacuum and stored within its dust bin.
As the Shark ION is only 2.6″ in height, it will have no issues navigating around your home, particularly beneath pieces of furniture. This made the robotic vacuum ideal for cleaning bedrooms, particularly under beds, couches, or racks. It smartly avoids furniture legs and other obstacles along the way.
You don't have to worry about the Shark ION falling off the stair. It is built with cliff sensors and other navigational sensors that enable the robotic vacuum to have a perfect sense of orientation. The robot vacuum will stay on course throughout its cleaning operation.
There are various cleaning modes on the Shark ION to choose from, depending on the floor type and the cleaning requirements. The unit packs an ultra high capacity battery, which allows up to 60 minutes of cleaning. When the battery is almost empty, the robotic vacuum automatically returns to its charging base and recharge.
Key Features
Slim, low profile design.
Cliff sensors for fall-protection.
Up to 60 minutes of cleaning on a full battery.
Self-docking and charging.
Clean both hardwood floors and low pile carpets.
Obstacles avoidance technology.
---
5. ECOVACS Deebot M81 Pro

The ECOVACS Deebot M81 Pro features a slim design with a height of 3.11″. It will have no issues in getting underneath most types of furniture where dust usually accumulates.
You would barely notice that it's vacuuming dust and debris off the floor as it operates at only 57 DB, which is considerably low noise. This robotic vacuum cleaner also works well in removing pet hair from the floor.
You can use the ECOVACS robotic vacuum on both hard floors and low pile carpet without any additional accessories. It is built with the intelligence to move from one surface to another while maintaining efficiency.
The robotic vacuum can be controlled with a remote and supports time schedule. It means that you can configure a schedule and leave it to operate while you focus on your daily tasks. The vacuum operates from battery packs which allow it to clean for up to 100 minutes.
There's no need to worry about recharging the robotic vacuum's battery. The ECOVACS M81 Pro has the intelligence to locate the charging station and self-charge. If you're letting the ECOVACS vacuum clean on the upper floors, you can bank on its intelligence to avoid falling off the stairs.
You can operate the ECOVACS robotic vacuum in 4 cleaning modes depending on the space and cleaning need. It traps the dust and debris securely in the dust bin and can easily be disposed of.
Key Features
3-stage filtration
Cliff detecting sensor.
Works on both low-pile carpet and hard floor.
Slim design.
Automatic charging.
Collects pet hairs easily.
Supports scheduled cleaning mode.
---
6. Veridian X410 Smart Robotic Vacuum Cleaner with Wet Mop
The Veridian X410 is a 2-in-1 robot vacuum that also has a mop function. It works well on various types of surfaces, including hard floors, rugs, and carpets. 
With low-profile built on only 3.4″ the Veridian X410 will have little issues cleaning in the narrow space beneath furniture and sofa. Its sensor-guided navigation ensures it from crashing into table legs or falling off the stairs.
Expect this smart robotic vacuum to make a quick, yet efficient job with its dual-side sweeping brush. Pet dander and dust are easily removed by the vacuum and stored into its 0.4 L litter box.
The microparticles are stored safely in the vacuum, thanks to the HEPA filtration system. No allergen will escape until you manually empty the litter box.
If you don't feel like manually controlling the Veridian X410, you can set the scheduler to automatically clean your home when you're away. The mopping function is equally easy to activate. Just fit in the water tank and mopping cloth and the X410 will take care of the rest.
This machine is probably one of the best robot vacuums you can get for removing pet hair and allergen.
Features
Vacuum and mop functions.
HEPA filtration system.
0.4 L litter box
Multiple cleaning modes.
Up to 90 minutes run time.
Smart sensor for fall prevention.
There's no short cut to preventing allergies except keeping your home clean. Cleaning is a taxing affair especially when you have so many spaces to cover in a short amount of time. I hope you'll find these robotic vacuums helpful in reducing your cleaning workload and subsequently the allergies suffered.
Related: