DISCLOSURE: This post may contain affiliate links, meaning when you click the links and make a purchase, we receive a commission.
When you're getting rid of dust mites in the bedroom, you shouldn't overlook that comfortable piece of a comforter. Besides keeping you warm, a regular comforter may play host to dust mites. Getting some of the best comforters for dust mites allergies may help to prevent these creatures from growing uncontrollably.
Sleeping with dust mites can wreak havoc on your health, especially when you're highly sensitive to the allergen. If your comforter is filled with dust mites, merely covering yourself with it can send the tiny dust mite excretions in the air and triggering allergic symptoms.
What Are Hypoallergenic Comforters?
Comforters are often filled with different materials, such as wool, cotton, silk and down made of goose or duck feathers. These materials are then sewn together with fabrics and they form an insulation layer to keep you warm and comfortable.
However, some of these materials are perfect trappings for dust, thus fueling the growth of dust mites. Goose feathers are often the suspect of dust mites presences in the comforter. Also, the fabric used to hold the fillings have large-enough-gaps for dust mites to slip through.
Hypoallergenic comforters are made of materials that prevent dust mites growth, often with synthetic fillers. They are also sewn with low-porosity fabric, which blocks dust mites from passing through. Often, hypoallergenic comforters are machine-washable, making cleaning an easy process.
---
How To Choose A Hypoallergenic Comforter For Dust Mites
There are a few factors worth considering before you get a comforter to deal with dust mites in the bedroom.
1. Types Of Material
Naturally, the first thing that you'll want to be sure of is the material used in the comforter. While synthetic fibers are commonly used in hypoallergenic comforters, materials like silk and cotton, which are naturally anti-allergen, are good alternatives.
Avoid down comforter as the feather fillers are an open invitation for dust mites. Of course, the comfort of real down is hard to be replicated by alternative materials but when you're suffering from dust mites allergies, the priority is to keep the comforter allergen-free.
2. Thread Count
The fabric that forms the outer layer of the comforter is equally important to keep dust mites away. It is often made of microfiber or silk but what you want to be aware of is the thread-count. A higher thread count means smaller pore size, which blocks dust mites from entering the comforter.
3.  Machine-Washable
It's important to keep beddings clean when you have dust mites allergies. Even with a hypoallergenic comforter, it makes a good habit to wash the comforter to remove any dust mites excretion that may have gathered on it.
Most hypoallergenic comforters are usually machine-washable but it's important to check out the washing-instructions before buying.
4. Comfort
It may be true that down comforters offer the most comfort but that doesn't mean that hypoallergenic comforters are highly uncomfortable. The blend of synthetic material, cover and stitching can make a hypoallergenic comforter a perfect companion for sleep.
5. Price
Hypoallergenic down-alternative comforters are generally cheaper than their feather-filled counterparts. However, you wouldn't want to base your decision solely on price. Instead, the overall quality and customer feedbacks are helpful in determining the right hypoallergenic comforter.
---
Best Hypoallergenic Comforters For Dust Mites 2020
To stop dust mites from menacing in the bedroom, I've narrowed down the choice of comforters to these reputable brands. Besides meeting the above criteria, these comforters enjoy glowing feedbacks from existing customers.
1. myMerino Wool Comforter by Sleep & Beyond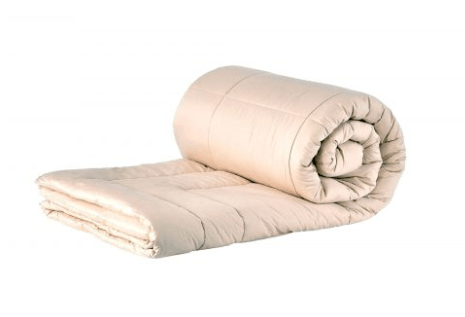 Buy At Sleep & Beyond
Hypoallergenic comforters by Sleep & Beyond are yet another crowd favorite where allergies are concerned. It is designed to meet versatile beddings needs. You'll find the comforter more than able to keep you warm during the cooler seasons while keeping you comfortable in summer.
The comforter is filled with 100% organic wool and encased in organic cotton fabric. It removes the fear of dust mites growing in the comforter. The tightly-sewn fabric also offers protection against dust mites and other allergens. You'll also find the comforter soft and fluffy, which are hallmarks of the finest Merino wool.
As you take a closer look, you'll find stitches done in perfection. The excellent workmanship ensures that you could use the comforter for quite a while before it suffers from wear and tear. With proper care, the myMerino comforter will keep you comfortable for years.
Features
Made with 100% Merino wool fillings
Soft and fluffy.
Highly-breathable
Good stitching quality.
Anti-dust mites, mold, and mildew.
---
2. LinenSpa All-Season Hypoallergenic Down-Alternative Comforter
Check Price
The LinenSpa All-Season hypoallergenic comforter is an ideal choice when you're suffering from dust mites allergies. It's made of 100% polyester which gives no room for the pests to grow. Despite using synthetic material, the comforter has a 300 gsm fill weight, which means you'll have the comfort of a down comforter without worrying about allergens.
You can easily attach a duvet cover over the comforter as it is stitched with side loops and 8 built-in corners. It helps to keep a refreshing look on the comforter so that you don't get bored with the design.
Durability is also a strong point of the LineSpa comforter. It features box-stitch construction which secures the polyester from moving around and provide the comforter with a smooth exterior. You can be assured that the comforter will last for quite a while with regular usage.
Cleaning the LinenSpa is relatively simple. All you need to do is to wash it in a machine with cold water before drying it on low heat. You can have your LinenSpa comforter shipped in various colors to fit the interior of your bedroom.
Features
Made with 100% polyester
Box-stitch for durability.
Machine-washable.
Side-loops to secure a duvet cover.
3-years warranty
---
3. Beckham Hotel Collection 1600 Series Hypoallergenic Comforter
These luxurious comforters by Beckham Luxury Linens provide you the comfort of a 5-star hotel minus the allergies. The comforter is filled with synthetic goose feather that provides comfort rivaling real feathers.
Its hypoallergenic properties lie in the stitches, which prevent dust mites, mold and mildew from passing through. The comforter is designed to be slightly oversized and features excellent craftmanship that prolongs the durability of the comforter.
While the comforter may look bulky, it is surprisingly lightweight. It is designed to function as a stand-alone comforter or as a duvet insert. You'll be pleased by the smooth caressing-feel when using the comforter to sleep.
The Beckham Hotel Collection comforter is machine-washable, making it a decent option for allergies sufferers. You'll have a few colors to choose from and sizes to fit your bed.
Features
Made with synthetic feathers.
Keep dust mites, mold and mildew away.
Machine-washable.
Light-weight and durable.
Soft and cuddly.
---
4. Equinox All-Season Down Alternative Comforter
The Equinox down-alternative comforter combines both comfort and elegance. Its workmanship is put into focus as square stitches with pipe edges form a solid holding structure for the fillings. The comforter is filled with siliconized fiber.
You'll enjoy the hypoallergenic protection offered by the comforter. Together with its brushed microfiber cover, dust mites will have no chance of penetrating or growing in the comforter. The soft texture of the comforter also means that you won't be getting irritated skins.
The comforter is available in various sizes and colors. It is shipped with a zippered case to make storing the comforter easier. Caring for the Equinox comforter involves setting the washing machine on a gentle wash and tumble dry mode.
Features
Filled with siliconized fiber.
The cover is made of microfiber.
Does not irritate the skin.
Zippered case provided.
Machine-washable.
---
5. Superior Solid White Hypoallergenic Comforter
If you need a hypoallergenic comforter minus the fancy colors, this solid white comforter by Superior will be a great choice. Its cover is made of microfiber and the internal filling is produced with synthetic Polyfill.
The hypoallergenic materials help to keep allergen away while you enjoy a good night of sleep. The material used creates no noise and is soft to the skin. The comforter can be fitted with a duvet cover if you need a change in its look.
You'll find that the comforter is stitched not once, but twice to prevent the fillings from moving around. The double-stitch also ensures that the comforter enjoys enhanced durability after prolonged usage.
The classic comfortable can be washed without issues in a washing machine. To prevent wrinkles, it is suggested that you remove the comforter off the dryer immediately after it was done.
Features
Made with microfiber and synthetic polyfill.
Can be inserted into a duvet cover.
Double-stitch for durability and texture.
Machine-washable.
Keeps dust mite and allergens away.
---
6. LUCID Hypoallergenic Comforter
Check Price
Completing the list of top-rated comforters of dust mites allergies are those offered by LUCID. These comforters are made with synthetic microfiber which is perfect for allergies sufferers. It's a better option from goose feathers that traps dust in the comforter.
The comforter features box-stitches that holds the microfiber filling firmly and ensure durability. With corners and side loops, you can fit the comforter with a duvet cover of your choice. You'll find the comforter cozy and comfortable in both winter and summer.
If you're worried about noisy comforters, you can be relieved by the fact that the LUCID comforter makes no noises. You'll enjoy an uninterrupted sleep with the comforter. Also, the generous 400 GSM filling means the comforter is moderately thick.
Features
Made with microfiber.
Box stitched for durability.
400 GSM filling.
Suitable for summer and winter.
 3-Years Warranty
---
Getting a hypoallergenic comforter helps to reduce dust mites to a certain extent. However, you must never fall under the impression that it is the only thing you need. You'll want to ensure that all your beddings are dust-mite proof.
Also, cleaning the beddings regularly is also a must. You'll also want to invest in a HEPA vacuum cleaner, preferably with a UV function to kill dust mites in your bed. It takes consistent effort to reduce dust mites growth and ensure the allergies do not recur.
I hope you've found the list of comforters helpful in reducing dust mites in your bedroom.
Related: