DISCLOSURE: This post may contain affiliate links, meaning when you click the links and make a purchase, we receive a commission.
Dust mites can breed in pillows and with such close proximity, you'll be exposed to the microscopic pests and the fecal pellets that trigger the allergy. Getting a hypoallergenic pillow cover for dust mites is one of the best ways to minimize exposure to allergens.
Dust Mite Proof Pillow Covers Compared
How To Choose Pillow Covers For Dust Mites?
Undoubtedly, purchasing a high-quality dust mite pillow cover is very important to get efficient protection against dust mites. There are numerous brands available in the market that you can purchase pillow covers from.
However, there are certain important qualities that you must ascertain before making a purchase to ensure full protection and comfort. Here are some of the essential qualities that you must keep in mind when choosing a pillow cover for dust mites protection.
Breathable Material
Pillow covers made with 100% microfibers have an exceptional quality of airiness that enhances breathability. Such pillow covers are very effective against dust mite allergens because the weaving of the fabric is really tight and fine.
Generally, fabrics having less than 6 microns holes work efficiently against dust mites and their feces. Cotton fabrics can offer as little as 2 microns of small pores.
Breathable pillow protectors are noiseless and feel soft on the skin. These pillows are great for people who get annoyed by the plastic-like feel of some hypoallergenic pillow covers.
Size – King/Queen/Single
Before making a purchase for any bedding product, be sure to select the right size that fits your bed. There is a range of pillow covers available on the basis of your bed size. The pillow cover sizes vary for a king, queen, or single bed pillow. Do look for the available sizes on the website or in the market for your desired hypoallergenic pillowcases.
Zippered
The hypoallergenic pillowcases are usually fully zippered to ensure full protection against microbes. You must check the quality of the zip before buying the pillowcase. The pillowcase must be perfectly fit over the pillow, and the zip should slide smoothly all around.
In addition to that, the zip must be placed in a way that it will not disturb you during sleep. Having a functional zip ensures full encasement of the pillow with the pillow cover.
Texture/Noiseless
The texture of the fabric used in producing the pillow covers is extremely important. The pillowcase should feel soft, smooth, and supple under your skin. There are some dust mite pillow covers available in the market that are enclosed with some plastic-like (PVC) chemicals.  While these pillows have zero pore size they feel very irritating to the skin.
Also, the fabric of the pillowcases must not make cracking sounds during your sleep. If you're a light sleeper, such minor noises feel immensely annoying and make it extremely difficult to fall asleep. For this reason, the pillow cover should be noiseless, and soft in addition to being hypoallergenic.
Warranty
Checking the company's warranty for the product is extremely important before buying items as it gives you the peace of mind of getting the best value. The same goes for buying bedding products. Companies that are renowned for their supreme quality often offer a reasonable period of warranties for their products.
This will put your mind at ease, and you will be assured that you are buying a high-quality pillow cover that will not shrink or lose its shape any time soon.
Best Hypoallergenic Pillow Covers For Dust Mites
When it comes to purchasing pillow protectors, you definitely want to get them from the best brands, that are known for their high quality and durability. You can find numerous brands selling pillow protectors in the market.
Here are some of the top-rated pillow protectors for dust mites.
1.Cottonfresh Natural Cotton Pillow Covers (Best for Blocking Dust Mites)
Made with 100% natural cotton, Cottonfresh delivers one of the best dust mite pillow covers. Its pore size is measured at 3.45 microns, effectively blocking dust mites and common allergens. It is certified by the Oeko-Tex standard 100 and tested by the British Textiles Technology Group.
The hypoallergenic dust pillowcases from CottonFresh give you full protection from dust mites, allergens, and bugs. The softness of the fabric, smooth surface, and mental relief of safety from the allergens ensure deep sleep in a comfortable environment.
These covers surround your pillows like a glove and full zippered protection. Additionally, the softness of the filling of the pillow remains unchanged. You will sleep on a noiseless pillow without having a plastic-like feel under your head and neck. Cottonfresh assures you of an allergen-free sleeping experience.
Pros
100% cotton.
Fully enclose the pillow with zipper encasement.
Breathable and soft material.
Cons
---
2. Organic Pillow Protector by Sleep & Beyond (Most Comfortable)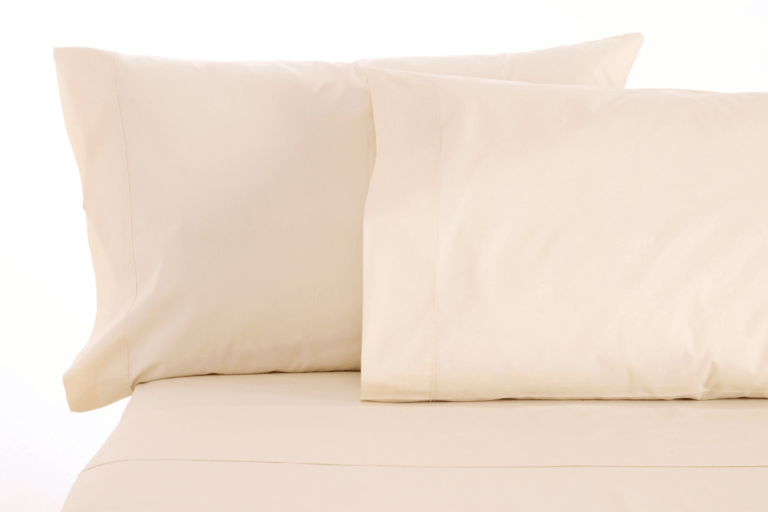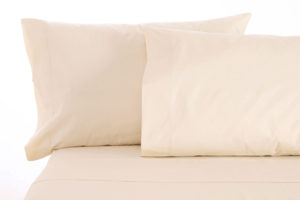 Sleep & Beyond strives to deliver comfortable, high-quality, and supremely designed products to its customers. Each product is manufactured from the finest materials and crafted with intense care thus living up to the brand's name and provide instant comfort. This is a relatively new brand but with outstanding craftsmanship and superb quality.
The allergy-friendly pillow covers from Sleep & Beyond are dust mite-proof and provide perfect protection from harmful allergens, microbes, and bugs. The material used in manufacturing is 100% organic cotton. Cotton feels soft to the skin and ensures easy breathability.
These hypoallergenic protectors are an excellent solution for people with dust mite allergies. These covers will reduce allergic symptoms caused by dust mites, including sneezing, stuffy nose, and watery eyes.
You can wash the pillow covers easily in the machine. It will retain its softness and allergen protection qualities after washing.
Pros
Feel comfortable and soft.
Hypoallergenic protectors guard perfectly from allergens and microbes.
Elegant design.
Cons
The zipper can be difficult to use.
---
3. Coop Home Goods The Cool Side Pillow Protector (Most Cooling)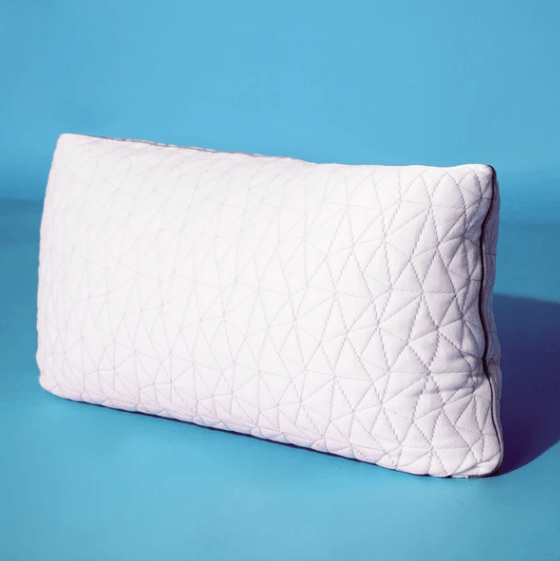 Coop Home Goods is your go-to store for premium pillows that support your spinal alignment. The idea of creating the 'dream pillow' originates from the founder's struggle with chronic back pain. Since then, customers have been loving the comfort delivered by the company's range of products.
The premium quality pillow protectors from the Coop Home Goods are the perfect choice to guard yourself against the harms of dust mites and allergens. These protectors are fully zippered and are made with a combination of polyester, PE, and bamboo.
You'll find that the cover feels soft and smooth on the skin, does not heat up when you sleep on it. It's designed with the company's proprietary Lulltra Cool technology which made the pillow protector highly breathable. This ensures an uninterrupted good night's sleep.
Pros
Cooling when slept on.
Protects against dust mites.
Easily washable in the machine.
Cons
Only one side is built with the cooling jacquard.
---
4. Mission: Allergy Dust Mite Proof Pillow Protector
Mission Allergy design their products on the basis of scientific tests. They provide a range of products to fight against allergens. These products include vacuum cleaners, and bathroom supplies to clean homes, air cleaners, dehumidifiers, humidifiers, air filters, and sinus products to clean the air of your surroundings, and skincare products.
The pillow protectors from Mission: Allergy truly live up to their objectives. The dust mite and allergen-proof pillow encasings are designed by certified allergists. This is a medical-grade product that completely blocks animal dander and dust mites allergens. It also offers bed bug protection when you're sleeping.
All of their products are scientifically tested and specifically designed to keep you away from allergens. These pillow protectors are tested by third-party Indoor Biotechnologies, Inc. This is definitely one of the best brands in the market to purchase bedding products if you have allergy issues.
Pros
Made with polyester microfibers and are 100% breathable.
Air and water vapor permeability ensures comfort.
Finest quality Sewing.
Cons
Some people received defective pillow covers.
---
5. Hospitology Sleep Defense System Pillow Protector
Hospitology incorporates scientific data in designing and manufacturing good-quality bedding products. A good night sleep without any headache, neck pain, or worry of allergens require the right quality products and Hospitogy understands these requirements
The Sleep Defense System by Hospitology is a zippered pillow protector that provides fantastic protection to your pillow against dust mites, dust, and other allergens. This characteristic makes this pillow a perfect choice for anyone going through allergic reactions, which are affecting respiratory conditions.
The waterproof pillow encasement keeps your pillow safe from sweat, saliva, or any other spillage. The fabric of the pillowcase is very soft and won't retain heat. It is very comfortable and feels soft to the skin. Plus, it is machine washable.
It's one of the best pillow protectors for dust mites.
Pros
Waterproof and zippered encasement.
It is made with breathable fabric that feels soft and comfortable.
Great for people suffering from respiratory issues.
Cons
The pillowcase feels noisy and plastic for some people.
---
Why Do You Need A Pillow Cover For Dust Mites?
The bedroom is one of the main suspects when you're suffering from dust mite allergies. While cleaning the mattress regularly is essential, you'll also want to pay equal attention to the pillow you're sleeping on.
The allergic reaction caused by dust mite allergens ranges from mild to severe. Symptoms of dust mite allergy include watery and itchy eyes, runny nose, coughing, sneezing, and stuffiness. It can have a deleterious effect on asthma patients.
Dust mites could breed in pillows if it's not made of hypoallergenic materials. Given the right humidity, temperature, and supplies of skin flakes, a pillow can be the perfect breeding spot for dust mites.
With a dust mite-proof pillow protector, you won't be exposed to the allergen when sleeping. Also, the pillow protector cuts of the food supply, in this case, skin flakes to existing mites in the pillow.
Do Dust Mite Pillow Covers Work?
A hypoallergenic pillow cover safeguards you from dust mite allergens and other microbial elements. Protecting your pillow with these covers will prevent the entrance of harmful allergens and bed bugs into the pillow, and will help you enjoy a good night's sleep.
These hypoallergenic pillows are immensely effective in controlling house dust mites. These covers function as a barrier for dust mites and other allergens. Dust mite pillow covers are specifically constructed with special fibers (natural or manmade) which are tightly woven. This inhibits the allergens from entering the pillow.
Dust mite pillow covers having 2-3 micron pore size work efficiently well in keeping dust mites from making your pillow their home. The tightly woven fabric will guard you against allergens perfectly, reducing your risk of developing allergic reactions.
A study conducted by the National Institute Of Environmental Health Sciences has strongly suggested the use of hypoallergenic pillow covers along with other preventive measures effective in reducing dust mites population.
Washing Dust Mite Proof Pillow Protectors
Washing pillow covers is essential to keep your home neat and clean. Dust mite pillow covers act as a shield against dust, dust mites, and other microbes by preventing the access of these organisms into your pillow.
Dust and allergen may gather at the outer surface of the pillow cover and that makes it more important to wash them after a while. After all, washing your pillow cover regularly is a hygienic practice.
Before washing pillowcases, it is highly recommended to read the manufacturer's label and ensure they are machine washable. Washing instructions vary depending upon the material used in making the pillowcase.
Dust mite pillow protectors are manufactured using different ratios of different fibers. So, reading the washing guide by the company will help tell you exactly how to wash the fabric.
You may be advised on the following:
Wash by hands, in the machine, or just dry clean.
Changes in the machine cycle.
Variations in the water temperature.
Natural or machine drying.
What type of detergent is suitable for this fabric?
The duration of washing without affecting the color and shape of the pillowcase.
Delicate fabrics, including cotton, linen, or wool shrink when washed. The pillowcases are manufactured by mixing these fibers, so following the instructions can prolong the lifespan of the pillowcase.
Also, water temperature plays an essential role in keeping the fabric look fresh and clean. You should avoid washing hypoallergenic pillowcases with hot water.
Are Satin Pillowcases Good For Dust Mites?
There's no quick answer to this. Satin, which is known for its luxurious touch and comfort, can be made of different materials.
If the satin pillow protector is made of silk, then it is naturally dust mite proof. The reason that silk is a good dust mite repeller lies in sericin. Sericin is a type of protein naturally produced in silk and it keeps dust mites away.
While satin is usually made from silk, there are satin pillow protectors that are made from other materials, including cotton. Cotton may not be a natural dust mite repeller, but tightly woven cotton satin with a high thread count works equally well in blocking dust mites.
So, it's wise to check out not only the material, but the thread count, and pore size when choosing a dust mite proof pillow encasement.
Final Thoughts
Unless you're using a hypoallergenic pillow, you risk having dust mites entering and breeding in your pillow. I hope you've found the pillow covers listed useful in keeping dust mites away at bedtime.
Related: