DISCLOSURE: This post may contain affiliate links, meaning when you click the links and make a purchase, we receive a commission.
 UV-C lamp is a quick, easy-to-use tool used to disinfect all kinds of surfaces. When used correctly, the germicidal lamp can eliminate up to 99.9% of pathogens without the use of harsh chemicals, making it a smart, effective way to sanitize your home.
In today's guide, we'll provide you with a list of 9 of the best UV-C germicidal lamps that the market has to offer. Stick around and read all about what UV-C is, whether it's safe to use at home, how UV-C germicidal lamps function, and how to find the best lamp that suits your every disinfecting need. 
Best UV-C Germicidal Lamps
1. Portable UV-C Germicidal Lamp by DustMiteBuster
Features
Built-in 800 mAH battery.
Made from ABS+PC
Disinfect up to 10.6″
Here's a UV-C germicidal lamp that fits easily into closets and shoe racks. Apparently, these are areas that use some UV-cleansing as they are often filled with dust mites and other allergens. This UV-C lamp provides evenly-distributed surround cleansing of up to 10.6″ range.
As the enclosure of the lamp is built with sturdy material, it will withstand moderate impact and doesn't get damaged easily. 
Pros
Powered by an internal battery.
Sturdy enclosure.
Compact.
Cons
---
2. UV Germicidal Light by Coospider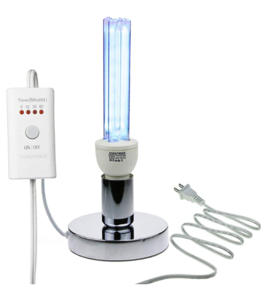 Features
 Remote control switch
4 auto-shutoff timer settings
25W UV bulb
The UV Germicidal Light by Coospider is one of the simplest home-grade lamps available today. This plug-and-play UV-C lamp comes with a 5.5-foot power cable and sturdy timer base that is easy to set up and place for optimal disinfecting in single rooms such as bedrooms, basements, and home offices.
The unit is controlled by a simple remote control switch with single-button operation. Pressing the on/off button selects one of the four available timer settings of between 5 and 60 minutes on nonstop operation for quick to deep-clean disinfecting. Depending on how long you keep the Coospider running, this lamp will optimally sanitize rooms of anywhere between 25 and 400 square feet.
The Coospider UV Germicidal Lamp is extremely user-friendly and does the job exceedingly well in the right conditions.
Pros
Easy to use and install
Up to 400-square-foot coverage
Harmless ozone production
Con
---
3. UV Sterilization Lamp by SHZIMY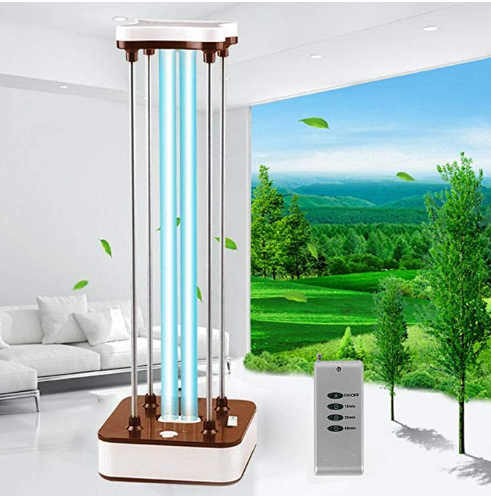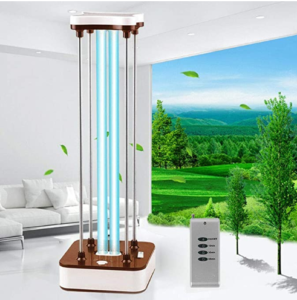 Features
 Durable stainless-steel housing
 36W UV lamp
 3-option timer with 15-second delay
The SHZICMY UV Sterilization Lamp is a more powerful sanitizing lamp compared to the previous product. It comes with a 36W UV-C lamp that, surprisingly, has a far shorter reach of only about 131 square feet. However, this also means more concentrated lights on every square inch of surface area which ultimately translates into quicker pathogen destruction.
The bulb is protected by four stainless-steel beams on four corners of the square base. The beams are designed to protect the delicate lamp from shattering, but they also block some of the lamp's shine. The odor produced by this lamp is pretty strong, so after letting the light run for between 15 and 60 minutes, make sure to give the room plenty of time to ventilate.
Pros
15-second delay gives time for users to escape.
Extremely durable.
Includes a wall-mounted remote control.
Con
---
4. UV Lamp for HVAC Duct by REKO Lighting
Features
Base for HVAC duct installation
4 25W UV lamps
9-foot power cord
The Reko R2000 is a lot different from the previous two UV-C germicidal lamps. It's not something you would place in the middle of a room but instead install in your home's HVAC duct system. The purpose of this HVAC UV-C lamp is to destroy harmful bacteria and microorganisms residing and flowing through the ducts before they make their way into different areas of your home.
Installing the Reko R2000 is as easy as screwing in the base onto or near a vent to allow its bright light to shine into the ducts, though you can be as creative as you like as many customers have shown. Make sure you check the bulbs periodically since its light indicator may be faulty right out of the box. Each of the four bulbs has a lifespan of about 8,000 hours.
Pros
Ozone-free
15-minute installation
Energy-efficient
Con
---
5. Boaite UV Germicidal Lamp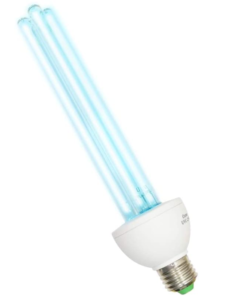 Features
25W UV bulb
8,000-hour lifespan
300-square-foot coverage
The UV Germicidal Lamp by Boiate is a standalone light bulb that connects to any standard screw-in socket at home. The UV-C lamp has a maximum reach of about 300 square feet, making it the perfect sanitizing bulb for spacious areas like kitchens, bedrooms, basements, and even HVAC ducts.
As you may have noticed, the Boiate bulb comes without a base, cage, or other means of keeping it in place. You will have to purchase a base or lamp separately in order to make use of this 25W UV bulb. Each Boiate bulb has a lifespan of about 8,000 hours, making it the perfect replacement bulb the Reko R2000 base or other similarly sized UV-C germicidal lamp products.
Pros
Inexpensive
Double sterilization power
Connects to regular screw-in sockets
Con
---
6. N/F UV Disinfection Quartz Lamp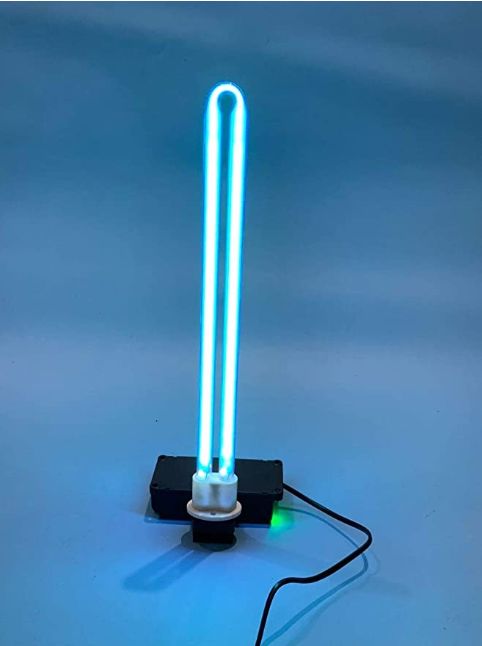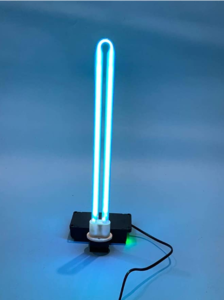 Features
60W UV bulb
130-square-foot coverage
15 to 60-minute timer
Next up is the N/F UV Disinfection Quartz Lamp, a simple yet effective tool for destroying pathogens at a cellular level in spaces of up to 130 square feet. The entire unit is pretty basic—it consists of a 38 or 60W bulb along with a plug-in base with timer presets. The lamp stands pretty tall so be sure to keep this unit out of harm's way since it can easily topple over.
One of the more unique features of the N/F Quartz Lamp is that the base allows users to switch ozone production on or off. If you don't want the pesky molecule "sprayed" across the entirety of your bedroom, leave it off before plugging and turning this device on. With ozone mode activated, N/F recommends staying out of the room for at least 40 minutes after the timer expires.
Pros
Simple to operate
With or without ozone production
Durable quarts for longer-lasting light
Con
---
7. Aulinx Remote UV Lamp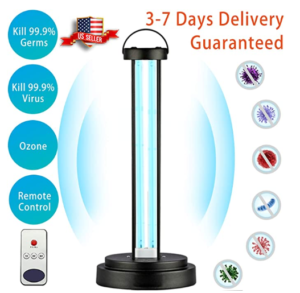 Features
36W UV bulb
Remote control
10-inch diameter base
The Aulinx Remote UV Lamp is another awesome germicidal lamp designed for 130-square-foot spaces and smaller. The 36W bulb is positioned in the middle of a 10-inch circular base that adds stability to the unit for placement on flat surfaces. Without being caged up, the lamp has complete 360° coverage to eradicate germs and viruses within the 35-minute non-adjustable operation time.
This unit comes with its own remote control and has a 15-second delay, allowing users to turn the lamp on from afar while giving them enough time to escape the potentially harmful UV-C rays and ozone molecules. The ozone produces by the Aulinux is greater than any of the other products on our list so prepare for strong after-smell.
Pros
Sturdy design
Great for small and medium-sized rooms
User-friendly
Con
---
8. 59S Portable UV Sanitizer Wand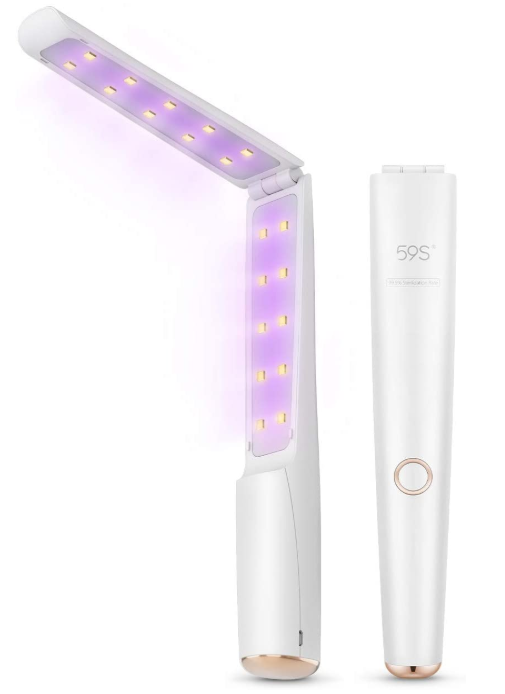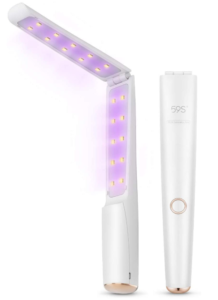 Features
Wand design
20 UV-C bulbs
Safety shutoff
If you're looking for a UV-C lamp that focuses its germicidal beams on limited surface areas, then the X5 Portable UV Sanitizer Wand by 59S is for you. The X5 has 20 built-in UV-C lamps for extra bacteria-killing power on flat surfaces (phones, bags, bed sheets, etc.), and its wand design means you can take it wherever you're going.
The lamp works for 3 continuous minutes before automatically shutting off, or you can press the power button again to manually kill the lights. The X5 works best from a distance of only 1 inch and by swiping it 10 times in rapid left-to-right motion. This unit utilizes a built-in rechargeable battery that lasts up to 50 minutes and takes roughly 3 to 4 hours to fully charge.
Pros
Extremely portable
Great for sanitizing small objects
100% ozone free
Con
Not for sanitizing entire rooms
---
9. BlitzWolf Portable UV Sterilizing Lamp
Features
Two-leg stand
700-mAh rechargeable battery
8,000-hour lifespan
This UV-C germicidal light is another portable unit that fits easily in travel bags and suitcases, but unlike a wand lamp, it sits atop two feet which give it true balance when standing on flat surfaces. This travel-safe UV-C lamp is a great tool to have when visiting foreign places and hotels where sanitation isn't a great priority.
Its reach, however, is quite limited—only around 6 square feet—but it does the job as effectively as you would hope. After charging the BlitzWolf for 1.5 hours, it can work for up to 5 30-minute cycles. The compact housing protects the inner bulb from shattering, although the plastic material can crack easily when dropped.
Pros
Portable
Up to 5 30-minute cycles per charge
UV and ozone sanitizing power
Con
Plastic housing cracks easily
---
10. UV Germicidal Lamp by ZT Solar Store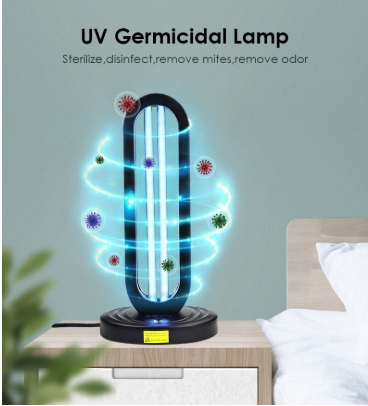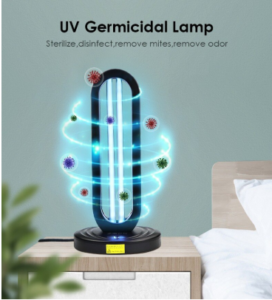 Features
38W UV bulb
Remote control
Stable circular base
Last but definitely not least is the UV Germicidal Lamp by ZT Solar Store. At first glance, it may look like any ordinary UV lamp except for its sleek housing, but it's actually sporting a heavy-duty 38W bulb that has a maximum reach of 196 square feet.
This unit uses both UV-C rays and ozone molecules to sanitize and remove nose-wrinkling odors, although you should allow the room to vent for 60 minutes afterwards. The housing has slits on the sides which allow germicidal beams irradiating from the bulb to reach every corner of your room for total and complete coverage. The remote control can be used to choose between three presets of between 15 and 60 minutes.
Pros
Sturdy design
360° coverage in 196-square-foot spaces
Quartz tube for added durability and longevity
Con
Replacement bulbs may be difficult to find
---
What is UV-C?
Ultraviolet radiation is split into three classifications based on wavelength. U UV-C is the shortest of the three with wavelengths of between 200 and 280 nanometers.
All three types of UV radiation are naturally produced by the sun, but only UV-A and UV-B—the longer-wavelength varieties—actually make it to the surface of our planet. Due to their longer wavelengths, UV-A and -B are able to penetrate our skin and lead and lead to some potentially harmful skin effects.
Is UV-C Safe?
The good news is that although UV-C radiation is harmful to a number of different viruses and bacteria, it's nearly harmless for humans. We say "nearly" because as a source of UV radiation, there's still a chance that it can affect humans.
UV-C is generally considered safe for humans, but there have been rare cases of the lights causing temporary damage to the eye and skin. Even though the outer layer of dead skin cells absorbs the brunt of the radiation, it's possible that the layer underneath could become exposed to UV-C, especially through open wounds.
Certain precautions should be taken prior to operating a UV-C lamp. To be safe, do not enter the same room as an active UV-C lamp. If the device does not come with a remote control, after turning it on, exit the room as quickly as you can.
How does a UV-C Germicidal Lamp Work?
Studies have shown that the shorter UV wavelengths are more easily absorbed into DNA and proteins which can rupture cell walls which in turns causes the death of an organism. Bacteria, viruses, germs—many single-cell organisms are prone to experiencing a quick death when exposed to UV-C.
This is what makes UV-C lamps a great sanitizing tool. It has been found to effectively kill many types of pathogens, including but not limited to H1N1 influenza virus, MRSA, as well as drug-resistant bacteria.
In short, UV-C radiation pierces through the cellular wall of single-cell microorganisms and can either disrupt their ability to reproduce or kill them off entirely. It's a win-win either way!
How to Choose a UV-C Germicidal Lamp
Finding the right UV-C germicidal lamp isn't all that difficult, provided you know what exactly what they have to offer. Here's a quick rundown of the most important considerations you need to make before settling on a particular model.
Design: Lamp vs. Wand
UV-C germicidal lamps consist of a UV bulb that is typically protected by a protective housing or stands on a base. The light is exposed completely in order to maximize its reach and clean a wider surface area. Wands are handheld devices with built-in UV bulbs that are focused on a particular area for better control when sanitizing single objects.
Area Coverage
This refers to how far the UV-C lamp's light reaches for optimal sanitizing. You can typically guess how far-reaching it is by the bulb's wattage, but always check the product's specifications beforehand. A larger, more powerful bulb is used to disinfect larger rooms.
Remote Control (Highly Recommended)
Some UV-C germicidal lamps come with a remote control. Others don't. We highly recommend that you find a model with a remote control to limit exposure to you and your pets. If the unit does not come with remote control, then the next best thing is a delayed start feature. The longer the delay, the more time you have to escape the room before the bulb turns on.
Ozone Production
UV-C lamps typically produce ozone, a potentially harmful molecule that can lead to respiratory problems after prolonged exposure. However, ozone is an effective disinfectant for sanitizing all sorts of surfaces, and it provides the UV-C lamp with an extra germ-killing boost. If the lamp produces ozone, make sure nobody enters the room for at least 30 minutes after the lamp shuts off.
Conclusion
And that, ladies and gentlemen, concludes our guide on the best UV-C germicidal lamps. Take a look at our picks of the top 9 best UV-C germicidal lamps that the market has to offer. You can refer to our brief how-to guide to determine which of the 9 lamps will cover your sanitizing needs. Stay safe, lovely people!