DISCLOSURE: This post may contain affiliate links, meaning when you click the links and make a purchase, we receive a commission.
The trendiest thing right now is personal hygiene—it's never been sexier to be clean until today. Washing with soap is good and all, but soap and water are not what you should use to remove bacteria, germs, and other pathogens from the surfaces of smartphones and other electronics. For this, what you need is a UV-C Light Sanitizer Box.
UV-C Sanitizer Box Compared
How Does A UV-C Light Sanitizer Box Work?
As long as you know what UV-C light is and what it can do, you should have a general idea of how these sanitizer boxes functions.
On the UV spectrum are three classes based on wavelength: UV-A, UV-B, and UV-C. UV-C radiation, with a wavelength range of between 250 and 280 nanometers, is the only type that has natural germicidal properties. In fact, "basking" an object or room in UV-C radiation has become the go-to method of killing and stopping the spread of pathogens in hospitals and buses.
But the good news about UV-C doesn't just end there. UV-C is a lot different from traditional methods of dealing with pathogens. For instance, irradiated light cares not about bacteria's resistance to certain antibiotics.
Now, imagine that you own a tiny box or compartment with built-in LEDs that emit UV-C radiation to wipe away certain viruses, bacteria, parasites, and other harmful microorganisms from the face of the Earth, or at least render them unable to replicate. Imagine still that this tiny compartment is large enough to house electronics and other small objects where washing with soap and water is out of the question.
And that, folks, is what a UV-C can do and what a UV-C light sanitizer box is all about.
How To Choose UV Light Box
The great thing about most UV light boxes is that they work like a charm by deconstructing potentially dangerous microbes at a molecular level. However, the biggest challenge any consumer faces is finding the right UV light box. This following is a quick rundown of the most important considerations you need to make before deciding which sanitizing light box to get
Size
How many items do you plan on sanitizing at the same time? Some boxes can fit several products at once while others have compartments large enough for a smartphone and nothing more.
Internal platform
The shape and size of the internal platform will give you an indication of what and how many things can fit inside. Some models come with interchangeable platforms for single-item and multi-item sanitizing.
LED bulb
 We highly recommend choosing a sanitizing box with UV-C LED lights. For starters, they don't contain even a tiny bit of mercury. Also, most LED bulbs are rated to last anywhere between five and ten years of regular use.
Essential oil inlet
Would you like to add a hint of fragrance to your smartphone? If so, keep an eye out for sanitizing boxes with an essential oil inlet. One or two drops of your favorite fragrance will go a long way.
Best UV-C Sanitizer Box
Now that we've got the technical information out of the way, we can get down to business. Below is a list of the five best UV-C Light Sanitizer Boxes. Check out each of the items below to see which you need to take home with you.
1. DustMiteBuster Dual-Tube UV-C Portable Box (Large)
This portable UV-C box does exactly what its name suggests. The spacious housing is large enough (10.63″ x  7.09″ x 5.12″) to fit most baby bottles, lingeries, smartphones and many other household items. The shape and size of this device allow for easy storage when not in use
With a USB-chargeable battery, the UV box is highly mobile, and more so with the carrying handle. Just insert items into the box, close the lid and it'll automatically disinfect for 11 minutes. The long-lasting UV-tube allows usage of up to 10,000 hours.
---
2. EVLA's Baby Bottle Sanitizer
Check Price
For our readers who are worried about whether their baby's pacifiers, bottles, and toys are covered in filthy germs, the EVLA's Baby Bottle Sanitizer is the best parent-friendly sanitizer box for you. Designed specifically for baby products, the EVLA is guaranteed to sterilize all small-sized baby essentials in under 11 minutes.
The large-capacity sanitizing compartment can house up to six bottles at once along with several smaller items like teether toys and pacifiers. The inner compartment is made of stainless-steel that's not only easy to clean but won't corrode over time. No washing and no descaling required—a quick wipe with a microfiber cloth will have the EVLA fully prepared for the next cycle.
---
3. USB-Powered UV-C Sanitizer Box by DustMiteBuster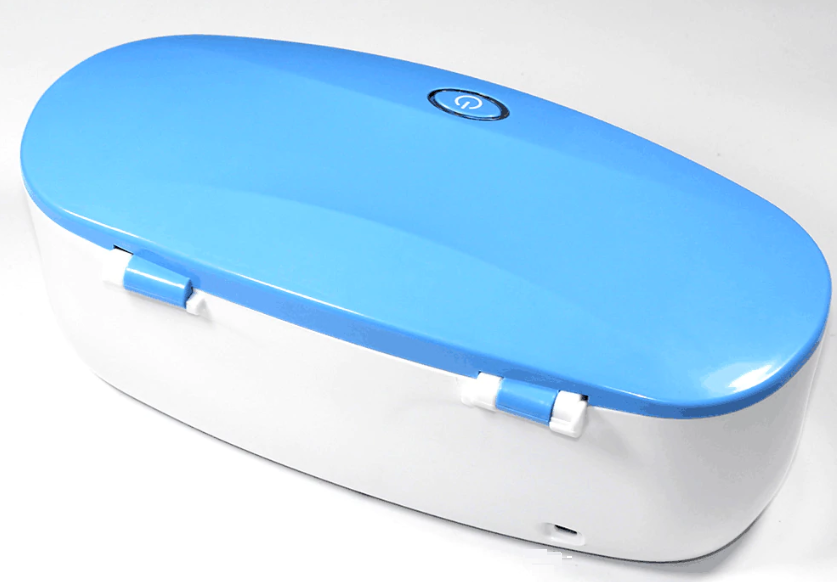 If you're looking for a UV-C box that fits larger or multiple items like jewellery, makeup tools, smartphones, baby equipment and car key, this large UV-C box will be an ideal choice. It's the latest addition to our store and has the necessary features to cleanse the items effectively.
The box is fitted with UV LEDs on both the top and bottom of the enclosure. This ensures that the items are fully exposed to the UV ray when cleaning is in progress. It has a safety feature that automatically turns off the UV Led when the lid is open.
---
4. HoMedics Portable Sanitizer
The HoMedics Portable Sanitizer disinfects smartphones and other small-sized items. With two interchangeable platforms, you can dedicate the entire inner compartment to a single electronic device or multiple items simultaneously for each one-minute cycle. The entire unit is compact enough to fit snugly inside of backpacks and suitcases for easy travel.
This portable sanitizer can be charged with a mini-USB cable, and its battery holds enough power to deliver up to 18 cycles. The four UV-C LEDs offer full coverage cleaning across the entire surface of any belongings you place inside. Sadly, there's no way to know for sure whether the lights actually turn on when the case is zipped shut.
---
5. Monstina UV Sanitizer Box
The Monstina UV Sanitizer Box is a bit on the bulkier side, just like the HoMedics, which allows users to place multiple items inside of its compartment. Inside the box, you can count up to 24 different UV-C LEDs located on the wall lining to provide full-coverage cleaning of any awkwardly shaped item you place within.
For those who love to travel, the waterproof Monstina is arguably the best sanitizer box you can get. The outer casing is protected by high-quality twill polyester to protect your belongings from water and dust. Plus, when the lid is pulled open, the LED bulbs will automatically shut off.
---
6. RDFMY Phone Sanitizer
Last but not least is the most compact sanitizer on our list: the RDFMY Phone Sanitizer. Similar to the Ottolives, this device has enough space to house a single smartphone with no room to spare. Thinner objects like keys scissors can nail clippers can fit comfortably inside as well, just not at the same time as the phone.
And that's not all the RDFMY can do for your phone. On top of the lid is a 10W wireless charger that offers quick-charging services to most newer smartphones. There's also a neat essential oil inlet that will make your phone smell as nice as it is germ-free after a quick five-minute cycle.
---
Conclusion
What with everything going on in the world today, it has become increasingly more important to have the right sanitizing tools and supplies at home. To eradicate the filthiest of germs from everyday items, you'll definitely want to consider getting a UV-C light sanitizing box. Check out our top-5 list above to see which sanitizing box suits your needs the best.
Slot Online a>
Slot Online a>
Slot Online a>
Slot Online a>
Slot Online a>
Slot Online a>
Slot Online a>
Slot Online a>
https://desabukittinggi.id/ a>
https://cerdasfinansial.id/ a>
https://talentindonesia.id/ a>
Slot Online a>
Slot Online a>
Slot Online a>
Slot Online a>
Slot Online a>
Slot Online a>