DISCLOSURE: This post may contain affiliate links, meaning when you click the links and make a purchase, we receive a commission.
Sometimes you'll need to take an active approach in combating allergies. This means disinfecting and sterilizing your home with a UV-C light wand sanitizer. You may have heard that the UV ray is an effective disinfectant in killing germs and allergens, but is it safe for humans?
Here, you will get to know the best UV-C wand sterilizers that are easy to use and how do you get one that will effectively do the job.
UV Light Sanitizing Wands Compared
How Does A UV-C Light Wand Sanitizers Work?
UV-C light is the ultraviolet germicidal irradiation. It has a wavelength between 260 to 280 nanometer. Radiations having the wavelength between 200nm to 300nm are considered germicidal or germ-killing waves because they have the power to absorb or penetrate in the nucleic acids.
The absorption of UV-C light in the nucleic acid can further cause damage to the pyramiding dimmers (basic structural components of the DNA). By disrupting the basic nucleic acid structure, the UV light completely halts all the essential processes needed to grow and replicate. With damaged nucleic structure, there will neither be any protein formation nor replication.
The UV-C light wand sanitizers are equipped with the same technology as used in hospitals to disinfect and sterilize tools. It is far much better than using harsh chemicals, sprinkling sprays, and wipes. It is one of the easiest, quick, and simple way to thoroughly cleanse your household surfaces and personal items from harmful bacteria, fungus, molds, and viruses.
UV light is powerful enough to penetrate the microbes such as coronavirus, bacteria, and other harmful germs. And by destroying the nucleic acids, the UV light disrupts their protein structure, and disturb their replication process.
Is Using UV-C Light Sanitizers Safe?
Ultraviolet has been associated with causing harm to human health, particularly with causing cancer. If anything, UV-C is the most potent of the 3 bands of UV rays. However, UV-rays that are emitted from the sun have been filtered out by the ozone layer.
Still, it's important to be cautious when you're using a UV-C sanitizer. Never directly expose your skin or body part to the UV-C bulb. Most manufacturers have built in a safety feature that will activate the light only when it's facing a surface.
How To Choose A UV-C Light Wand Sanitizer
To choose the best among the overwhelming range of UV light sanitizers available in the market, make sure to look for the following characteristics.
Safety
We are well aware of the fact that UV light poses harmful effects on our skin. Therefore, the structural design and operative method of the UV-C light wand must not expose UV light directly to your skin or eyes.
Most of the UV-C light wand sanitizers shut off when held vertically or put upside down. Whereas some remain functional in all positions. So, it is highly recommended to read the instructions before use.
Durability
The functionality and effectiveness of UV-C wand sanitizer wholly depend upon the bulb. With time dust and dirt around the device may decrease the efficiency of the bulb, thus lowering the UV output.
Therefore, it is important to continually clean and replace the bulb to get the perfect UV output.  Moreover, compare different designs of the bulb and the material they are made of as well because it changes the life of the wand sanitizer.
Features
Different brands have offered varying features in their UV-C wand sanitizers. For example, some UV-C wand sanitizers are battery operated while others are rechargeable. Both work perfectly fine, and depending on your personal preference and ease you can choose one. Similarly, some UV-C wand sanitizers have timer settings, meaning that you can set their auto-turn off time manually.
Best UV-C Light Wand Sanitizers
1. iPocket UVC by IonPacific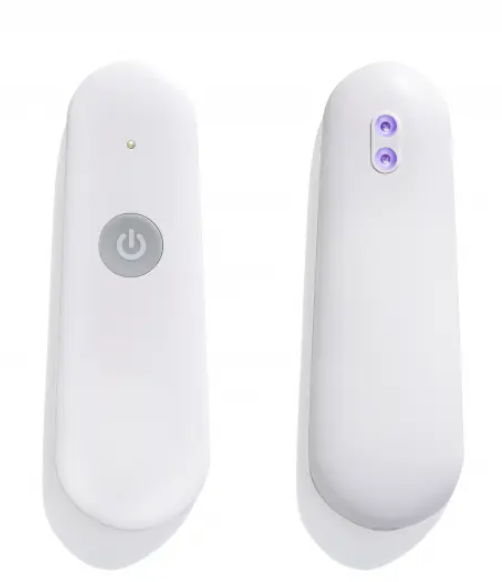 iPocket UVC uses UV light of 290nm which is more effective than similar UV lamps and sanitizers. Thus exhibiting the strongest germicidal effect.
The operating procedure of this wand is simple. You just need to keep it at a hand distance (to avoid direct exposure of UV light to skin, and eyes), turn the light on, and just swipe over the surface. There's also a child lock which prevents it from being accidentally activated by kids.
The sanitizing wand fits within your palm and is intelligently designed to position UV lamp beads at the perfect distance. This is an ideal sanitizing wand to disinfect various surfaces including bedrooms, cars, cabinets, schools, hotels, medical places, toilets, pet rooms, swimming places, medical places, etc.
---
2. Rechargeable UV-C Light Wand by DustMiteBuster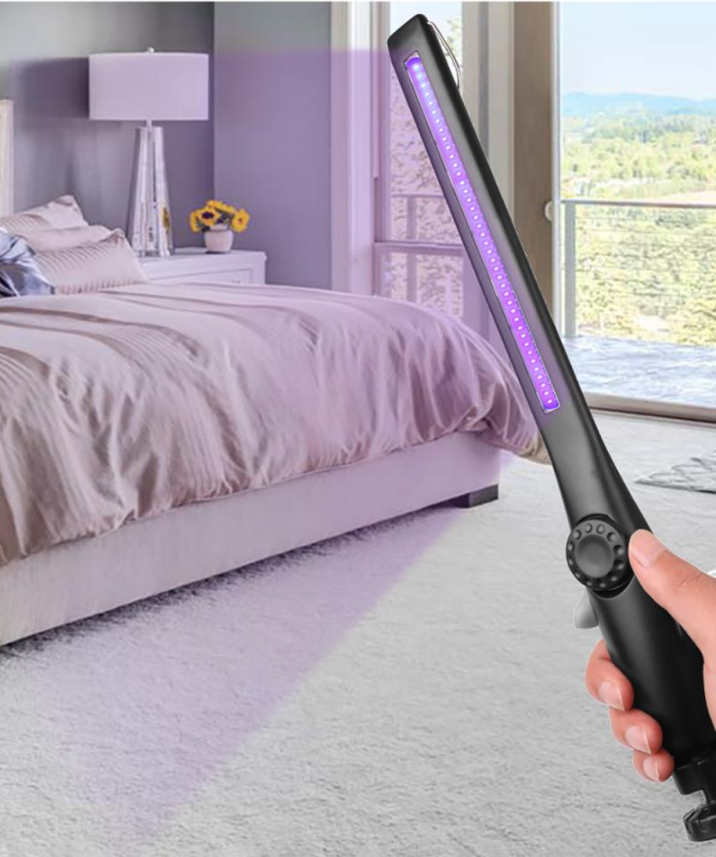 You can get this portable UV-C light wand from our newly-launched store. It's powered by a rechargeable battery, which allows you to disinfect your home for up to 6 hours. The UV-C is controlled by a dimmable switch.
Whether it's dust mites, germs, bacteria or other allergens, using a light wand sanitizer like this helps to reduce them in numbers.
Charging the UV-C wand is quite simple. All you need to do is to connect it to an USB-charger. After 5-8 hours of charging time, the battery will be fully replenished.
---
3. Steri Wand by Hygea
Steri Wand sanitizing wand is an exceptional tool to thoroughly sanitize and sterilize household surfaces. This handy tool is safe to use on baby toys, household utensils, countertops, keys, shoes, bedding, keyboards, doorknobs, and all such surfaces.
The Steri Wand is designed like a magical wand. It is simple to hold and start just with a push of a button. The powerful UV-C light kills all types of microorganisms including bacteria, viruses, and fungi.
The Steri Wand functions noiselessly, surely a great relief for people who dislike noisy devices. Moreover, it has a built-in shutoff timer to save battery life. This wand also offers the feature of auto-turning off, just by putting upward.
---
4. Blykog UV-C Sanitizing Tube

UV-C light wand sanitizer by Bikyog is one of the most effective, quick, and safe wand sanitizers available in the market. This wand sanitizer produces no toxic residues or secondary pollution. And sanitize and disinfect the surface within seconds.
DIHOOM UV-C wand sanitizer is equipped with Smart technology. To save the battery, and maximize the effect of UV light, it auto-turn off after 120 seconds.  It has a compact and lightweight design, which makes it suitable to carry along during your travel.
---
5. Banggood UV Light Wand Sanitizer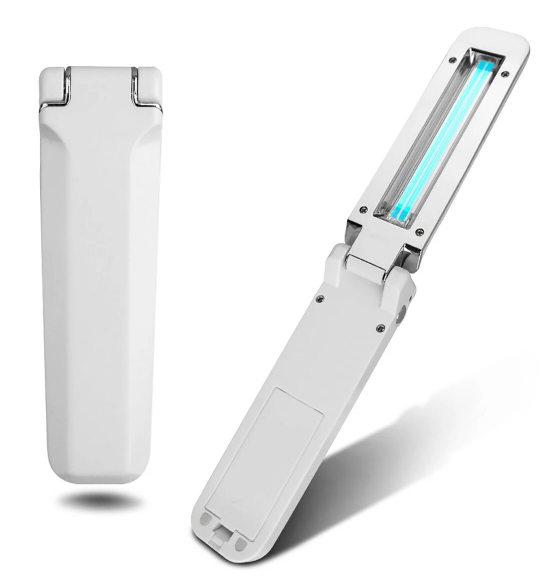 HouseNeed UV Sanitizer is highly efficient, quick, and easy in operation. It takes no more than 2 seconds to turn on start sanitizing. It has a safety shut-off feature built-in, where the UV bulb is automatically turned off if it's not facing down.
This UV Sanitizer is portably designed making it easy to use and carry around. It weighs only 0.27 pounds with a 4.92″ x 1.38″ x  0.98″ dimension, so keeping it in the bag is no problem. You can sanitize your cell phone or surfaces around you at any place.
It requires 4*AAA external batteries.
---
6. Petoneer UV Light Sanitizer
Petoneer UV light Sanitizer by EF Elecfreaks is equipped with an excellent UV-C light lamp. It can efficiently kill or inactivate up to 99% of the germs by disrupting their nucleic acid.
This wand is thoughtfully designed to offer safety from high temperature, current, overvoltage, and short circuit. The portable structural design and high-quality manufacturing material make it comfortable and easy to hold.
This sterilizing wand has two indicators, one to show 90 seconds of operation and the other to indicate 60 minutes of usage. It is rechargeable. This UV light Sanitizer is safe to use on various surfaces including baby toys and household items.
---
Summary
Germs and allergens often go unnoticed in your home. Amidst the neat interior, they could be all over the surfaces. Using a UV-C light wand helps you to quickly disinfect surfaces that are prone to contamination.
Related: