DISCLOSURE: This post may contain affiliate links, meaning when you click the links and make a purchase, we receive a commission.
Here's a confession. If I could spend on only a single appliance for dust mites allergies, it will be a powerful dust mite vacuum cleaner. Often, these pests are well hidden in carpets and mattresses, where nothing short of a power vacuum will dislodge them from their hiding spots. 
In this article, I'll guide you through the process of choosing a vacuum for dust mites. There's also much hype about using a UV vacuum for dust mites. We'll dig deeper and find out if it's effective in killing those unseen pests.
Dust Mite Vacuums Compared
How To Choose A Vacuum Cleaner For Dust Mite Allergies
Not all vacuums are built for dealing with dust mites or allergies. There are a few things that you'll need to keep in mind, else it will be a waste of money getting one. 
1. HEPA Filter
Dust mites are tiny creatures that can easily be spread into the air again if you're not using the right vacuum When shopping for one, look for a vacuum that's fitted with a HEPA filter. 
A HEPA filter traps 99.97% of particles as small as 0.3 microns. A dust mite measures 0.3 mm, which is about a hundred times what HEPA filters are built for. Without a HEPA or equivalent filter, the mites will easily enter the air again.
3. Suction Power
If you intend to use the UV vacuum cleaner on a mattress or carpet, you'll want to opt for one with high suction force. Powerful suction means you'll be more efficient when vacuuming. Instead of multiple passes, you'll remove almost all of the mites with a single pass.
Most of the mites are usually near the top of the surface, but there are some hidden well within the mattress or carpet. If the vacuum isn't powerful enough to remove those mites, they could quickly breed and return in numbers. 
You'll want to look for a UV vacuum that has a least 10 kPA of suction power or more.
4. Warranty
Manufacturer warranty is something you'll want to pay attention to, irrespective of whether the brand has received rave reviews from other customers. Electronics may breakdown due to various factors and you'll want to ensure that you're covered by a warranty with a reasonable period.
5. UV and Pulsating Pads
Some dust mite vacuums are specially built with UV bulbs and pulsating pads. These vacuums are ideal when removing mites from the mattress. The UV helps to neutralize dust mite eggs and prevent them from hatching. Meanwhile, the pulsating pads vibrate and help to shake up hidden mites to the surface.
Often, these UV vacuums emit hot air, which helps to kill the mites on the spot. 
Best Vacuum Cleaners For Dust Mites 2020
Dust mites are usually found in numbers in mattresses and carpets. It's logical that you'll want to vacuum those areas regularly. 
Here are some of the best dust mite vacuums that helps. 
1. LivePure Ultramite UV Vacuum- Most Powerful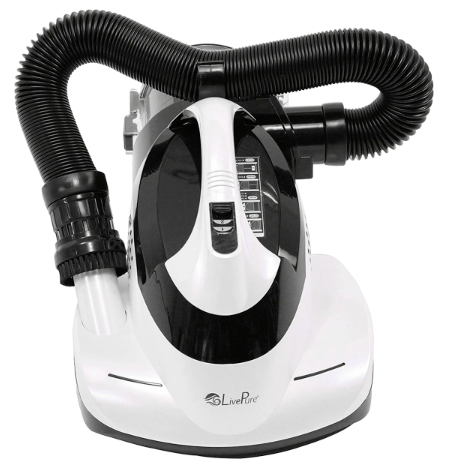 Features
650 Watt motor
Advanced HEPA filtration.
UV Protection automation.
Leight-weight at 6.4 lbs
Vibrating motor to dislodge dust particles.
A UV vacuum cleaner can be incredibly light and yet powerful.  This sealed vacuum with HEPA by LivePure has proven to be so as it's only 6.4 lbs in weight. You'll have little difficulty in maneuvering the vacuum when cleaning your bed, carpets or rugs.
A UV light bulb is fitted at the suction opening to disinfect the surface and increase the mortality of the dust mites in your bed. When used on fabric surfaces, the motorized brush vibrates to shake up allergens from the depth of the material.
The vacuum boasts a powerful suction that generates a powerful inward force from the 650Watt motor. Dust mites that are removed from the surface are sucked into the bin. There's no chance of dust mites escaping from the bin as it is secured by a HEPA filtration screen.
Any fear of exposure to UV-C, regardless of whether it is harmless, is quelled by the UV-protection automation built into it. Lifting the vacuum away from the surface will automatically shut off the UV bulb.
A 16.5 feet extension wire is included, along with a cleaning brush to aid you in getting rid of dust mites from the bed, carpet, upholstery, rugs, or sofas.
Pros
It has a powerful suction.
Lightweight.
Traps dust mites allergen with a HEPA filter.
Cons
UV does not activate on dark surfaces.
---
2. Housmile 810 UV Anti-Dust Mites Vacuum Cleaner ​- Best Cordless
Features
Powerful suction (10.5KPa )
High rotation frequency (6000cycle/min)
Advanced HEPA filtration.
Auto-sensor turning off UV-C and motor brush.
Cordless, battery-operated.
The Housmile 810 UV Vacuum cleaner is equipped with all the features needed to remove dust mites from your home. It has an upgraded UV light tube that emits 20% more intense UV-C than its predecessor. The UV-C prevents dust mites' eggs from hatching and serves as a disinfectant to germs hiding in your home.
With incredible suction power and a rotating power brush, the Housmile UV vacuum vibrates and shakes the surface to dislodge dust mites from their hiding place. The incredible suction power ensures that these tiny creatures are instantly sucked into the vacuum.
Dust mites and other allergens will be safely trapped within the vacuum's advanced HEPA filtration system. It is capable of blocking 99.98% of particles as small as 0.3 microns from escaping from the dust box. The Housmile 810 also features a double carbon filtration system which enhances its effectiveness in reducing pollutants.
The dust box has a capacity of 200 ml and housed within the compact built of the UV vacuum. For such a powerful handheld vacuum, it is considerably light, weighing at only 4.5 lbs. And with the vacuum running on a battery, you won't be limited by a cable cord.
The UV vacuum is also built with an intelligent sensor that turns off the motor brush and UV light when it is lifted 4 inches above the surface. This feature prolongs the battery usage and also acts as a safety measure when you're cleaning dust mites.
Pros
Mobile cordless design.
Powerful suction.
Traps dust mites with HEPA.
Cons
Some units have quality issues.
---
3. Dibea UV10 – Best Corded
Features
High frequency vibration up to 33000 times/min.
10 kPA suction force
Advanced Filtration System with HEPA.
400 ml dust bin.
UV leakage prevention.
Sleeping with millions of dust mites isn't exactly the most pleasant thing to do and the Dibea UV vacuum cleaner will put an end to that. At the heart of the Dibea UV810 is a 10 kPA powerful motor that generates vibration of 33,000 times/min. It's enough to shake out dust mites and other allergens nesting in the depth of the bed.
The dust mites are then sterilized by the UV-C emitting from a UV bulb, before being swept away by an array of 3 S-brushes and into the vacuum. The brush is designed in such a way that it is gentle on the fabric.
Dibea has always been producing high-quality vacuums and this is arguably one of the best for dust mites. I think it's by far one of the most powerful handheld UV vacuums and the pulsating pad has an amazing vibration rate.
Dust mites, germs, and other allergens that were sucked into the vacuum are safely kept within the unit by an Advanced HEPA filtration system. The advanced filtering system ensures that 99.97% of 0.3-micron particles are trapped in the dust chamber.
The unit is connected to the nearest power outlet with a 14.7 feet cable cord. It gives you sufficient room to navigate as you clean dust mites off your bed. The vacuum also has a protective feature that automatically turns off the UV bulb when it's lifted above 30 degrees or 2 inches off any surface.
Pros
Powerful suction and vibration pad.
Traps allergen with an advanced HEPA filtrations system.
Affordable
Cons
Suction issues in some units.
---
4. Raycop Lite Anti Dust Mite UV Vacuum – Best Lightweight
Features
Patented Rayclean UV technology.
Pulsating pads of up to 5,000 times per minute.
Dual-filtration with HEPA filter.
Optimized suction keeps the fabric from being trapped.
Light and compact.
The Raycop Lite will have no problems blasting germs away with its patented Rayclean UV technology. With an almost 100% success rate in killing E-Coli and Staphylococcus, this vacuum is a good bet to eliminate dust mites that are growing uncontrolled in your home.
Some dust mites are difficult to remove as they are hidden deeply in the bed. The RayClean UV vacuum is built with pulsating pads that vibrate at up to 5,000 times per minute. This is good enough to displace dust mites and other allergens from their hiding spots.
The suction mechanism is cleverly designed so that it doesn't trap bed lines or fabrics while you're cleaning your bed. Dust mites that are vacuumed are channeled to a dust canister. With a dual-stage HEPA filtration, the allergens are safely contained in the dust bin.
To kill dust mites effectively, you'll want to move the UV vacuum slowly on the surface. It takes a certain amount of UV exposure to start getting rid of dust mites.
Pros
Great for removing allergens.
Equipped with dual-stage HEPA.
Lightweight.
Cons
Some customers receive incomplete packages.
---
5. Shark Rotator Lift-Away (NV501) – Best For Carpet
Features
1.3 quartz dust cup.
Anti-allergen complete seal technology.
HEPA filtration system.
8.4 ft hose length.
Swivel steering with Rotator technology.
You'll want to get a Shark Rotator Lift-Away if you're dealing with dust mites in carpets. Ideally, you'll want to do away with the carpet but if that's not possible, it needs to be regularly vacuumed. 
The Shark Rotator Lift-Away packs a powerful suction that works well even on high-pile carpet. It's bound to remove dust mites that are holding on to their dear lives deep within the carpet. Thanks to its complete-seal HEPA filtration system, the pests would have no chase of making their way back into the carpet.
The swivel steering enhances the maneuverability of the vacuum. You can move it around easily around furniture. True to its 'Lift-Away' design, the vacuum can be transformed into a handheld canister vacuum, which allows you to clean stairs or furniture easily.
This vacuum is arguably the best for removing dust mites from the carpet. Check out more Shark Vacuums here.
Pros
Powerful suction.
Traps dust mite allergen with its complete-seal HEPA system.
Easy to install and maneuver.
Cons
Some units are defective.
---
6. Eureka Mighty Mite 3760G – Best Canister
Features
2.5 liters dust cup.
Lightweight.
20 ft power cord.
Powerful suction from 10 amp motor.
Triple filtration dust bag.
The Eureka 3760G canister vacuum fits the bill of an ideal dust mite vacuum. Its 10 amp motor delivers powerful suction to remove dust mites easily. By changing its cleaning head, you can use the vacuum on both hard floors and carpets.
There's a 20ft power cord that gives you plenty of room to maneuver without looking for another socket. Weighing at only 9 pounds, you should have little problem in carrying the vacuum around your home as you go on a dust mite hunting spree.
You'll find the range of cleaning tools handy. It has a crevice tool, dusting brush, and an upholstery nozzle, which lets you clean awkward corners that could potentially be teeming with dust mites.
The Eureka 3760G does not have a HEPA filter, but it makes it up with a triple-filtration dust bag. This means you don't have to empty the dust cup and risk inhaling the allergen. You can, however, purchase an optional HEPA filter to fit into the vacuum.
Pros
Light enough to carry around.
Equipped with a dust bag.
Delivers powerful suction.
Cons
Inferior to its predecessor.
---
Can UV Light Really Kill Dust Mites?
UV or ultraviolet is a spectrum of light observed from natural sunlight. The UV spectrum covers a range of frequencies and the UV-C, which is used in UV vacuum cleaners, has a wavelength of 253.7 nm. UV-C has a germicidal effect and is often used for disinfecting water from microorganisms.
Here's the misconception. Dust mites do not perish when exposed to UV-C immediately. It takes continuous exposure before dust mites are killed from UV-C exposure. Also, the distance between the source of UV-C and the dust mites will affect the mortality rate of the dust mites.
A study conducted by the Insitute of Medical Research in Malaysia showed that UV-C exposure affects dust mites' eggs more than adult mites. The dust mites egg that is exposed to UV-C does not hatch and this suggests the effectiveness of UV-C in controlling dust mites growth and alleviating allergies.
So, if you're using a UV vacuum, it's more of destroying the eggs with the UV than the mites itself. The adult mites are most likely to be destroyed by the hot air emitted from the vacuum.
Can You Vacuum Up Dust Mites Completely?
The answer depends on where the mites are hiding. If they are deeply entrenched in the mattress or carpet, vacuuming will not be very effective. This is why it's important to get a powerful vacuum cleaner for carpets or remove the carpet from your home.
Even with a powerful vacuum, it's impossible to remove all the mites completely from your home. These mites breed quickly and you need to make vacuuming part of your cleaning routine.
Personally, I vacuumed the mattress at least once a week, to keep dust mites infestation under control. If you're highly allergic, it's best to wear a dust mask when vacuuming.
Summary
Having a vacuum cleaner will help in reducing dust mites in your home, particularly in the mattress and carpet. If you suspect dust mites breeding in your mattress, which most likely is, I'll suggest going for UV vacuum-like Housemile 804. 
Can't do without that lovely carpet of yours? You'll need a powerhouse like the Shark Navigator Lift-Away.
I hope this guide has been helpful in choosing the best dust mite vacuum. 
Related: