DISCLOSURE: This post may contain affiliate links, meaning when you click the links and make a purchase, we receive a commission.
Not all dust masks are created equal as some are ineffective for preventing microparticles from affecting allergy sufferers.  Getting the best functional dust masks matters if you're highly sensitive to allergens.
Keeping your home or workplace safe from allergens is quite easy with hi-tech air purifiers and HEPA vacuum cleaners. However, if you are suffering from allergies like asthma, doing simple physical activities including home chores or professional tasks can have a tremendously terrible effect on your health and daily routine.
Fortunately, your exposure to deleterious allergens can be significantly reduced with dust masks. Dust masks act as a shield against particulate allergens, gaseous vapors, and bad odors. Let's find out more about the specs and benefits of dust masks for allergy sufferers.
Best Dust Masks For Allergies 
There are numerous premium quality options of face masks available in the market that gives you the utmost protection from allergens. However, choosing one from that many brands can be confusing, as well.
Here, I have handpicked ten great brands to choose from along with their detailed features, pros, and cons. This will make your shopping experience less complicated, and you'd be able to find the right dust mask against allergens.
1. C2W Health KN95 Disposal Mask (Available)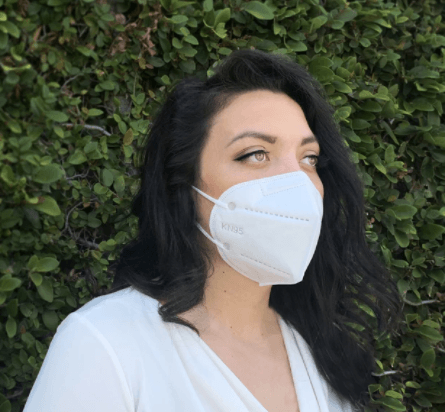 Here comes the highly recommended and one of the most favored antipollution dust mask for allergy sufferers. The disposable dust mask offered at our store is widely used for being an extremely versatile and multipurpose mask.
This mask ensures you're protected from allergens while being non-irritating and soft on the skin. The fabric, straps adjustability, shape, and fit of this mask are phenomenal. It also boasts a trendy design for fashion-conscious individuals.
You can wear this allergy mask while doing home chores like lawn mowing, woodworking, house cleaning, or others. Plus, it is great for carpenters, painters, sanitation workers, etc.
In general, people who are sensitive to pollen, smoke, animal dander, dust mites, and other very common airborne allergens should keep this mask on all the time they are outside. A slight interaction with any of these allergens can cause harm.
As a matching standard with N95, all the microbes and dust particles of 0.3- 0.5-micron size will be filtered out, and you'll inhale clean air.
Pros
Smooth breathability and reduced moisture, heat, and fogging build-up with exhalation valve
Elastic ear strap offers maximum seal without being tight
KN95 anti-pollution mask offer protection from 95% allergens
Quick delivery.
Cons
Emanates unpleasant smell when out of the box. Needs to air for a while for the smell to dissipate.
---
2. Base Camp M Plus Face Cover With Active Carbon
Starting the list is one of the finest brands for dust masks available in the market, Base Camp The dust mask efficiently combines comfort with protection against allergens. The best thing about this allergy mask is that it can filter about 100% allergens, plus it provides very low resistance to breathing due to the presence of mesh.
The primary function of an allergy mask is to filter all allergens, including dust, smoke, pollen, chemicals, exhaust, particles, dirt, and other airborne pollutants, and this mask is pretty good at it. With the presence of active carbon filters, this mask can prevent the entry of microparticles.
It is an excellent choice to wear during woodworking, mowing, painting, and while doing other household projects. Moreover, it imitates high altitude and low oxygen conditions that improve your lung capacity; and this makes it a perfect option to wear during cycling, hiking, running, and doing other strenuous physical activities.
With such efficient filtration, many people got worried about breathability. Well, no worries about that, as it is designed proficiently to ensure smooth and enhanced breathing without posing any resistance. The presence of two valves for exhalation provides maximum ventilation and reduces moisture and heat build-up inside.
It isn't far-fetched to claim that this is one of the best masks for dust protection for people suffering from asthma.
Pros
Provides best respiratory protection
Enhanced breathability
Easy to wear on and off
Adjustable hook and loop strap on ears and nose clip offers a custom fit and prevent from slipping
Perfectly suitable for people suffering from pollen, chemicals, dust, smoke, or any other allergies
Cons
Some find the ear loops of the dust masks shorter, making it difficult to adjust.
---
3. AstroAI Reusable Dust Face Mask
The anti-pollution allergy mask by AstroAI is an incredible option to protect yourself from allergens. It feels comfortable, stays perfectly on the face, and filters more than 99% of allergens.
With the insertion of four-layered active carbon filters, this mask guards you against hydrocarbon gases and chemical smells. And with the provision of electrostatic microfibers, you will remain protected from all microscopic particles in the air, which may trigger asthma. Both types of filters enhance smooth breathability while doing their primary function of protection.
You can wash the mask as well, and the filters can also be replaced. However, there is no need to replace the filter before using them for 40 hours, at least.
If you are someone who doesn't like to wear plain and simple dust masks and finding it hard to get your hands on high-quality masks that also look really pretty, then you'll love this mask. This mouth mask boasts a trendy black design that goes along with fashion-savvy individuals.
Pros
Made with premium nylon that feels soft and smooth on the skin
Availability of adjustable elastic earloops ensure perfect fitting
Perfectly suitable for sensitive skin
Smooth and easy breathability with two exhalation valves
4-layered activated carbon filters provide proficient filtration
Cons
The strong smell of chemical at first may annoy people with chemical sensitivity
---
4. TSSPLUS Respirator Cotton Mask, PM2.5
Respirator cotton mask is specifically constructed and designed to keep you safe from ever-increasing air pollution. The availability of this mask in an amazing range of prints and colors makes it particularly famous among women. The stunning variety of prints and colors is an extended feature of these masks apart from excellent filtration efficiency.
All thanks to exceptionally efficient layered activated carbon filters and high-efficiency filter cloth, harmful particles as small as 1.0 micron will remain restricted in the filters. Thus giving you utmost safety from dust pollen, pet dander, flu germs, bacterial allergens, and other harmful airborne particles.
Adjustable M shaped nose clip and elastic ear bands help the wearer to closely fit the mask on the face. The material used in construction is very soft and comfortable. Plus, this mask permits easy and effortless breathing.
As said earlier, the stylish and colorful prints make these masks more attractive, and an excellent choice to keep during traveling, hiking, going out at public places and parks. Wearing this mask will not only keep you safe from allergens, but you will also look trendy, modish, and classy.
Pros
Manufactured using premium quality cotton fabric that feels soft and smooth on the skin
Ergonomic cutting for the bridge of the nose keep nose comfortable
Adjustable and elastic ear strap ensures perfect covering of the face
Efficiently filter micro particles through activated carbon filters
Available in a wide range of color and prints options
Cons
May pose difficulty in fitting perfectly to some people
---
5. Magicare Disposable & Foldable Dust Masks, KN95 
Disposable allergy masks by Magicare are highly recommended for offices, construction companies, workshops, and emergency kits. These foldable dust masks possess all the much-needed characteristics such as these are easy to breathe from, lightweight, simple to store, maintenance-free for professional or household use, and above all, excellently filter 95% of the non-oil based airborne toxic particles.
The filtration efficiency of these masks provides protection from most of the asthma-inducing allergens including house dust mites, dust pollen, smoke, spores, and dander.
This mask will keep you guarded during all sorts of construction works such as cutting, sanding, insulation, and woodworking. Because of the versatile nature of this mask, you can also put it on during house cleaning or DIY projects, including mowing, dusting, cleaning, gardening, mold removal, landscaping, and others.
One of the most important characteristics of a dust mask is its comfortable design. With this mask, you will get superbly soft support on your nose, a perfect fit with latex-free elastic straps, and ease of adjustability.
There are 20 respirator masks available in a single box, which is a great deal for any construction company to purchase for its employees.
Pros
Provides 95% protection from allergens.
200 face masks in a single box
Flexible nose clip offers excellent fit and protection
Smart design with two elastic, non-woven fabric straps that ensure perfect seal without feeling tough
An excellent option to wear at work and home for maximum shield from pollutants and airborne allergens
Cons
May clogs with breathing moisture
---
6. 3M 8511 Respirator (N95) 
Are you looking for an exceptionally efficient mask that has the ability to filter almost all airborne pollutants while providing smooth breathability during long work hours? If yes, then the 8511 respirator by 3M safety is the best face mask for dust protection to try on.
This mask is from the Pro Series by 3M Safety. 8511 respirator is specifically designed for the professionals who had to work amidst dust, cement, wood, paint, fiberglass, dust and other such tiny particles for long hours. 8511 is equipped with Cool Flow Wave which functions to reduce the uprise of heat, and moisture through heavy breathing and help to enhance your comfort during work.
This mask is NIOSH (National Institute for Occupational Safety & Health) N95 approved, which means that it has 95% filtration capacity against aerosols and non-oil based particles in the air.
The design and material of the mask are exceedingly comfortable and easy to wear for long periods. It feels lightweight and comfortable on the skin. Stretchable material and adjustable nose clip provide a perfect seal against allergens without being uncomfortable.
Pros
Comfortable to wear for long hours
Lightweight and easy to wear
Adjustable nose clip offers a secure seal
NIOSH approved N95 filtration efficiency against aerosols and non-oil based particles
Offers easy and smooth breathability
Cons
Slightly uncomfortable at first use
---
7. Muryobao Anti Pollution Mask, N99
For everyone who is looking for a versatile mask that is comfortable to wear, the anti-pollution mask by Muryobao is one such excellent product. This mask is exceptionally comfortable to wear and is lab tested to provide protection against 99% of allergens.
This anti-dust mask is designed and manufactured to provide maximum safety from allergens, and for that, military-grade filtration technology is used. Lab tests have shown that it provides more than 99% filtration of salt medium and more than 95% filtration of the oily medium on an average. And these results are pretty awesome to gain protection against airborne allergens that cause asthma.
You can easily hand wash this mask with soap and water, without worrying about change in its efficiency. The filter media of the mask are also replaceable but can be easily used for about 48- 72 hours depending upon the pollution level. If you keep on changing the filters after using this long (48- 72 hours), then it'll work like brand new.
The company calls this mask, British Pollution Solution because of its exceedingly efficient filtration capacity and availability of fashion friendly designs that attract all family members equally.
Pros
Comfortable and soft cotton material
The intricate design having 5 layers of filters
Military-grade filtration ensures almost 100% prevention from allergens
Washable and reusable
Premium quality and very economical pricing
Cons
May experience an annoying smell of chemicals in the start
---
8. LotFancy Particulate Respiratory Mask, N95 
Disposable air filter mask by LotFancy is an excellent choice for people looking for premium quality at economical pricing. These masks are NIOSH approved for fulfilling N95 filtration efficiency, and with 4 layers of filters, you will inhale highly purified air, free from airborne allergens. In a single packaging, you will get 10 masks, which is an amazing deal.
With the assurance of reliable protection against airborne allergens including pollen, dust particles, grass clippings, pet dander, ashes, flour, house dust mites, iron ore, and other non-oil based particulates, this mask can be used both within the house and at work. For example, this allergy mask will filter the dusty air during construction activities, mowing, dusting, drilling, grinding, painting, sweeping, cleaning, and other similar chores.
Now coming to its design, construction, and material, this mask thoughtfully designed to enhance easy breathing and speaking without compromising air filtration. Moreover, its contour-fit design, soft cushion for the bridge of the nose, and adjustable straps keep it at the perfect place on the face. And it will adjust itself like a glove on any face.
Additionally, depending on the type of your work, you can easily put on other safety equipment such as safety helmets, goggles, earmuffs, and hard hats on top of this mask easily. All in all, this mask is a great pick for everyone.
Pros
Ensures easy breathability and smooth speaking
One size fits for all, thanks to the mask's custom fit design
Soft nose clip feels like a cushion and ear straps provide an excellent seal
4 protective layers efficiently filter more than 95% of airborne pollutants
Foldable structure and material make it easy to store
Cons
The unpleasant smell of the mask's material will take a few days to go.
---
9. B Bielcor Filtration N95 Face Masks
The dust mask respirator by B Bielcor is a premium quality product, specifically designed to guard you against inhaling as small as 0.3 microns harmful particles from the air. The design, quality, and filtration capacity of these masks are approved by NIOSH, ensuring reliable protection.
With this mask on, you will remain guarded against metal shavings, pollen, dust mites, sawdust, wood shavings, and all sorts of harmful non-oil based particulates around you. Consider getting this if you have asthma.
This disposable mask is the single best option to ensure protection during all sorts of activities in which there are pretty strong chances of inhaling harmful particles. These activities include construction, maintenance, demolition, pollution, disasters, allergens, landscaping, cleaning, dusting, gardening, woodworking, painting, DIY projects, drilling, rasping, sawing, and other similar works. Generally, this mask is a perfect choice for contractors, carpenters, lawnmowers, and other such professionals.
The material of this mask is really flexible, easy to wear, and contoured. There is a metal nose piece that itself can be bent according to the shape of your nose, giving you optimal comfort, seal, and fit.
With such a portable design and flexible fit, it is easy to put on other safety equipment, including goggles, helmet, hat, and earmuffs, with this mask on.
Pros
Excellent and comfortable fitting
Contoured, soft and flexible nose clip
Lightweight and easy to wear
N95 precision filtration against non-oil based particles
Offers smooth and comfy breathing
Cons
Size may not be appropriate for some women
---
10. Moldex Disposable Particulate Respirator, N95
This disposable particulate respirator brings out the real professional work within you. Sturdy design, comfortable fit, and excellent filtration are some of its most incredible qualities.
For extra comfort, this anti-dust mask has a soft cushion made of foam on the nose. This cushion gives a smooth and comfortable fit to the wearer, plus it makes it easy to wear this mask for long hours of work.
The inner lining of the mask features Softspun that provides comfort, durability, and premium quality as per the ANSI / ISEA 110-2003 Section 7. 11. 1. The presence of the exhaling valve reduces the build-up of fogging, air pressure, and moisture inside; and also ensures hassle-free and smooth breathing.
The construction material holds the filtration layers at the place and protects them from collapsing, thus keeping the shape of the mask perfect.
You can wear it in the hot and humid environment of the workplace during welding, brazing, grinding, woodworking, sanding, soldering, sweeping, stone quarrying, underground mining, cement, metal machining, textiles, poultry, and polishing.
Pros
Efficiently applicable within hot and dusty work environments
Convenient and comfortable to wear
Thoughtfully designed nose bridge provides soft cushion made of foam
The inner lining of this mask offers flame and heat resistance
Constructed using high-quality material
Cons
Elastic ear loops are not strong enough
---
How to Choose the Right Allergy Face Mask
By now, you must have understood the significance of dust masks, especially for allergy sufferers. Next, let's find out what features premium quality and a highly beneficial dust mask should have!
Types of Pollutants You Need Protection From
To get your hands on the right dust mask that perfectly fulfills your requirements, it is important to gather information about the type of pollutants present in your surroundings, and the dust mask must possess specific filters that are able to filter these pollutants and allergens.
With this information in hand, you will be able to spot the dust mask that can restrict the entrance of dust and airborne pollutants.
Type of Filters Used in the Dust Mask
Once you have determined what sort of pollutants you need protection from, you will know what type of filter should be in an accurately suitable allergy mask for you.
Basically, there are two major categories of allergens or pollutants, particulate and gaseous vapors. Allergy masks are most commonly used for particle filtration and for that it is highly advisable to look for the NIOSH ratings.
Dust mask with N95 NIOSH rating is highly recommended as it has the ability to shun particles of as low as 0.3-micron which means that you will be safe from most of the microbes, pollen, dander, mold spores, and other allergens.
And if you are after gaseous vapors then masks containing filters of activated carbon or charcoal will do the job well.
Number of Hours You'll be Keeping the Mask On
The selection of the right dust mask also depends on the number of hours you need to put on the mask. If you need to wear it for a longer period of time then it is extremely necessary that the dust mask is comfortable. For this, look for a dust mask that is made with soft material and the construction, design, and structure of the mask favors smooth breathability without fogging.
Just be sure that the mask seals perfectly without being uncomfortable or tight; else you won't be able to put it on for long.
Size of the Dust Mask
Some brands make free sized dust masks while others offer them in various shapes and sizes. Most of the people prefer adjustable masks as it gives them the liberty to adjust the straps and fit as per their comfort.
But some prefer one perfect size that doesn't need any adjustments. You can find both types of masks, just make sure that the masks perform their primary function of filtration perfectly and also feel comfortable.
Do Dust Masks Help With Allergies?
If you are wondering whether the dusk masks can protect you from allergens or not; then it's time to find out how a dust mask works!
A dust mask is basically an "air-purifying tool" as it filters the air from the surroundings and guards you against inhaling harmful particles and allergens. To perform this function, tightly woven material and specific filters are used. Not all dust masks are equipped with the same type of filters. Rather there is a range of filters available that differ on the basis of their filtration capacity.
These filters prevent the passage of as low as 0.3 micron-sized particles and this range includes almost all the airborne allergens, dust particles, microbes, and mold spores. Allergens are known to trigger asthma and you'll want to minimize inhaling them.
Moreover, some filters also have the capacity to capture gases thus keeping you safe from smoke, exhaust, chemical odor, and other harsh fragrances that are notorious for triggering severe allergic reactions.
Hopefully, this guide has been helpful in choosing the best dust mask to minimize your allergies.
Not what you're looking for, check out these reusable masks that rival Vogmask and Cambridge Mask.
Related: