DISCLOSURE: This post may contain affiliate links, meaning when you click the links and make a purchase, we receive a commission.
When you're struggling with allergies, you'll want to ensure your home is free from dust and pet hair. Shark vacuums have always been known for its powerful suction and are handy in keeping allergen at bay.
But with the popular household brands adding on new models to its offerings, choosing the right Shark vacuum cleaner can be tough. Furthermore, Shark vacuum cleaners aren't the cheapest ones on the planet.
Therefore, I've created this guide to help you make an informed decision if you're hoping to get rid of dust and pet hair with a high-tech vacuum cleaner from Shark.
Shark Vacuums For Allergies & Pet Hair Compared
How Do You Choose A Vacuum Cleaner
Regardless of the manufacturer, there are some common considerations that you'll need to make when choosing a vacuum cleaner.  Different types of vacuum may serve different purposes and obviously, picking the cheapest model is never a wise decision.
1. Types
Generally, the market is flooded with vacuum cleaners with the following built
Canister
Upright
Handheld
Robot
Stick
Canister vacuum cleaners are designed with a cylindrical construct containing the suction mechanism and dust cup. A flexible suction hose is connected to the canister. Canister vacuums often have larger dust cup capacity but they lack mobility and are harder to store.
Upright vacuums are popular choices amongst modern households. The suction mechanism and dust cup are built onto a mop-like structure. Upright vacuums are easier to move around and they are perfect for carpets and floor.
As the name implied, handheld vacuum cleaners are designed to be lightweight and manageable with only a single hand. They are great for cleaning upholsteries, beds or areas unreachable by a typical vacuum cleaner.
Robotic vacuums are equipped with an intelligent algorithm and motorized wheels. If your home is occupied by pieces of furniture and there's little room for maneuver, a robot vacuum will be a decent option.
Stick vacuums bear a similar resemblance to upright vacuums, except they have much lesser suction power, dust storage capacity and considerably lighter. They are great for light vacuuming but never a great option to clear stubborn dust or pet hair.
There are no hard rules on which type of vacuum works the best. It's all about personal preference, practicality and the layout of your home.
2. Bagged vs Bagless
Most modern vacuum cleaners have gone bagless as replacing dust bags have proven to be a hassle for consumers. Bagless vacuum cleaners use dust cup to store the dirt and pet hair. The dust cup can be removed, emptied and cleaned.
While the bagless vacuum is considerably more convenient, emptying the dust cup may send pecks of dust into the air. If you're suffering from allergies, you'll need to be more cautious or use a face mask when doing so as you'll find that Shark vacuums are all bagless.
3. Filtration
It's important to get a vacuum cleaner with a good filtration system. A good filter will ensure that microparticles like dust mites, pollen, and dander are trapped within the dust cup and do not reenter the air.
Generally, having a HEPA-grade filter in the vacuum is a guarantee of keeping the dust safely in the vacuum.
4. Suction Power
Suction power matters if you wanted to remove dust particles that are trapped in carpets or upholstery. Powerful vacuum cleaners like Shark ensures you don't have to keep cleaning on the same surface.
5. Pet Hair Accessories
If pet hair is your main concern, you'll want to get a vacuum cleaner that comes with useful accessories that remove stubborn pet hair.
Best Shark Vacuum Cleaners For Allergies And Pet Hair 2020
To spare you the agony of browsing through each model of Shark vacuums, I've shortlisted a few models that are designed to remove pet hair and other allergies-causing particles.
1. Shark Rotator Powered Liftaway TruePet Upright Vacuum
Features
Anti-allergen seal with HEPA filter.
1.5 quartz dust cup.
Powered lift-away modes.
16.7 lbs.
For carpet and hard floor.
This TruePet model from Shark has all it takes to turn your home into a pet hair-free zone. Despite it being a full-fledged upright vacuum, you can convert the Shark Rotator into one of its 3 Liftway modes.
You can extend the Shark Rotator motorized brushed after removing the pod. Doing so allows you to reach areas like under the sofa or ceiling. This can be achieved without losing power on the cleaning head. It also features a mini motorized brush tool that comes in handy in cleaning narrow surfaces like the staircase.
The Shark Rotator may seem clumsy to operate, but never let its physical appearance trick you into believing so. Its dynamic swivel mechanism allows you to easily move the vacuum around pieces of furniture in your home.
Another neat feature that's incorporated into the Shark rotator is the single button control that alternate cleaning for carpet or hard floor. This means you don't have to waste precious time changing the brush head for different surfaces.
Shark has also build-in LED lights on the cleaning head to gives you better vision when you're vacuuming dark and covered corners at home.
Pros
Great mobility with a swivel-mechanism on the cleaning nozzle.
Works well in cleaning pet hair on both carpets and hard floors.
High-quality filtration preventing dust from being released into the air.
Cons
It's considerably heavy for an upright vacuum cleaner.
---
2. Shark Navigator Lift-away Upright Vacuum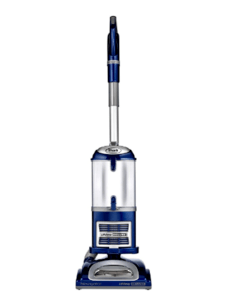 Buy At RC Willey Buy At Life And Home
Features
Anti-allergen seal with HEPA filter.
1.1 quartz dust cup.
Lift-away modes.
12.5 lbs.
For carpet.
If you need a toned-down version of a Shark vacuum, while capable of getting rid of dust and pet hair in your home, the Shark Navigator Lift-away is a great option.
The Shark Navigator will cost considerably lesser in terms of price but you'll need to be aware of its limitations compared to the Shark Rotator series.
This model has a slightly smaller dust cup, measuring 1.1 quartz. It's still sufficient to store a considerable amount of dust and dirt before it needs emptying.
The Shark Navigator also traps dust with an anti-allergen seal and a HEPA filter. This prevents the dust from re-entering the air and aggravating allergies.
Without a dual cleaning brush, the Shark Navigator is only meant for vacuuming the carpet. If you try cleaning the hard floor, you may not get the desired result.
While you can remove the canister of the Shark Navigator for more flexibility, the canister doesn't supply power to the nozzle like the Rotator series.
Maneuverability is a focal point of this particular model as you can swivel the cleaning head easily to avoid pieces of furniture in your house. You'll also find a suction release that helps in controlling the pressure of the vacuum.
Pros
Traps dust and pet hair with HEPA filter.
Effective in removing dust in carpets.
Suction release helps in moving the vacuum around.
Cons
Non-strategic placement of power cord that terminates at its base.
Buy At RC Willey Buy At Life And Home
---
3. Shark APEX Duo Clean Upright Vacuum
Features
Duo-Clean – dual brush roll system.
Zero-M self-cleaning brush roll
Anti-allergen seal with HEPA filter.
1.5 quartz dust cup.
Powered Lift-away modes.
17.1 lbs.
For carpet and hard floor.
Pet hairs littering your precious carpet can be a hygienic nightmare. In such circumstances, you'll wish for a full-featured Shark APEX DuoClean upright vacuum.
The Shark Apex vacuum is built-in with every possible feature to remove stubborn pet hair from both carpets and hard floors.
The DuoClean brush system is obviously the highlight of this vacuum cleaner. Two different types of brush rolls are equipped to pick up visible hairs and remove tiny specks of dust on the floor.
You'll be spared the frustration of removing tangled pet hair on the brush roll, thanks to the Zero-M technology, which results in automatically removal.
This superior version of the Shark vacuum also has all the hallmarks of the brand. You can take advantage of the Powered Lift-away mode that allows you to use the vacuum in its detached mode while maintaining power to the motorized nozzle.
You may need to fork out more for the Shark Apex vacuum, but it'll be worth the value if you prefer a beast of a vacuum cleaner to take care of the trail of pet hairs that potentially trigger allergies.
Pros
Dual brush roll for cleaning pet hair and tiny particles simultaneously.
Self-removal of pet hair from the brush.
Detachable canister makes vacuuming narrow space easier.
Cons
The brush roller may not be as durable as it seems.
---
4.
Shark IQ R1001AE Robot Vacuum For Pet Hair
Features
Stores up to 30 days of dirt.
For carpet and hard floor.
Self-cleaning brush roll.
Home mapping and scheduling with Shark Clean App.
High-efficiency filter.
Not a fan of vacuuming the house, but struggling with allergies? The Shark IQ R1001AE could be the perfect solution for you.
This model is a premium, high-end robot vacuum from Shark. Therefore, the price range borders on the high side. But for every dollar you paid, you're getting an intelligent, powerful and efficient robot vacuum that you could wish for.
The SharkIQ robot vacuum does a great job of removing dust and pet hair on both carpet and hard floors. It automatically empties the dust and dirt it collected into a bagless base after each session. The base stores 30-days worth of dirt, which means it'll take a while before you need to clean the base.
Using the SharkIQ is a painless affair. It will intelligently map your home into its memory and you get to decide the cleaning schedule and area with a user-friendly app.
There's no chance for the SharkIQ to run out of battery when cleaning as it automatically returns to its charging base if it's low on power.
You can control the robot vacuum via Shark's Clean App or by issuing voice commands with Alexa. It's probably not the cheapest option, but it's the ideal Shark Vacuum for you to forget about vacuuming.
Pros
Self-emptying into a bagless base.
Clean carpets and hard floors.
Self-cleaning brush roll that removes pet hair.
Cons
There are still some flaws in the navigational algorithm.
---
5. Shark Pet Perfect II Cordless Hand Vacuum
Features
Extra-large motorized brush.
Washable filter.
0.56 Quartz dust cup.
Clean carpets and upholsteries.
Shipped with useful accessories.
Not all Shark vacuum cleaners are heavy and bulky. This Shark Pet Perfect II weights 4.92 lbs but packs a powerful punch when dealing with allergies-causing dander and pet hair.
Unlike other handheld vacuums, the Pet Perfect II features an oversized motorized brush. This means you're able to cover larger areas in spite of using a handheld vacuum.
The motorized brush roll works perfectly in removing pet hair and dirt from surfaces like carpet and upholstery. Powered by an 18 Volt lithium battery, you'll find the vacuum useful in cleaning areas that escaped typical large-sized vacuums.
This model has a docking station that serves as a charging base and holder for the assortment of accessories such as the crevice tool and dusting brush.
If you already own a powerhouse from Shark, the Pet Perfect II goes well to complement your effort in dust removal and easing allergies.
Pros
Large cleaning area with an extra-size motorized brush.
Lightweight and easy to use.
Washable filter.
Cons
Some units have issues with the suction mechanism.
---
Whether you're suffering from mild or serious allergies, you ought to keep your house clean particularly if you're having pets around.
Hopefully, you've found the right Shark vacuum to solve your allergy-woes and put an end to the pet hairs littering your home.
Related: