DISCLOSURE: This post may contain affiliate links, meaning when you click the links and make a purchase, we receive a commission.
If your allergies start flaring up during bedtime, you'll want to pay attention to what lies within the mattress. Often, those with allergies and asthma suffer badly when there are signs of allergen in their mattress.
Dust mites are a common trigger for allergies and often invade bedrooms. These miniature creatures could turn bedtime into misery and it seems quite impossible to tone down the symptoms. If all things failed, you'll want to consider getting a mattress for dust mite allergies.
From my experience, replacing a non-allergy-friendly mattress with a hypoallergenic mattress helps. The question is, what should you look for when choosing one, and which are the best around.
Anti Dust Mites Mattresses Compared
---
Best Mattress For Dust Mites Allergies 
There is an overwhelming number of choices available online for the mattresses having the safeguarding abilities from allergens. Here are some of the top-rated hypoallergenic mattresses that help with allergies and asthma.
1. Sleep Inc. Corsicana Hypoallergenic Memory Foam Mattress (Most Comfortable)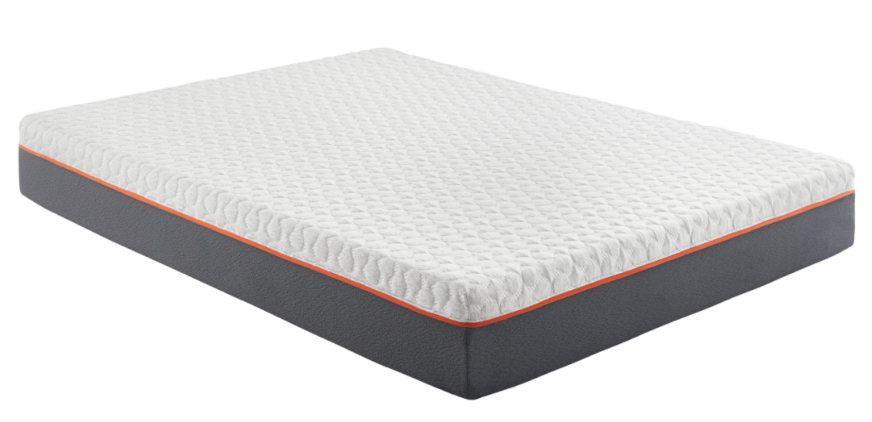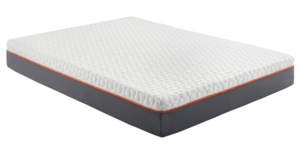 Corsicana is an American brand that's in tune with the local's need for bedtime comfort. Its efforts in making high-quality bedding products have not gone unnoticed as the brand has bagged prestigious awards.
The best mattress by Corsicana truly represents the quality and class this company is known for. The structural design, stitching, and perfectly tailored stretchable knit of the fabric cover on the mattress enhance the comfort level, and aesthetic beauty as well.
With the signature pressure-relief characteristic of memory foam, the gel-infused materials on top make it supportive and soft on the body. The high-density base below the gel provides incredible support to the whole body, free your body from stress and anxiety, and guarantees a comfortable sleep.
Most people are concerned about the excessive heating produce through some mattresses. Well, this mattress amazingly balances out your body temperature during deep sleep through its ventilated gel material.
It is naturally hypoallergenic, so you'll be safe from all sorts of allergens including mold and mildew, bacteria, and fungus. Its performance and overall quality are certified as per CertiPUR-US Program standards.
Pros
Hi-tech gel finishing for sleep comfort.
Provides firm support.
Absorbs sleep movement.
Eases tension on pressure points.
10-year warranty.
Cons
---
2. Lucid Gel Memory Foam Mattress (Most Cooling)
Lucid has gained particular fame in the bedding business because of its premium quality, and exceptional services. All of their products are specifically made by keeping the customer's requirements a priority. There is a vast variety of mattresses available at Lucid for you to choose from.
In particular, the memory foam mattress from Lucid is a high-quality product. It is adorned with all those qualities that are required for providing resistance to dust mites while ensuring decent sleep comfort.
One distinguishing characteristic of this mattress is a 2.5-inch layer of ventilated gel material that makes it soft, breathable, and calmer. The perfect combination of getting layer and thick support of memory foam creates a medium firmness to the mattress. This is required to keep your back perfectly positioned on the mattress.
Moreover, the gel layer and the support from the memory foam keep a perfect balance of a tranquil temperature, by absorbing body heat. Overall, it feels comfortable, perfectly aligned, and soft.
This product is CertiPUR-US certified ensuring its perfect performance and safe use of material. Additionally, the company provides this product with a 10-year warranty, which makes it more attractive.
Pros
Designed with a ventilated layer of gel memory foam and thick high-density support for perfect posture.
Keep temperature balanced through heat capturing gel materials
Feels soft and breathable to the skin
Offers pressure-relief.
10-year warranty.
Cons
A few customers have complained about the quality of the product they had received.
---
3. LinenSpa
Memory Foam and Innerspring Hybrid Mattress (Most Affordable)
LinenSpa stepped into the bedding business in 2003 with the aim of producing extremely cozy, premium quality, super comfortable, and mainly affordable bedding products. And this day, after 15 years, they are competing with the big names in the market. LinenSpa is named the best-selling online brand, all because of excellent customer support, and superior quality of products.
This hybrid mattress by LinenSpa presents all the much-needed incredible qualities such as body alignment, comfort, proper finishing, an ideal thickness. You can choose between the thickness of the mattress as per your likeness.
The mattresses are available in medium to firm profile with 8-inch style, medium firmness in 10-inch profile, and firm thickness in 12-inch profile. The gel infusion in the memory foam keeps the mattress perfectly aerated, smooth, and soft on the skin.
The structural design of the mattress is made with a memory foam (gel-infused) layer on top, a comfort foam layer in the middle, and a wide layer of innerspring. It offers sleeper comfort while being resistant to dust mites.
This is the best mattress for allergy sufferers who are looking for an economic option.
Pros
Mattress is made of spring and memory foam, providing the dual goodness of support, comfort, and ideal contouring of the body.
The company provides 10 years warranty.
Premium quality knit, perfect foaming construction, and temperature balancing characteristics elevate the comfort level.
Cons
Bed bugs are found in some newly delivered mattresses.
---
4. Zinus
Gel-Infused Green Tea Memory Foam Mattress
The company came into being back in 1979 when Youn Jae Lee started it from scratch. And now this company has proudly presented more than 10 million comforting bedding products to satisfied users.
It was no later than 2004 that Zinus launched its first bedding line. And with the passage of time, and by growing with the technological advancement of the modern era, the company launched several new products. These include patented gel technology, eco-foam, bio-foam, and others.
The memory foam mattress available at Zinus is an incredible pick with a remarkably amazing price range. The quality, price, and all the highlighting qualities of this mattress make it great for anyone. There is a wide range of measurements available, both with respect to the thickness of the mattress and the overall size of the mattress.
This mattress feels really cool and comfortable on the skin. One distinctive feature of this mattress is that the upper gel layer of this mattress is infused with green tea. So, when you lay down to sleep or wake up in the morning you'll be welcomed by a sensation of cool freshness, and natural vibes all around.
If you're troubled by back pain, you'll find the pressure-relief features of the mattress helpful.
And on top of everything, this mattress is affordably priced compared to the other competitors in the market. So, if you are looking for the best quality in the least price range, the Zinus mattress is the right option.
Pros
Infused with Green Tea, keeping you calm at night and freshen up in the morning.
The perfect combination of a thin gel layer on the top supporting foam material in the middle and perfectly high-density base for proper alignment.
The mattress is made with high-quality materials that absorb moisture and eliminate odors.
Provides relief on pressure points.
10-year limited warranty.
Cons
Some people complained about the size variations as the mattress didn't expand properly.
---
5. Snuggle-Pedic
Orthopedic 
Flex-Support Memory Foam Mattress
Check Price
Snuggle-Pedic guarantees the world's best sleep through its highly recommended and much-appreciated sleep products. They have a startling range of bedding products, including a wide variety of pillows, bedding covers, protectors, pillowcases, toppers, and mattresses.
The company was awarded the best bamboo pillow in 2016. Both the pillows and the mattresses are created using the supreme technology that ensures wonderful body contour in any sleep position and provides immense support to the whole body. Therefore you can enjoy cozy deep sleep at night.
The mattress has a patented airflow transfer system that guarantees ideal ventilation. Moreover, its flex support technology enhances the support and pressure relief qualities of the memory foam. It is dust mite resistant and hypoallergenic.
The mattress is shipped with a free zipper cover that is easily adjustable. This cover is thoughtfully created to provide a luxurious feel with micro vents. It gives amazing support in any sleeping positions to back, sides, and stomach sleepers.
The company permits a hassle-free refund within 120 nights if you are not happy with the product. This is, perhaps the best mattress for allergies if you're dealing with back pain.
Pros
Signature airflow transfer system that creates amazing breathability through ventilation holes.
Equipped with flex support technology that provides pressure relief, more support, and incredible comfort to the whole body.
Free zipper cover system that gives adjustable firmness and a proper fit to the hypoallergenic mattress.
20-year limited warranty.
Suitable for back, side, and stomach sleepers.
Cons
Some customers complained about the inadequacy of the temperature balancing characteristics of the mattress.
---
What Are Hypoallergenic Mattress
A hypoallergenic mattress protects people with allergies from coming in contact with any sort of allergens, thus preventing allergic reactions. The material of the mattress is sealed tightly in a compact form that blocks skin cells or body oils from penetrating the mattress. Additionally, it inhibits the dust mites or any allergens to get inside because of its solid structure.
Most of the people suffering from sleep-related issues, commonly sleeplessness are advised to change their mattresses. Some of the causes of sleep issues can be traced to allergies. Switching to an allergy-friendly mattress can protect them from allergens, thus ensuring uninterrupted sleep.
The compact structure of hypoallergenic mattresses keeps your body away from irritants and allergens. In this regard, memory foam is known to be antimicrobial, mold-resistant, and also mite-resistant. In combination with synthetic polyester, it is used to make mattresses and pillows.
Cotton is a naturally non-allergenic material and prevents the growth of dust mites, fungus, bacteria, and other microorganisms.
Memory Foam vs Latex
Latex and memory foam are two of the most recommended and preferred types of materials for allergies. Both have numerous advantages as a material for a mattress. They are resistant to allergens and will safeguard your body from fungal, bacterial, and common allergens.
Memory foam mattresses are particularly recommended for their pressure-relief, comforting material, and soft feel on the skin, but may contain harsh chemicals. On the other hand, natural latex mattresses are durable, and elevate health, but are less comfortable.
There are certain qualities and characteristics in which memory foam outperforms natural latex mattresses.
The former increase your blood circulation and make you feel more relaxed, calm, and peaceful. It was first introduced for the patients to give them a perfect cushion, comfort, and protection. These mattresses have the ability to eases pressure points of the body. It lowers down your stress level, adjusts your body shape with ease, and you don't have to force your body posture in any way.
The dense and tight structure of the foam mattresses prevents dust mites' growth. Additionally, it protects you from common allergens such as pet dander, mold, and mildew as well.
Memory foam mattresses readily flex themselves and adjust according to the position of the bed perfectly without jeopardizing durability. The average life span of one is about 7 years, and it can easily go up to 8-10 years. Its quality is very high in comparison with others.
You'll also want to go for memory foam if you have latex allergies.
How To Choose The Best Mattress For Allergies And Asthma
If you're allergic to dust mites, getting a hypoallergenic mattress helps in reducing the mites' growth. However, you'll need to consider these factors to ensure you're choosing the ideal mattress that suits your sleeping needs.
Size
There is a wide range of sizes available in mattresses, in sync with the bed types. These range from, full, twin, to California king, and queen. Depending upon your bedroom size and the available bed size you are using, pick the right size of the mattress that fits.
Comfort
Well, comfort is the key to enjoy uninterrupted deep sleep. Mental and physical health mainly depends on a good night's sleep. The choice of materials and the design of the mattress may affect the comfort level of the mattress.
Material
Both latex and memory foam are popular materials when choosing a mattress for allergies and asthma. The latter is a popular option, thanks to its therapeutic properties. Some individuals may opt for latex for its durability. Some mattresses may be built with a combination of two or more materials, to offer a better sleeping experience.
Sleeping position
Your sleeping position may also influence your choice in buying a new mattress.
For example, if you are a stomach sleeper, natural latex mattresses may not be the best choice as it exerts more pressure on your body (specifically stomach). Hence it is advisable for you to choose a soft memory foam mattress that has the ability to remold itself as per your sleeping position.
If you're a side sleeper, you'll need a mattress that doesn't put too much strain on your body. This means getting a soft-medium memory foam mattress that provides the right coverage, softness, and the appropriate cushioning to the body.
Back sleepers will need perfect support to stay away from back issues. For back sleepers, the latex mattress is the best option, as it gives the right support to the entire backbone and the hip bone.
Back pain
People struggling with back pain need to be attentive when choosing a mattress. The right mattress relieves the pressure points on the back while choosing the wrong one could aggravate the condition.
The perfect mattress for back pain is the one that maintains the alignment of all the curves of your spinal cord when you lay down on the bed. Otherwise, you'll be suffering from chronic back problems.
In this case, choosing a memory foam mattress with pressure relief is the right choice for you. It is designed in a way that provides you lumbar support, keeps perfect body posture, gives much-needed alignment to your spinal cord, and also keeps you super comfortable all night long.
Can Dust Mites Live In A Mattress?
Yes, they certainly can live in a mattress. The warm and fuzzy mattress is one of the dust mites' favorite places to live. The mites thrive at places having high humidity and warm temperatures. Our homes' indoor environment offers these tiny creatures enough food and shelter to stay and grow.
Dust mites tend to live around dust particles and infrequently vacuumed places of your home. Moreover, they feed on dead skin cells of people and pets and mold spores. And mattress is the best place where the creatures can find all these elements in abundance.
In addition to mattress and pillow, the mites' favorite thriving places are stuffed animals, draperies, carpets, bedding, and upholstered furniture.
On average, an adult human being moves about 40 to 60 times during sleep. This causes the shedding of skin flakes that get trapped in our mattresses. House dust mites eat these skin cells and other debris inside the mattress as food and form abundant colonies.
How Do You Know If You Have Dust Mites In Your Mattress?
Dust mites are everywhere and the truth is that these are microscopic organisms, thus cannot be seen with naked eyes. The average size of a typical dust mite living in your home is 0.2 to 0.3 millimeters or 200 to 300 microns. This makes about 1/100th of an inch.
It is impossible to spot such a tiny creature with a naked eye, but with a powerful microscope. Undoubtedly, the microscopic pests live in every home as they get the best possible habitat on bedding and furniture.
Moreover, our homes are mostly enclosed without aeration or sunlight from outside, thus providing the best humid environment. An average double-sized bed may have about ten million mites.
What Is The Best Type Of Mattress For Dust Mite Allergies?
The best type of mattress to reduce the risk of getting in touch with the dust mite allergen is an allergy-friendly mattress.
A hypoallergenic mattress or hypoallergenic bedding acts as a shield or protector for your mattress. What makes the mattress resistant to dust mites and antimicrobial is it's material's pore size. Hypoallergenic material's thread is tightly packed making its pore size less than 1.3 microns. Such minute pore size restricts the entrance of dust mite, mold and mildew, bacteria, and other common allergens.
In this regard, the best mattresses for allergies that are helpful in reducing dust mite allergies are made with latex, memory foam, or a combination of both.
Memory foam or polyfoam is comfortable to relax on. These are manufactured by building layers of memory foam with the core of highly dense memory foam. The more dense the foam is, the more it will resist the mites.
Latex is one of several natural materials that resist dust mites. A latex mattress is constructed using natural, synthetic, or a mix of both types of latex. Latex is a breathable material and its unique texture prevents moisture build-up, thus reducing the chances of dust mites, mold and mildew, and bacterial growth.
Hybrid mattresses have the qualities of both memory foam or latex with innerspring. The best quality of these mattresses is that they resist the entry and growth of dust mites, mold and mildew, bacteria, and other common allergens while providing the familiar springy comfort.
Additionally, people who feel uncomfortable on memory foam or latex may like the softness of the gel foam mattress. A gel foam mattress is extremely comfortable with incredible hypoallergenic qualities.
How Dust Mite Allergies Affects Sleep?
Dust mite allergies can terribly affect your sleep. If you are an allergy sufferer or hypersensitive then the chances of worsening of your allergy symptoms spike sky high. Getting sound sleep, normal breathing, and a regular heartbeat are three of the most vital functions of a healthy living human being. Dust mite allergy attacks two of these three, sleep and breath.
As dust mite allergy sufferers experience trouble or disturbance in both consistent breathing and peaceful sleeping.
Major symptoms of the dust mite allergy are sneezing, itchy/ stuffy/ runny nose, itchy throat, coughing, redness of the eyes, and/ or watery eyes. In acute conditions, it may trigger asthmatic patients badly, and they may experience, difficulty breathing, chest pain/ tightness, wheezing sound during breathing, and trouble sleeping.
Continuity of a couple of these symptoms prevents the sufferer from getting uninterrupted sound sleep. As your mattress or bedding is the favorite place of dust mites to stay, so low quality or general mattress can increase the severity of symptoms.
Trouble in getting uninterrupted and peaceful sleep drastically affects your overall health. Some of the main disadvantages of getting poor sleep include,
Loss of focus and concentration on your daily tasks
Feeling sleepy in the daytime and
Frequent yawning
Negative effect on your ability to think/ loss of memory
Bad mood swings
Lack of heart in healthy exercises or activities
Increased risk of heart diseases or diabetes
Weak immunity
Increased chances of accidents
High blood pressure
Anxiety and depression
Impulsive behavior
Weight gain
Getting rid of dust mites and other allergens is extremely important to reduce allergy symptoms. And some of the easiest steps are getting a hypoallergenic mattress, and thorough cleaning of your home every now and then.
What Do Hypoallergenic and Anti-Allergy Mean?
A hypoallergenic material or product is designed or manufactured to minimize or decrease the number of allergens or to prevent the crossing of allergens. Hypoallergenic products protect you from allergens that cannot be seen with the naked eye but can cause mild to acutely devastating allergic reactions.
One of the topmost important factors of a hypoallergenic material is its pore size. It determines the efficacy of the product in preventing the entrance of dust mites and other allergens. They cause allergic reactions through their fecal material. The size of their fecal particles is 10 microns in diameter.
On the other hand, studies have shown that the size of a mold and pet dander can be 3 microns.
Considering the size of the allergens, it is important that the pore size of a hypoallergenic material must be less than 10 microns; thus blocking the entry of the mites and their fecal pellets. And to restrict the passage of mold, the pore size of a hypoallergenic material should be less than 3 microns.
Consequently, a hypoallergenic material can be truly anti-allergy or allergy repellant, if it has a very small pore size.
Other allergens that are commonly found in the mattress
In addition to house dust mites, other commonly found allergens in our home include dust, mold and mildew, pet dander, cigarette smoke (regarded as an irritant, but can be extremely harmful to hypersensitive people or allergy sufferers), dead skin particles, pollen, cockroaches, larvae, etc. These allergens love your mattress as the best hideout to stay, grow, and spread.
Which type of mattress should you avoid if you have allergies
There are certain types of mattresses that allergy sufferers should avoid as they can enhance allergy symptoms and irritation. First of all, for protection against dust mites and other allergens, you must avoid buying loosely packed mattresses and other bedding material. They give a free pass to enter, stay, and grow to these harmful allergens.
Allergy sufferers must also avoid innerspring mattresses. The architectural design of these mattresses offers an incredible space for the mites. And once entrapped, it is extremely hard to remove these pests from innerspring ones.
Moreover, innerspring mattresses are packed with loosely woven, soft fabric that allows easy passage for dust mites and other allergens. Therefore, this mattress is not recommended for allergy sufferers.
Some allergy sufferers are also sensitive to certain chemicals including perfumes, and flame retardants. If so, then you must avoid mattresses infused with such chemicals.
Additionally, many people experience allergic reactions from natural latex and memory. Though these materials are allergy-repellant, if they are causing more harm than good, then look for other hypoallergenic mattress options.
Hypoallergenic mattress vs allergenic mattress cover: What's the better choice?
Surely, there is no denying the fact that both hypoallergenic mattress and allergy mattress cover are important for maximum protection from allergens. Hypoallergenic mattresses keep allergens at bay and protect you from increased allergy symptoms.
However, unfortunately, it is not possible to completely get rid of the dust mites. All sorts of mattresses have a tendency to hold allergens, skin flakes, and other allergens. For added protection, the use of tightly woven hypoallergenic mattress covers can do the trick.
But if you are using a normal mattress cover made with loosely woven fabric, then it is of no use.
To choose between the two, a hypoallergenic mattress and a general mattress cover, it is highly recommended to opt for a hypoallergenic mattress. Your first line of defense against house dust mites is the hypoallergenic mattress as it is the most favorite place for them to thrive.
What kills dust mites on a mattress?
Even if you're sleeping on a hypoallergenic mattress, you shouldn't assume that you'll be free from the pesky pest. That's because dust mites can still breed on the surface as long as there are skin flakes falling on the mattress.
Allergy and asthma sufferers need to be particularly cautious of the mite's allergen, as they could lead to serious allergic symptoms. Therefore, it's important to kill any mites that could possibly remain on the mattress.
Heat is proven to be the most effective way to kill dust mites. Consider getting a handheld steam cleaner to destroy any living mites on the mattress.
A handheld UV vacuum cleaner also works well against the little creature. It uses heat, UV, and a beating mechanism to remove the mites from the mattress.
It's also possible to kill dust mites on the mattress by sprinkling diatomaceous earth and baking soda. However, the effect isn't immediate as you need to leave it for a few hours before vacuuming the residues.
Ideally, you'll want to use a hypoallergenic mattress protector to prevent dust mites from building up on the mattress.
How to sleep better when you're allergic to dust mites
Here are a few bonus tips and tricks that will help allergy and asthma sufferers stay away from the devastating dangers of dust mites. Follow these tips, and you will enjoy a clean environment and a healthy lifestyle. Plus, these are extremely easy to follow as well.
Ventilation
Home dust mites love the ambiance of closed, covered, and perfectly humid places. To keep your bedroom clean and clear of all sorts of microorganisms, ventilation is important. A properly ventilated bedroom, having an appropriate air crossing, will render any sort of mites growth.
Decreasing humidity
Humid temperature is like a comfortable and cozy environment for the mites to thrive in.
There is no particular system for the conservation of water in their body, so they tend to thrive in a humid environment. About 75 to 80% humidity and the temperature of 65°F is just perfectly warm for dust mites.
So, it is highly recommended to keep the humidity level at around 50%. Installing a dehumidifier in your home helps to remove moisture from the air and create an unconducive environment for the pest.
Essential oil
Essential oil act as a natural cleanser for your bedroom, and all around the house. Eucalyptus, clove, tea tree, lavender, and peppermint are a few of the top recommended essential oil that can kill house dust mites.
These oils can easily be purchased online and from stores and in an extremely affordable price range. You can use essential oil with a diffuser or dilute it in a spray to kill the pest.
Regular cleaning
Apart from all the above-mentioned tips and tricks to safeguard your bedroom from the dangers of dust mites, regular cleaning resides on top. Regular vacuuming with HEPA-equipped vacuum helps to remove the tiny bugs in your home.
HEPA is the abbreviation of High-Efficiency Particulate Air. It traps the finest of the particles in the mesh mechanically, including pet dander, pollen, dust mites, and other such fine particles.
Use a mattress cover for allergies
People with allergies should also consider getting a dust mite cover for their mattresses. Even if the mites are unable to burrow through an allergy-friendly mattress, they can still gather at its surface.
Using a hypoallergenic mattress protector minimizes contact with the allergens.
I hope that you've found this guide useful in the best mattress for allergies. Besides that, you'll want to keep your bedroom clean and dust-free as well. Let me know if you have any questions in the comment below.