DISCLOSURE: This post may contain affiliate links, meaning when you click the links and make a purchase, we receive a commission.
#1 Pick: CleanRest mattress pad for its 1-micron pore size, comfort and affordability.
Having the added protection of hypoallergenic mattress toppers and pads is useful for both people and the mattress. If you have a habit of snacking on the bed, having a topper or pad prevents the mattress from getting dirty or soiled.
Hypoallergenic mattress toppers and pads are also useful in keeping allergens like dust mites from your skin or allowing dust and dead skin cells from falling on the mattress. As you may have realized, the mattress is a perfect spot for dust mites growth and you'll want to prevent that.
It's also easier to maintain the cleanliness of your beddings when you have a topper or pad covering the mattress. Often, tossing the topper or pad into the washing machine is good enough to remove the allergen or spillage from your cup of tea.
Besides the hypoallergenic properties, mattress toppers or pads can make a huge difference in the sleep quality of an individual. If you have a hardened mattress that causes body aches after a night of sleep, adding a memory foam mattress topper makes a huge difference.
And if you're suffering from allergies, it's even more important that you get the right mattress topper or pad to ensure quality sleep.
How To Choose Hypoallergenic Mattress Toppers And Pads
Considering how a hypoallergenic mattress topper or pad can drastically affect your sleep quality and health, you'll want to be attentive when choosing one. It's usually a mistake to go by the cheapest product. Instead, here are a few points that you'll want to look into.
1. Mattress Topper Vs Mattress Pad
Of course, the first consideration is whether you need a mattress topper or a mattress pad. While both are fitted on a mattress, they have different characteristics and applications. A mattress topper is usually made of latex or memory foam and changes the texture of the mattress when placed onto it.
Meanwhile, a mattress pad is considerably thinner and does not greatly alter how a mattress feels. It's usually used as a protective layer for the mattress although some mattress pads have unique features such as cooling or heating elements.
2. Types Of Material
The material used by the mattress toppers or pads can influence your comfort and the allergies symptoms that you're suffering. It is advisable to avoid toppers filled with goose feathers and choose down alternatives materials.
If you're suffering from allergies, it is best to choose mattress toppers or pads made of memory foam, wool, cotton, polyester or rayon from bamboo. Cotton, wool and bamboo are known to be naturally hypoallergenic with the latter being increasingly popular as a natural choice for beddings material.
A study conducted in Taiwan found that bamboo naturally reduces the presence of dust mites allergens and endotoxin level in beddings.
3. Features
Do you need a mattress topper that produces no noise when you shifted position in bed? Or do you need a waterproof mattress pad because you have a habit of having breakfast in bed? Both mattress toppers and pads of different brands may have unique features that appeal to you.
4. Durability
It's important that you get a mattress topper or pad with decent quality and that means having the stitches done perfectly. The fillings should stay where they are and the sewing should remain intact after washing.
Best Hypoallergenic Mattress Toppers And Pads 2020
When you're highly sensitive to allergens, you'll have no options but to get the right hypoallergenic mattress toppers or pads. Here are some that have all the right features in keeping you comfortable.
1. CleanRest MicronOne Mattress Pad
This mattress pad by CleanRest is guaranteed to block allergens and dust mites. The topper is filled with high quality polyester and covered with MicronOne fabric. The fabric boasts 1 micron pore size, which is essentially too small for bed bugs, dust mites, and other allergens to pass through.
The mattress pad features a two-piece design, which provides comfort and breathability to the sleeper. It is also waterproof, which is a safe bet for toddlers or spillage on the bed. Caring for the mattress pad is easy as it has a removable zip-off top that is washable.
You can be assured that the CleanRest mattress topper is made with durability in mind. The square stitches are sewn carefully to ensure the fillings remain in place even after prolonged usage.
With comfort, allergy-friendly, and attractive price, it's hard not to choose Solus if you need additional comfort on an existing mattress. The mattress pad is backed by a 10-year manufacturer warranty.
Features
Filled with polyester.
Breathable design.
Covered with MicronOne fabric (1 micron pore size)
10 years of warranty.
---
2. myMerino Mattress Topper by Sleep & Beyond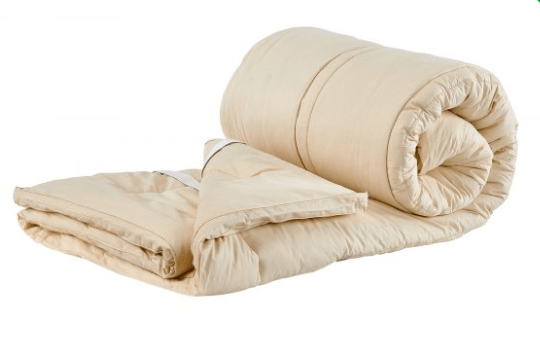 You'll find comfort in this hypoallergenic mattress topper offered by Sleep & Beyond. The 1.5″ mattress topper is filled with organic superfine merino wool, which provides a layer of comfort and softness on your mattress.
The hypoallergenic mattress topper fits right onto your mattress. With two horizontal straps, the topper will be secured firmly to the mattress even if you toss and turn in your sleep.
The structure of the mattress topper is designed to endure wear and tear, thus ensuring its durability. The wool filling makes it highly breathable, which means you won't spend the night tossing in sweat.
Shipped with a recyclable bag, the mattress topper can be stored away easily. As the mattress topper is not machine washable, it is recommended that you'll get a cover for it. It's a perfect choice if you're looking for a simple hypoallergenic mattress topper to transform an awkwardly hard mattress.
Features
Filled with 100% organic cotton.
Two horizontal straps to secure the mattress topper.
1.5″ thick and breathable.
Highly durable with proper care.
5- years of manufacturer warranty.
---
3. Flip Mattress Topper by Coop Home Goods
The Flip Mattress Topper by Coop Home Goods is filled with memory foam, which is naturally hypoallergenic. But that's not all about it. As the name goes, you could flip between the opposite sides of the mattress topper for a firm or soft texture.
As the company specializes in making pillows that support postural alignment, you can expect similar comfort with this mattress topper. The softer side of the topper is great for muscle relief while flipping it to the harder side is good for posture support.
Fitting the mattress topper into any standard-sized mattress isn't going to be an issue. With a stretchable anchor band, you can fit the mattress pad on any standard-sized mattress. Also, the mattress topper comes with a waterproof mattress protector, to prevent accidental spills.
It's incredibly easy to wash the hypoallergenic mattress topper. You can remove the memory foam pad from the cover before washing the latter in a machine. As for the memory foam pad, only spot-cleaning is permissible.
Features
Made with hypoallergenic memory foam.
Flip between soft and hard side.
Comes with a waterproof mattress protector.
Dust mite resistant.
5 years warranty.
---
4. Lucid 3 Inch Bamboo Charcoal Memory Foam Mattress Topper
Allergies sufferers who happen to have back pains may find the memory foam mattress topper by Lucid and ideal choice. The mattress topper is made with memory foam which is therapeutically engineered to reduce pressure point discomforts.
Besides alleviating spine pain, the mattress topper is ideal for keeping allergen and bacteria away. Memory foam is known to be a naturally hypoallergenic material and having a mattress topper made of it means ensuring more hygienic bedding.
Sleep is made more comfortable with the bamboo charcoal that was infused in the memory foam. The bamboo charcoal powder, which was created by burning the bamboo plant in high temperature, helps to eliminate odor and ensuring an ideal environment for sleep.
Memory foam is known to trap heat when slept on, but not on the Lucid mattress topper. It is built with breathable features that allow heat to dissipate naturally. You won't wake up drenched in sweat when you sleep on the Lucid mattress topper.
Features
Made with naturally hypoallergenic memory foam.
Infused with bamboo charcoal odor for odor elimination.
Breathable design.
Suitable for allergy sufferers with back pain.
3 years warranty.
---
5. Zen Bamboo Ultra Soft Hypoallergenic Mattress Pad
If you're sick of staining your mattress, you'll want to consider this hypoallergenic mattress pad by Zen Bamboo. Not only is the mattress pad effective in keeping spillage from soiling your mattress, but it is also a good defense barrier to keep allergens off.
The mattress pad is made of rayon from bamboo and brushed microfiber. The material is then designed with honeycomb baffle pattern that keeps you comfortable and cool when lying on the mattress pad.
While the mattress pad is reasonably thin, it is secured firmly onto the mattress by the elastic bands. It puts an end to any chances of the pad sliding when you're shifting or moving in the bed. Cleaning the mattress pad is a hassle-free process. Just wash it as usual in the machine and dry on low heat.
Features
Made with 40% rayon from bamboo and 60% brushed microfiber.
Features honeycomb baffle pattern for breathability.
Secured with elastic band on the edges.
Machine-washable.
---
Whether you're opting for a hypoallergenic mattress topper or a pad, it's important to realize that you'll need to make cleanliness a practice in your bedroom.
Hypoallergenic beddings will help to prevent allergens from building up in the mattress and reduce the presence of dust mites to a certain extent. However, preventing recurrence of allergies symptoms means a consistent effort in keeping your bedroom free of dust.
With that in mind, I hope you'll have rejuvenating nights of sleep with these recommended mattress toppers and pads.