DISCLOSURE: This post may contain affiliate links, meaning when you click the links and make a purchase, we receive a commission.
Besides beddings, the mattress is one of the main suspects for dust mites infestation in your home. If you're highly sensitive to dust mites, you ought to get rid of the pesky creatures hiding in the carpet with a steam cleaner.
Dust mites, when left to grow uncontrolled, can pose a serious threat to your health. What started as a series of sneezes could quickly turn into nasal inflammation, teary red eyes, and coughing. People with asthma risk aggravating their condition and children suffering from dust mites allergy may develop asthmatic symptoms.
There are various ways to get rid of dust mites. Exposing dust mites to heat is an effective method. Dust mites are sensitive to heat and they will be killed at a temperature higher than 55 degrees Celcius. Therefore, the steam cleaner is an ideal candidate in ridding dust mites that are hiding in the carpet.
Dust Mite Removal Steam Cleaners Compared
---
How Do Steam Cleaners Work?
A steam cleaner may look deceptively similar to a vacuum cleaner but its internal mechanism couldn't be much different. Steam cleaners operate on the premise of using hot vapor to disinfect and remove dirt from a surface.
While steam cleaners are available in various builds, they operate on the same principle. A steam cleaner has a tank that contains clean water. The water is then turned to steam by a boiler. The steam is then channeled by a hose to a cleaning tool, which is usually a mop head.
As the steam covers the surface, bacterias, germs and dust mites are killed. Also, the hot vapor helps to remove stubborn grime from the surface. The mop is then used to clean the heated up surface.
Steam cleaners are a safer alternative than a chemical-based solution. Not only it is more environmentally-friendly, but steam cleaners also don't leave toxic residues on the surface of your carpet.
---
Common Types Of Steam Cleaners
As mentioned, there are a few types of steam cleaners in the market. Each is unique in its own and serve different purposes.
1. Cylinder Steam Cleaner
Cylinder steam cleaners have a canister that houses the water tank the boiler. The steam is then channeled through a hose to the cleaning mop. Cylinder steam cleaners can be harder to store or move around but their large tank capacity means you can clean a large area before a refill is needed.
2. Steam Mop
As the name implies, the steam mop has a singular structure that is similar to a mop. The water tank and boiler are built onto the handle and allow greater mobility than cylinder steam cleaners. Steam mops are also more affordable and are easy to store.
3. Handheld Steam Cleaners
Handheld steam cleaners are miniature units ideal for removing stains on small or hard-to-reach areas. They are very economical and ideal for cleaning beddings, upholsteries and specific spots on a carpet. This guide will focus on cylinder steam cleaners and steam mops. Check out this article if you intend to shop for a handheld steam cleaner.
---
Steam Cleaner vs. Dry Vapor Steam Cleaners
The basic principles of a steam cleaner are to use hot vaporized steam to disinfect and clean a surface. There is, however, a distinction between a conventional steam cleaner and a dry vapor steam cleaner.
A dry vapor steam cleaner is the modern evolution of a conventional steam cleaner. The former uses less water in creating the dry steam. This results in less wetting on the surface and quicker drying time while effectively removing dirt and disinfecting germs and dust mites.
---
How Effective Is Steam Cleaner In Killing Dust Mites?
It's a fact that dust mites are killed when the temperature exceeds 55 degrees Celcius. But the question is, does directing hot steam on carpets work in eliminating dust mites that are hidden beneath the fabric. This concern is valid when you're trying to steam clean a thick carpet that may house millions of dust mites.
Researchers in the University Of Glasglow has conducted an experiment to determine the efficacy of steam cleaning in killing dust mites in carpets. The result from the experiment shows no living dust mites are detected in the carpet that was treated in steam cleaning. Also, the is a significant reduction in the allergen Der p 1, that originates from dust mites. (Source)
It is safe to conclude that using a steam cleaner is an effective way of killing dust mites in carpets.
---
How To Choose A Steam Cleaner?
Despite the eagerness to get a steam cleaner and start blasting the dust mites with hot steam, doing your due diligence can prevent regrets when you start using the steam cleaner. Here are some points worth considering when shopping for a steam cleaner.
1. Tank Capacity
If you have a large area to clean, ensure that you're getting a steam cleaner that has a considerably large water tank. Most steam cleaners provide an estimate of the area you're able to cover before a refill is needed.
2. Steam Mop vs Cylinder Steam Cleaner
A steam mop is a decent option when you're living in a home with limited space to maneuver. Its smaller tank size doesn't matter as you've got a smaller area to clean. Besides, steam mops are less bulkier and easier to store.
If you're living with home with large spaces, you'll want to consider getting a cylinder steam cleaner. It has a larger tank size that makes cleaning large area easier.
3. Heat-Up Time
You wouldn't want to wait half an hour for the water to heat up. Heating time is an important criterion in choosing a steam cleaner. Ensure that the steam cleaner you're getting has reasonably quick heat up time.
4. Floor Surface
If you're using the steam cleaner for both carpet and hard floors, you should check out the floor type that is supported. Some steam cleaners have accessories and adjustable steam setting to cater to different types of surfaces.
5. Warranty
Steam cleaners are usually backed with manufacturer warranty. Some manufacturers offer a longer warranty period and you may want to take that into consideration.
---
Best Steam Cleaners For Dust Mites 2020
Getting rid of dust mites in carpet is key to prevent repetitive allergy symptoms. Here are the top-rated steam cleaners that will effectively kill dust mites breeding in your carpet.
1. Ladybug Tekno 2550 Steam Cleaner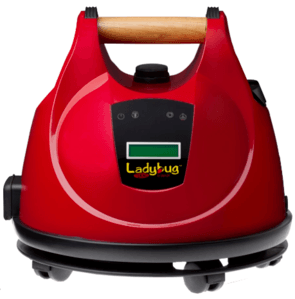 Buy At Sylvane
The Ladybug Tekno 2550t is arguably the most powerful steam cleaner ever manufactured by Advanced Vapor Technologies. It has an 80 oz tank that ensures you're able to steam clean the carpet for as long as you wish with its continuous-fill system.
With an integrated funnel, refilling is a hassle-free process where you pour the water onto the unit without removing any tanks. The steam cleaner is mounted on a special Tekno Trolley, which allows you to move it around easily in your home. With a 15′ power cord, you're able to have a great reach with the Dupray Neat.
Ergonomic design aside, the Ladybug Tekno is effective in killing dust mites. It produces powerful steam that is heated to 310 Fahrenheit and channeled through a 6.5 ft steam hose. You'll only need to wait for 6-10 minutes for the steam to be ready.
However, what makes the Ladybug Tekno so ready for allergens and germs is the TANC system. It's a mechanism that changes the mineral in the water into NANO crystal. Along with the steam, the NANO crystals start destroying bacterias and germs that are hiding in the carpets.
You can expect the carpet to dry quickly as the steam produced has a low content of moisture. The steam cleaner is shipped with 10 pieces of accessories that allow you to clean other surfaces like furniture, mattresses, bathrooms and car interiors.
Features
Integrated funnel for minimal mess when refilling.
Large capacity 80 oz. tank.
Continuous filling system form unlimited cleaning duration.
Light and compact.
TANC system that enhances germ disinfection.
---
2. Bissel Powerfresh Steam Mop, 19404
If you're eager to start killing dust mites in the carpet, the Bissel Powerfresh 1940 steam mop is a great option. It only takes 30 seconds for the boiler to start producing steam. Marketed as a steam mop for hard floors, you'll receive a carpet glider that allows you to use the steam cleaner on a carpet.
While the Bissel Powerfresh steam mop is not meant for deep-cleaning the carpet, the steaming hot vapor emitting from the hose will eliminate dust mites that are present in the carpet. It can also be equipped with fragrance disc, which helps remove any lingering odor in the carpet.
The Bissel Powerfresh 1940 operates on a continuous steam mode. Weighing at only 6 lb, you'll able to move the steam mop easily around the pieces of furniture in your house. The steam cleaner an adjustable steam setting that allows you to choose between three different levels of steam intensity.
Depending on the steam intensity, you may able to clean for up to 30 minutes before refilling the water tank. You can use normal tap water or distilled water to prolong the lifespan of the steam cleaner. The steam cleaner also comes with a scrubber which is handy for cleaning stubborn grime off hard floor surfaces.
Key Features
Produces steam in 30 seconds.
Continuous cleaning mode.
Odor-eliminating fragrance disc.
Adjustable steam levels.
---
3. Steam & Go All Purpose Steam Mop
The Steam & Go steam mop does exactly like its name, making ridding dust mites from carpet a light and easy process. However, before you can do so, you'll need to fix the carpet glider onto the steam mop for it to work on the carpet effectively.
You're able to choose the level of steam to release the respective amount of hot vapor measuring up to 110°C. You'll get up to 30 minutes of continuous cleaning with the 12 oz water reservoir.  The triangle head also has as a detergent tank which can be handy if you're cleaning hard floors.
From the moment you pour clean water into the tank, you'll only need to wait for 20 seconds before it starts producing steam. To make it easier, pay attention to the steam indicator light, which lights up when there is sufficient steam built up.
The Steam & Go is more than a steam mop. It can be converted into a handheld steamer by removing the steaming module from the mop handle. You're then able to clean garments, furniture or kitchen top with the accessories provided.
Features
Can be used as a steam mop or handheld steam cleaner.
Has a detergent tank.
20 seconds heat up time.
Up to 30 minutes of cleaning.
Adjustable steam levels.
---
4. McCulloch MC-1275 Heavy Duty Steam Cleaner
The McCulloch MC-1275 steam cleaner is an ideal tool to neutralize dust mites that are making the carpet their home. It has a variable steam control that is able to produce up to 43 psi of steaming hot vapor. Such flexibility allows you to adjust the steam level to your liking as you tackle different areas of your home.
With 18 different accessories, you're able to clean more than carpets. You can use the McCulloch steam cleaner to remove stubborn grease and stains from hard surfaces like sealed wood flooring, grout, granite, ceramic tile and more.
A large 48 oz water tank is fitted in the steam cleaner. It takes 8 minutes for the boiler to start producing steam that lasts for up to 45 minutes of cleaning. The unit is designed with a lockable steam trigger that allows continuous cleaning without manually pressing on the steam button.
Featuring a sleek design, the McCulloch MC-1275 offers a 25.5 ft cleaning radius. It has a 9.8 ft steam hose and a 15.7 ft power cord that allows you to clean a considerably large area without switching to another power socket. With a blistering 212 Fahrenheit vapor, dust mites are eliminated efficiently.
To safe you the hassle from continuing pressing the nozzle, the steam cleaner is equipped with a steam lock switch. Pressing the switch allows sending a continuous stream of vapor effortlessly.
A double indicator light on the steam cleaner also helps to alert you when the steam is ready or when the water level is low.
Features
Powerful 43 psi bar of hot vapor.
Stores 48 oz of water for up to 25 minutes cleaning.
Lockable steam trigger.
18 different accessories provided.
15.7 ft cleaning radius.
---
5. Pursteam ThermaPro Steam Mop Cleaner
If you can't decide between a steam mop or a handheld steam cleaner, Pursteam Thermapro gives you the best of both. It can be used as a regular steam mop to take on the dust mites that are entrenched in the carpet. The steamer can be removed and used as a handheld steam cleaner in an instant.
Pursteam Thermapro is fitted with an 11.5 Oz reservoir. That will gives you 20 – 25 minutes of cleaning with the lowest steaming level. The steam cleaner has an adjustable steam level that can be set by adjusting the knob.
Only 30 seconds are needed for the steam cleaner to start producing vapor. Considering that the Pursteam ThermaPro disinfect and clean without chemicals, it is a must-have cleaning tool if you have concerns of environmental or safety for children and pet.
The steam cleaner is shipped with a bundle of accessories that aid you in cleaning various surfaces. Pursteam ThermaPro uses Microfiber Pads to clean the surface that has been sterilized with hot vapor. You can wash the microfiber pads and replace them when they're worn off.
As a sign of confidence of the superior quality, Pursteam Thermapro is backed with a 2- year warranty and comes with a free replacement policy. It allows you the peace of mind when trying out a new steam cleaner to counter dust mites growth in carpets.
Features
Can be used as a steam mop or handheld steam cleaner.
30 seconds heat up.
Up to 25 minutes of cleaning time.
Shipped with useful accessories.
2 years of warranty.
---
Steam cleaning makes a difference to the population of dust mites in your home. I hope you've found the right steam cleaner and your allergy symptoms would gradually subside.
Related: